Richard Yim was born in Cambodia and moved to Canada when he was 13-years-old. He graduated from the University of Waterloo with a Bachelor's degree in Mechanical Engineering and a Master's of Business Entrepreneurship and Technology. In 2018, he was listed in the ASEAN Top 40 Under 40, and was named Forbes Asia 30 under 30 in 2019.
Back in his own country, in 2019, he founded Quantum Engineering and Manufacturing Company with an engineering team, aiming to build advanced machines in Cambodia.
"We want to develop it to international standards," he said. "Besides focusing on building machinery for the economic zone, we want to build consumer technology products, such as Q-Motor."
Q-Motor forms part of the Quantum initiative, which aims to create consumer technology in Cambodia from scratch. Except for motors and batteries, it is entirely built in Cambodia.
It was designed and built in May, and pre-launched in October.
Richard said his vision to launch Q-Motor is to demonstrate that Cambodians are capable of producing consumer technology products that can compete with international brands. Moreover, he hopes to build trust with local and international customers by providing high-quality technology products.
"They don't trust our technology products since our country does not have a history of producing high-technology products," he said. "Most Cambodian products have a bad reputation, so I want to change the mindset that our country can produce high-quality technology products."
When compared to existing electric scooters in Cambodia, Q-Motor matches the country's conditions as it can be used off road and across water when raining. It can also ride 100km in charge, allowing people to utilise it to replace motorbikes.
"Our engineer can design a product that pushes its limit on speed. Its battery life is up to a long hour. For instance, we use eco-mode, and can ride 100km in charge," he said. "So, we also want to show our engineer's talents."
Aside from changing the mindset of Cambodia's quality products, he expects to solve problems including Cambodians' daily rides in the future. People will spend only 1000 riel to charge in eco-mode for 100km in charge of Q-Motor, he said.
"So, if we think about saving money, we can reduce our consumption. Even if the scooter is initially more expensive than the motor on the market nowadays."
He said there is no difficulty in designing and building the product as he has many engineers who can discuss and share ideas. However, his challenge will be when he introduces his product to the market.
"As I mentioned, our people currently don't trust Cambodian products. So, when we introduce it, we'll have a question, such as the highest standard," he said.
"For instance, we buy a phone, use it for a week, and it breaks. So, we don't think we're careless, but if that phone is made in Cambodia and it breaks, we'll think the product is poor. So, this mindset is very difficult," he explained.
Richard was already aware of the mindset challenge before developing the Q-Motor product. However, he expects he will face the challenge head on by the fourth product.
"We hope that for the fifth product and the next product, it will be easier than this," he said. "Also, we hope that people will start to believe in Quantum's product."
Currently, Q-Motor is available for pre-order and is open for only 100 units. Its cost starts from $1,200 for one Q-Motor.
He said the Q-Motor is more expensive than an exported electric scooter in Cambodia, but he believes that his product is great. Additionally, he does not aim to compete on price in Cambodia's market.
"We really use good products, including the speed, battery, motor, and other elements, we build it top of the line. We want a product that really pushes its limit that one product can do," he said.
"It will be an amazing experience on an electric scooter that has never been seen before. One that is very rare, and has only a few in the European market that has something similar in terms of speed, and they also start at $2,000," he added.
Richard launched Q-Motor without any expectations. Q-Motor is a product developed by Quantum Company to demonstrate what Cambodians can do and what Cambodian products can be, he said.
"We have no expectations from Cambodian society but hope the public would love, and push our product. We are sure, we'll be able to support it," he said. "If we push the product and it's not the right time, and we don't get acceptance or love, we'll learn from it and try to change to be better in that direction."
His first Q-Motor is intended to show the quality of Cambodia's technology products without competing with any exporting electric scooters in Cambodia. Furthermore, he also considers developing an electric scooter that is affordable in the future.
"I want to meet the needs of our country, but I want the first product I launched to be of high quality. Also, to inform them that our product does not imitate any brands or compete with anyone."
Romduol Dynamic Sculpture
In April, Quantum Engineering and Manufacturing launched Romduol Dynamic Sculpture in Siem Reap, which intends to demonstrate the Cambodian people's strength and tenacity during dark colonial and war periods in the previous decades.
Romduol will blossom, rotating from east to west along the trajectory of the sun, signifying eternal light and a spiritual force's blessing on Cambodia. The rock that holds up the sculpture symbolizes stability, resilience, and strength.
When the day gets dark, the flower will revert to its budding position before blossoming anew the next day. The automated opening and closing of the flower represent Cambodia's future self-reliance, sustainability, and independence.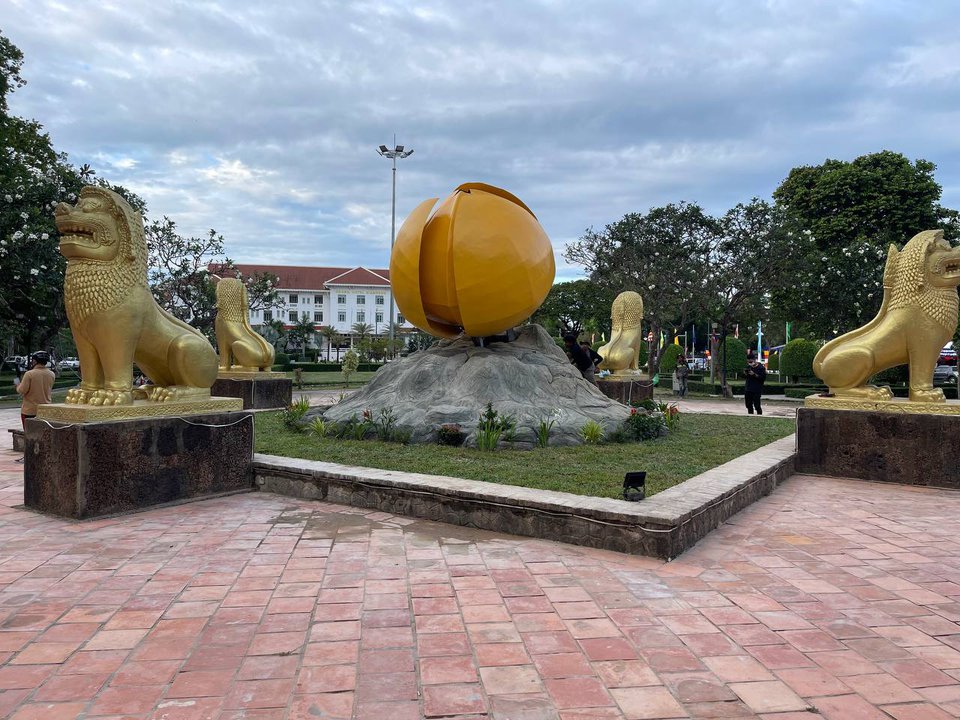 Richard said that the blossoming movement in machinery is a new innovation that has not existed in any other country. Additionally, it's really meaningful, he added.
"I think that it's the newest in the world," he said. "It's a monument that different from other monuments. If you look at the machinery, it's very different."
He added that Romduol sculpture was designed by Cambodian engineers without any inspiration or reference from other monuments.
"For the project I'm working on, it seems differently [from one to one] but there's only one goal," he said. "The goal is to make Cambodia known as a technology country for innovation and to move away from the copy culture."
Before Quantum Company Existed
Richard is well-known for building the Demine Robotic to clear explosives, including landmines and improvised explosive devices, in 2016, with his team of three people.
When his aunt died as a result of stepping on a mine when he was eight-years-old, he was motivated to build Demine Robotics for Cambodia to be mine-free and bring new innovations to the nation.
"I started by working on Demine Robotic project aiming to assist Cambodia. What I do is change the mindset," he said. "Even if the Demine Robotic, I build it to show that we can innovate."
When he mentions Cambodia being able to develop Demine Robots, people remark that it is impossible since no country has ever done demine robotics before, he said. However, the demine robot that he and his team built was granted a patent, indicating that it is new and unique.
"This is not something I just claim it's unique and innovative, and it will be. Obviously, the patent offices in the United States, Canada, and England recognize it," he said.
Aside from innovation, he also aims to assist individuals who work as deminers to remove mines more quickly and safely.
"I used to learn how to demine, so I know how difficult what they do is," he said. "So, it's something I'd like to help in the mining sector."
Currently, Demine Robotics has been used by the Norwegian People's Aid Cambodia team for clearing mines in Ratanakiri, Cambodia.