Like many individuals in rural areas, Thai Sam Ol's income is dependent on planting cabbage in Kampong Cham. However, she has noticed that using a generator for farming was tough for her as a woman, but it became easier after switching to solar energy.
"Only men can pump water to the crops. We women don't know how to use the generator and don't have the energy to do so," the 53-year-old said. "Using solar is easier and saves a lot of time."
She added that it allows her to go wherever she wants. She just turns it off and on by limiting its time. However, in her area, solar is not yet popular.
It has been five years already working as a farmer, but she has only been using solar for more than one year.
"I switched to solar since it's more convenient," she said. "I don't have to spend money on fuel, and I just have to pay money once when I set it up. Even if there are any problems, we can repair them. It costs $30."
She added that if she uses a generator, she will have to spend more money on gasoline.
"I will lose money if I use a generator," she said.
Sam Ol is a farmer from Kampong Cham's Kong Meas district. Before planting cabbage in the net house, she planted watermelon, cucumber, chilli, and other vegetables in order to earn money to support her family.
In Cambodia, nearly 61 percent of people live in rural areas, and 77 percent of rural households rely on agriculture, fisheries, and forestry for their livelihoods, according to USAID.
Currently, Sam Ol is using a 0.5HP solar pump to sustain her plantation on land between 10 to 20 metres. As she harvests once a month, she earns more than a million riels in a field during low season, and between 2 and 3 million riels during a good season.
Natharoun Ngo Son, director at EnergyLab Cambodia, said that as electricity costs remain high in rural areas, and access to electricity remains difficult for smallholder farmers, most continue to use diesel engines for small-scale operations. Meanwhile, others previously could not access electricity.
"Thanks to solar PV technology, it not only provides them with cleaner production means but also allows them to increase their revenue by processing their production and therefore increasing their sales margin," he said. "It also allows them to increase their production level."
Today, Cambodia has eight solar power projects capable of producing up to 344 megawatts (MW), according to the Stimson Center's Mekong Infrastructure Tracker. Apart from that, about three solar power plants are under development, and four solar power plants have been put into use.
Chin Ol, a project manager at Sola Green Energy of Cambodia, said that based on the sales data of all solar suppliers, she discovered that around 30 percent of farmers purchase solar for use. Nevertheless, the quantity purchased and used is just 10 percent since the solar they purchased does not work.
However, she added that solar energy has several advantages for the consumer. Moreover, she believes that solar energy does not have a negative impact on the environment or people's health.
"They get free energy since it generates energy from sunlight, so they don't have to spend money on energy generation," she said. "They will have their own energy source, which they can use wisely depending on the actual situation. It will also save them time, allowing them to do other tasks."
Cambodia has a great potential for solar energy in the region, with the sun shining on average for eight hours each day and daily averages of 5 kWh/m2. That is significantly higher than its direct neighbours, Thailand and Vietnam, and nearly double that of European nations, such as Germany, according to UNDP's research on Harnessing the Solar Energy Potential in Cambodia.
Unfortunately, solar adoption in Cambodia is still limited.
Natharoun said that there are other causes, including negative experiences with solar materials and conveyed through word-of-mouth: solar technology is unreliable, particularly the battery, which has a limited lifespan.
He added that it is also due to the absence of quality control and standards, the market is flooded with cheap but low-quality solar devices. Besides that, access to finance in order to acquire the above-mentioned agriculture technology has also become difficult due to the volatility in revenue and yield unpredictability that has risen due to changing seasonal patterns, in large part due to Climate Change.
"For the usage of specific energy-intensive machinery, the economics simply does not add up; fuels and gasoline remain the cheapest way to produce energy," he said.
Benefits of Clean Energy to Cambodia's Economic
In Cambodia, solar energy represents the largest source of clean energy potential, while wind offers only a small but non-negligible potential, according to Natharoun. When developed wisely, hydropower may also be considered a clean energy source. Electric mobility, energy efficiency, and sustainable biomass are all examples of clean energy.
He said that clean energy potential will directly benefit Cambodia's economy in many aspects, including job creation, job reskilling, and attracting new foreign investment. In addition, it is much cheaper to produce than fossil fuels, with solar being the cheapest of all.
"A cheaper electricity cost would significantly enhance Cambodia's economic competitiveness, by reducing its energy costs for industrial and commercial sectors," he said.
As a long-term vision, Cambodia might leverage its abundant solar resources and become a net energy exporter in the coming decades, by scaling up the clean energy export model it has initiated with Singapore, he added.
"That will not only provide a consequent new economic income stream, but it will also increase Cambodia's energy security," he said.
Acceleration of Cambodia's Transition to Sustainable Energy
According to the Electricity Authority of Cambodia's report, domestic power generation was 3,464.67 MW by the end of 2022, while electricity imports from neighbouring countries were 1,030.75 MW.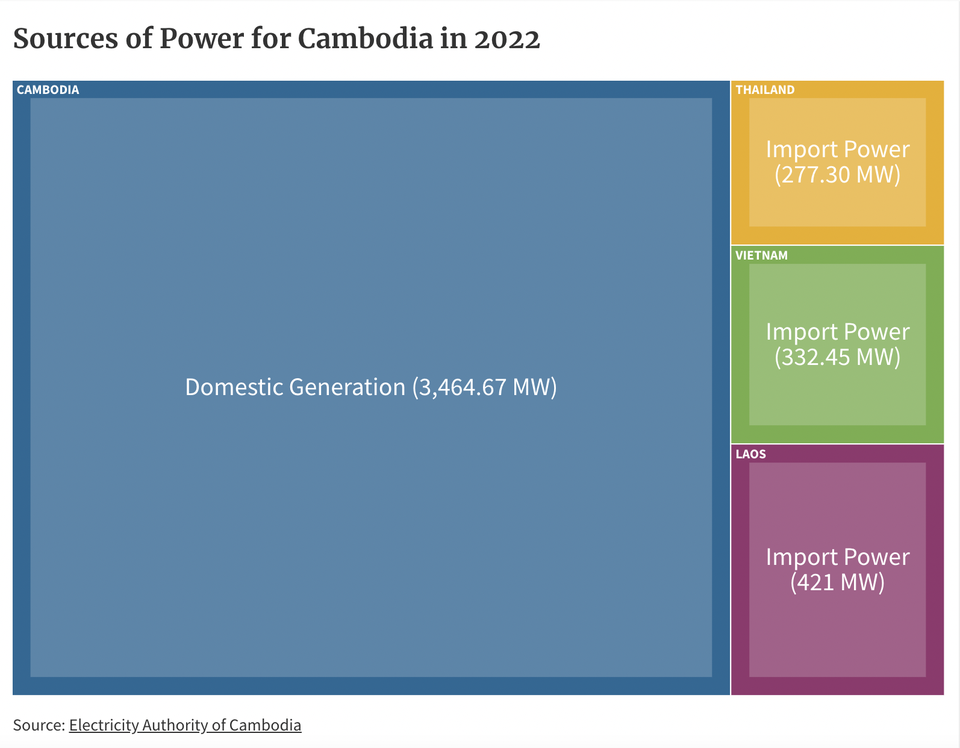 View Sources of Power for Cambodia in 2022
In 2022, Cambodia's domestic electricity supply was dominated by hydropower at 53.89 percent and coal power at 35.53 percent, while solar was at 6.67 percent, according to the Ministry of Mine and Energy and the Electricity Authority of Cambodia.
In the 2023 plan, Cambodia's power generation will increase to 3,814.67 MW or 77.14 percent, while imports from neighbouring countries will increase to 1,130.75 MW or 22.86 percent.
As Cambodia was unable to generate enough electricity to meet demand, this challenge will be an opportunity to accelerate Cambodia's energy transition to sustainable energy. Instead of completing those unbuilt coal projects, Cambodia may seek private support to repurpose or refinance those unbuilt plants, Natharoun said.
He added that Cambodia could start to incrementally increase its share of planned solar power, and by 2040, expand its present share of installed solar capacity by 20.
"It is important to understand that Cambodia's energy transition does not mean Cambodia will be obtaining 100 percent of its energy from clean sources by 2040," he said. "For example, it is important that the country keeps its current share of existing coal power, as it allows it to supply stable energy at a constant rate."
He said that in order to accelerate the transition and achieve this balance, Cambodia needs to adopt a renewable energy strategy with specific goals and targets. This would allow the Royal Government of Cambodia to supplement current significant programs, such as the Power Development Plan 2022-2040. Also, it must put in place an essential policy, the National Energy Efficiency Policy.
"The principle is that the cleanest energy of all is the one that is not produced. So by understanding how to save energy, and how to adopt more energy-efficient technology such as air-conditioners, and refrigerators, to name a few, would reduce the overall electricity demand," he said. "It is also very important to consider how we can all individually change our behaviours and adopt different energy consumption patterns."
Liquefied Power Generation (LPG) power plants will be the major energy generation source in Cambodia in the coming years due to the huge contribution of hydro, coal, and solar, Victor Jona, Under Secretary of State for the Ministry of Mines and Energy, said at the "Towards an ESCO Association in Cambodia: Challenges and Opportunities" forum.
"Renewable energy is an important resource for energy independence, energy security, and GHG emissions abatement," he said. "It is necessary to build up the strategy and mechanism to support renewable energy development."