Tuy Sokdung is determined to be a computer programmer, his dream since he was a little boy. The 22-year-old from Kampong Thom province is now a computer science major at the Royal University of Phnom Penh. His studies are tough. His schedule is tight. Yet, he also faces challenges that far surpass those of many other students — Tuy was born without arms or legs.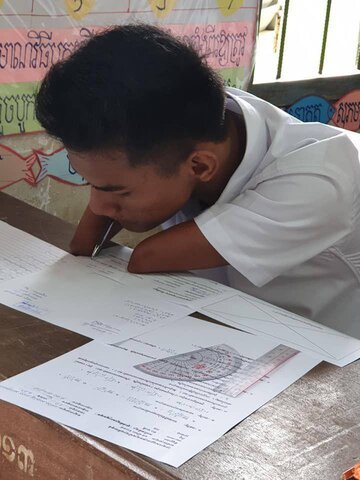 Such a severe disability might crush the dreams of many people, but not Tuy.
"My goal for when I graduate is to become a programmer, either a web developer, a mobile app developer or a software engineer," Tuy said.
Like thousands of Cambodians with disabilities, Tuy has relied on the support of his family and friends, as well as an increasing number of charities and NGOs. In 2019, the Royal Government released a plan to eliminate all forms of disability discrimination as well as to improve access and quality of life for the disabled.
Mak Monika, the executive director of the Phnom Penh Center for Independent Living, a Cambodian charity working to empower people with disabilities, said disabled Cambodians still face many obstacles and need more support, citing financial aid, and medical care, as well as access to office buildings, schools, hospitals and other essential facilities.
Tuy's inspiring story could help change perceptions about the abilities of the disabled in Cambodia.
When Tuy was born in rural Steung Sen district, neighbors told his mother the baby wasn't worth keeping.
"My parents did not listen to them," Tuy said. "They said, No matter how difficult it could be, they would still take care of me because I am their son."
Tuy said the support and encouragement from his parents and siblings kept him moving forward — and this young man does not give up easily.
Despite his disabilities, Tuy is one of the most outstanding students in computer science studies. He even spends his free time creating video tutorials for other students on Facebook.
"He is one of my best students," said Thap Boung, a lecturer in the Computer Science department of RUPP. "He learns really fast, and the way he uses his elbows to write and type really impresses me."
Tuy's biggest challenge, in his words, is he cannot travel anywhere on his own: he relies on his parents to bring him to the university.
"I know it is very difficult for him to move around," Thap Boung. "He always needs someone to carry him."
Tuy said the study of technology should be available for everyone. He pointed out the promising benefits: Graduates could be data analysts, web developers, mobile app developers, network architects, game creators, and much more. His advice to young technology students is to work hard and put great effort into practice and research.
Besides his family, Tuy said that the one person who always encourages him — is himself.
"I always tell myself to work hard, be patient, and never despair," Tuy said. "And, as long as I am still breathing, I must never lose hope."