During a visit to see her grandparents during 2020's Covid-19 outbreak, Soeun Sothnita became aware of the raft of challenges cashew nut farmers in Stung Treng province face. Determined, she decided to find solutions. Today, the 20-year-old is the cofounder of a cashew nut handcraft business.
During her one-week trip to Stung Treng, the co-founder of Handcrafted Cashew Nuts Stung Treng, Sothnita's grandparents took the family to see the situation of people living in the area. They noticed that most local farmers are financially dependent on selling raw cashew fruits, and rush to sell it to the broker, who export raw cashew nuts unprocessed at a cheap price.
In addition, Sothnita, who majored in Banking and Finance at Paragon International University, found cashew farmers lacking modernizing and proper cultivating their plants. Immediately, the family set about finding solutions by providing value credit, training and promoting the cashew farmers.
"We found out that farmers are trying so hard to earn income to support their family livelihood. Most farmers tried to sell their fresh cashew nuts at the same time altogether as they don't have the ability to dry it. And domestic supply in the market is difficult to sell at the same time, so the price [cashew nuts] drop follows what brokers say," she told Kiripost.
Cashew nuts harvesting season runs from late February until April or May. There is only one harvesting season a year.
Typically, raw cashew nuts cannot be stored longer than four days as farmers lack knowledge of how to store them longer, so they sell them at the same time that they are harvested. The only way to keep them longer is to dry cashews. They can be stored for two years if farmers know how to do this.
She added, "As we saw these challenges, we came up with many questions, like what can we do to help the farmers sell dried cashew nuts instead of fresh ones to gain higher profits and not only sell during the harvest season. When we dry cashews, we can store them for a long time and sell them throughout the year, so that they don't have to sell them all at once, which causes lower prices."
Selling dried cashew nuts can help farmers gain more income as they can sell them at any time when they need profit. The cashew nuts need to dry under strong sunlight for about two days and cannot be tried using a machine as cashew nuts shells can produce oil.
Initially, Handcrafted Cashew Nuts Stung Treng collected raw cashew nuts from local farmers then dried it in a drying machine. Today, they collect dried cashew nuts from farmers after delivering after training on planting and drying techniques.
Before launching the business, the family learned from the other cashew nut operations and joined a cashew nut training program with an Irish trainer to understand innovative process techniques. They also closely studied the cashew nuts market before launching a small-scale handcraft with small machines that can produce about 100 to 200 kilograms cashew nuts per month.
Later on, they won a grant from USAID's Cambodia Harvest 2 and GIZ to help expand their cashew nut handcraft to medium-size, and upgrade the machines to produce approximately 15 tons per month.
Nowadays, the cashew nut handcraft has about 10 machines, including pellet splitting, filtration steam, shell crushing, and packaging machines for the whole process.
"Our main purpose to start this craft is to develop the local community that is co-dependent on agriculture in Stung Treng province, and promote local value chains and production. We are proud to be one of the Stung Treng handcrafts that not only help farmers' livelihoods, we also assist women to have more jobs as 80 percent of our staff are females," the business development manager at Handcrafted Cashew Nut Stung Treng said.
The family cashew nut start-up launched in early 2021 in Stung Treng province working with 66 cashew producers. Each have signed a contract farming model with Handcrafted Cashew Nuts Stung Treng that will help support about 100 families in the province.
The company buys dried cashew nuts from farmers at a higher price than brokers, at 100 to 200 riels. It also provides interest-free loans of 40 percent to farmers for taking care of their cashew nuts to ensure they are of a high quality.
Moreover, they provide admirable farmer certificates and other prizes to cashew nuts farmers who can plant high-quality cashew nuts to motivate the farmers to keep up their good work and be a role model to other farmers.
The price of cashew nuts fluctuates between 4,300 riels and 4,500 riels per kilogram based on the market demand and quantity of the cashew nuts.
The company also has a vision to transform Cambodian cashew nuts into a healthy organic cashew nuts snacks for exporting to local and international markets, hence powering vibrant rural economies.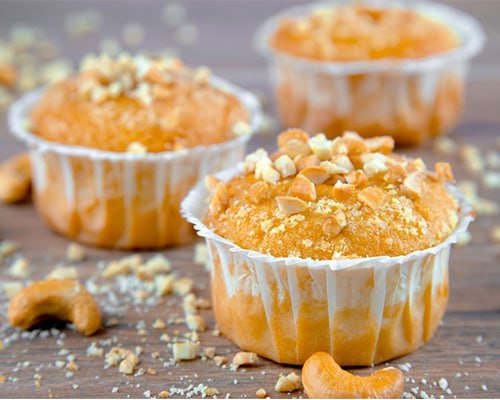 They can produce between 15 to 35 tons of processed cashew nuts a month, and 180 to 366 tons per year. They also have plans to export their Khmer cashew nuts snacks to the United States and Japan in 2023. They offer both semi-final products and final products that are coated with various unique flavours, from chocolate and milky, to sour cream to hot and spicy.
Cooked cashew nuts can be used as snacks, confectionery, cereal bars, baked goods, ice creams, and non-dairy beverages. Cashew nuts, either in pieces or as paste, are widely used as an ingredient in confectionery, as it adds to the texture and taste.
Cashew nuts have become an essential ingredient in cereal bars and granolas, and are widely used in the baking industry, adding flavour and crunch. It is also a great partner with ice cream, being an almost obligatory item in the toppings, as it gives the product a look that attracts more and more consumers. In addition, in the vegetable drinks market, today it is one of the most popular drinks.
However, obstacles still sit in the way, such as challenges with transportation due to road conditions, weak electricity, lack of skilled human resources and climate change are the main challenges for cashew nut handcraft in Stung Treng province.
She clarified, "Last year [2022], cashew nuts yields were not good because of climate change and rain during the harvest seasons, which damage the cashew nuts. On the other hand, cashew nuts are also infested with pests."