Amru Rice was created as a startup and has battled a wide range of struggles to stay afloat. At its helm is CEO Song Saran, who said leadership is critical during crises and even more so during the Covid-19 pandemic.
Saran, 41, who is also President of the Cambodia Rice Federation (CRF), reflected on how he managed to keep his company alive during Covid and how the honesty and quality of his food, among many other things, have helped him ride through the storms.
"As a startup, we nearly went bankrupt many times," Saran said. He added that the 2016-2017 drought was even more severe, badly impacting business.
In 2020, Amru faced a fresh crisis, Covid-19, during times when the company was expanding.
The Cambodian government announced a national policy to push the export of rice in 2011 and Saran, who was working with a German NGO helping poor families in Pursat, had a business idea to co-found Amru Rice.
Saran and his wife were struggling with finances at the time. Saran was working and living in a rented house. After creating the startup, they set up an office for Amru Rice and were able to live and work there.
Recognizing the potential of the rice sector, he mobilized his siblings and raised capital. This included using a home as collateral to borrow money from the bank to invest in a packaging warehouse near Phnom Penh.
He was also able to secure a loan from the bank, which was also used to build the package factory. At this point, he did not have a mill factory.
As a startup, Saran also received funding of about $20,000 from foreign donors and the government, which kick-started his foreign trips to European countries, the US and China as part of efforts to increase rice exports.
In 2012, he quit the rest of his work to focus 100 percent on Amru Rice. In 2013, he thought about advancing the business while helping farmers. The first step was to create a business for farmers and provide them with knowledge.
He thought of making Amru as a bridge connecting farmers with consumers by creating a business model that would produce what the markets need.
With the funding he received, he wanted to increase rice exports abroad. He had learned a lot from his foreign trips, such as consumers preferred quality over cost.
At the time, Cambodia only produced IR rice to export to Vietnam. Once Vietnam stopped buying it, farmers were "dead". IR rice is a type of rice from the International Rice Research Institute (IRRI).
HE LOST NEARLY $100,000
After learning all the market needs, the sector has adapted and improved, Saran said. This placed Cambodia in a competitive position with other countries by producing organic and fragrance rice.
Saran then began working on contract farming with farmers as challenges remained, laws were not being enforced and farming communities were in place but not active in farming. Instead, they were saving money.
In order for his model to work, farmers had to own something from the business they work with. Therefore, in 2012 and 2013, Saran worked with a German and French NGO to do contract farming as a commercialisation, which farmers can also benefit from.
During three years, Saran did not make any profit, not even $1, he said. He lost nearly $100,000, mostly because what was being produced was not what the market wanted.
However, Saran refused to give up. "I didn't give up. If I had given up then, I would not have been successful today."
Farmers had the land to grow rice and the capability to do it, yet, they were not focused, Saran said.
From 2013 to 2015, farmers became skilled and understood more about the commodity. Then profits started to roll in, exporting 3,000 to 4,000 tonnes of organic rice annually. Last year, Amru exported about 8,000 tonnes of organic rice.
Building trust among customers is important, Saran said, adding that many of his loyal customers began to like him and placed more orders.
Organic rice has become the fourth largest export rice to Europe, Saran said. Since 2015, Amru has also set up contract farms for fragrance rice, which is easy to compete by exporting to the EU, not just Vietnam.
Amru won awards four times from 2014 to 2018 for best rice. In 2014, CRF was set up​ and he became a board member. Before the CRF, the country had different rice associations, which did not work as a united force.
In 2019, Saran became CRF president and said he wanted the industry to work together "like a stick of chopsticks" to export rice, such as negotiations for agreements for exports.
COVID CRISIS
During Covid, some staff were laid off, while others received half pay. Amru continued to buy unmilled rice from farmers to store in a warehouse for export once Covid was over. About 30,000 to 40,000 of unmilled rice was stuck in a warehouse during the pandemic.
After Covid, he decided to divert the markets to new destinations in Europe, Hong Kong, Russia and the US. This led to about a 40 percent rise of export in organic rice.
He then focused on rice that has more profit margins - organic rice.
"During the crisis, we didn't panic. If we did, the company would close down. I didn't panic. I lost money, sometimes, I lost millions of dollars but we were still strong, believing that good things would return."
This belief has kept him moving, Saran said, noting that others would default and close down their company.
"We were not only able to survive, we could also pay bank debts without requests for loan restructuring."
During the crisis, some of his European customers lent him between half a million and a million dollars so he could pay his staff. He had to pay about $200,000 per month in salaries and other operations.
"I could not believe that there were such good people who helped me like this. I think Devada has eyes, I can say that we must believe in good deeds and sin."
Real friends will help in times of need, Saran said, noting now people in Europe are struggling with rising inflation and the fall of the Euro so he is able to help his customers back.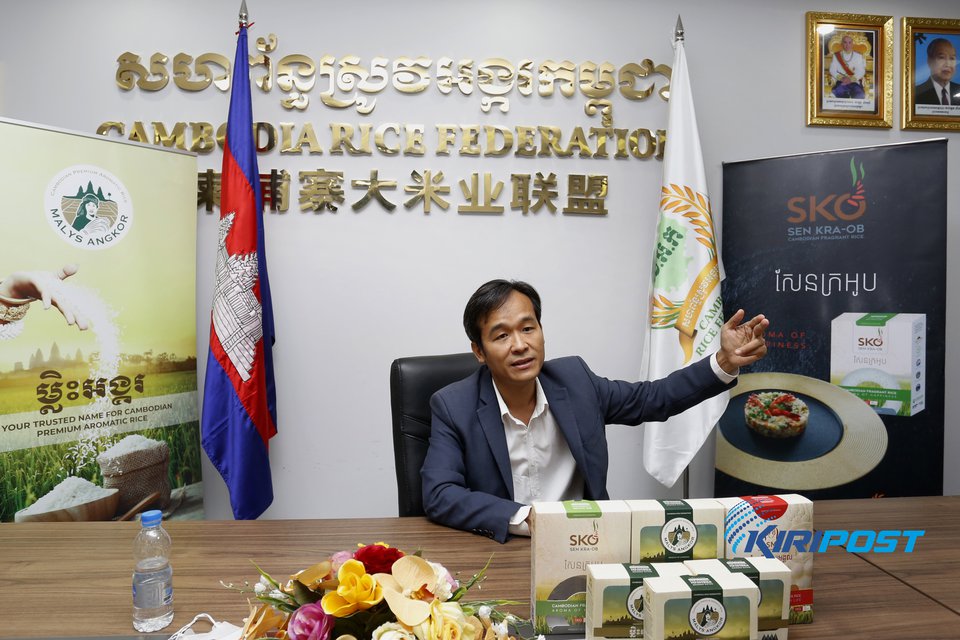 SELLING SNACKS IN THE VILLAGE
Song Saran is from a family with a strong rice background, with his father working at a district agricultural office. He hails from Prey Chhor district, Kampong Cham province and has six siblings. His mother was a farmer and sold groceries in the village.
His father is now retired and his mother has passed away. Growing up, Saran saw his parents working hard during the 1980s, right after the Khmer Rouge. His mother also worked on farms and at the same time did some trading in the village, such as selling and buying rice and chickens.
Many of his siblings - four brothers and two sisters - are also in the rice sector as a result of their mother's rice trading business in the village. They have carried on this business to the next generation. His grandfather was also in the rice business.
During the early 1990s, Saran sold snacks that were carried on his head in the village. He was about 11-years-old and did not attend school due to the family's poor finances.
After his father returned from his studies and work in the agricultural district office, Saran was able to go to school and went on to win a scholarship at the National University of Management (NUM) in Phnom Penh.
During his studies, Saran stayed at Sampov Meas pagoda and then moved to Saravorn pagoda in 2000 after beds ran out. There, he shared a bed with three people.
After four years at NUM, Saran began to apply for volunteer work, thinking he should not spend any money from parents. Saran also volunteered to teach English and computers to children who collected trash and did not have time for school.
In 2004, Saran opened a youth association to help solve societal, environmental and economical issues in line with a United Nations' principle. The objective was, he said, to have support from youth for the UN spirit, which put out the agenda of millenium development goal 2005 to 2015.
As a youth at the time, Saran said he was eager to help, and in 2006, as the association had little funding, he also engaged in work. He secured a job at a German NGO, which received funding to help 5,000 families in Pursat province for three years, this led to him creating Amru.