Having worked in rural areas with low income households, Kheav Thida knows how difficult it is to access electricity.
Thida, 43, is a female technology entrepreneur, who co-founded Solar Green Energy Cambodia (SOGE) 10 years ago to focus on renewable energy as well as provide technical support, maintenance services and innovation in Cambodia.
Thida's journey involves breaking down stereotypes where people believe that technology is a man's domain. She helps by reducing the cost of electricity via the adoption of solar energy.
"Despite having a small team, I believe that our mission in reducing carbon emissions has the potential to make a significant impact if we continue to work towards it," Thida told Kiripost in an interview.
She saw the benefits of renewable energy and wanted to help Cambodia reduce its carbon footprint while creating jobs and building up the technical engineering sector.
"We are different from others because we want to create products that are made in Cambodia," she said.
Solar can be used to generate electricity for various purposes, including storing electricity and pumping water.
Solar power is proving to be a key energy source in rural areas, especially in the farming sector, and is expected to provide Cambodia with a sustainable energy source in the future.
The country has also introduced a new rooftop solar power policy in its quest to cut carbon emissions and meet increasing demands from the private sector and international investors.
For Thida, one of the biggest challenges she encountered is building trust in the solar industry as many Cambodians have had a bad experience with solar companies in the past, so they are hesitant to try SOGE's products.
She also experienced challenges in developing and manufacturing solar products in Cambodia, given the lack of technical expertise in the country and the difficulty in finding high-quality materials.
"The solar industry has lost the trust of Cambodians in the solar sector. When they hear about solar, it feels like it has not been used for a long time, requires constant care and is poorly serviced by solar providers," Thida said.
To counter that notion, she offers a range of solar-powered solutions, designed to meet diverse energy needs. They include solar water pumps, off-grid and on-grid solar systems, solar street lights and light emitting diode (LED) lights.
According to her, SOGE is not only an importer of solar products but also creates its own design products that have not been done in Cambodia before. The company has developed a solar-powered water pump that can be used in remote areas without access to electricity.
"I hope that SOGE will help to transform Cambodia's energy sector. I believe that solar energy can help to reduce poverty and improve the lives of people in rural areas. I also hope that SOGE would inspire Cambodians to invest in the renewable energy sector," she said.
Growing eco-friendly startups
Thida is among Cambodia's growing eco-friendly start-ups, with a vision of promoting eco-friendly products and services, like renewable energy, tackling waste pollution and empowering local communities through sustainable tourism.
Eco-friendly startups in Cambodia are growing rapidly. According to the Cambodian Chamber of Commerce, there were over 100 eco-friendly startups in Cambodia in 2022.
Sreyneang Krech, the co-founder of Ecolife Cambodia, expects this number to increase, particularly on the back of economic growth.
As that happens, people are likely to choose eco-friendly options in order to live a healthier life.
Sreyneang said countries like China and India are exporting more environmentally-friendly products due to higher demand from the EU. Similar changes are happening in Cambodia's neighbouring countries, like Thailand and Vietnam, where plastic makers are switching to eco-friendly packaging to match changing consumer preferences.
"Eco-friendly startups in Cambodia are still struggling due to the affordability of their products," Sreyneang said, citing the example of eco-friendly packaging boxes, which are three times more expensive than styrofoam boxes.
Most Cambodians cannot afford to practice cleaner and healthier alternatives.
"I don't have any magic advice here but I would like to suggest to everyone to collaborate if they want a better environment for the next generations," she said.
Sreyneang hopes that the media can educate and spread information about the dangers of plastic consumption, particularly plastic food packaging.
Individuals should also reduce their plastic consumption and support eco-friendly alternatives if they can afford it, she said, while urging eco-friendly startups to focus on running educational campaigns apart from selling their products.
At the same time, policymakers should consider imposing higher taxes on plastic packaging imports.
"Although there is limited research on the growth of eco-friendly startups, I have observed that several new initiatives and startups are starting to slowly develop," Sreyneang said.
A travel app
Run Virak, co founder of Unseentra app, was passionate about travel and photography. He saw an opportunity to support local communities and provide them with a platform to promote their activities and experiences.
The motivation behind starting Unseentra was to create a platform that would allow these communities to reach a wider audience and increase their sales.
Unseentra was aimed at empowering local communities by helping them showcase their offerings directly to travellers. The platform would enable these communities to promote themselves online and through tours, providing them with a sustainable source of income.
"Unseentra is a great way to experience the real Cambodia. We offer a wide range of activities and experience that would allow you to explore the country's rich culture and history," Virak said.
Before Unseentra, local communities were unable to effectively promote themselves online or through tours. They were reliant on guests to come to them, which limited their reach and potential to increase sales.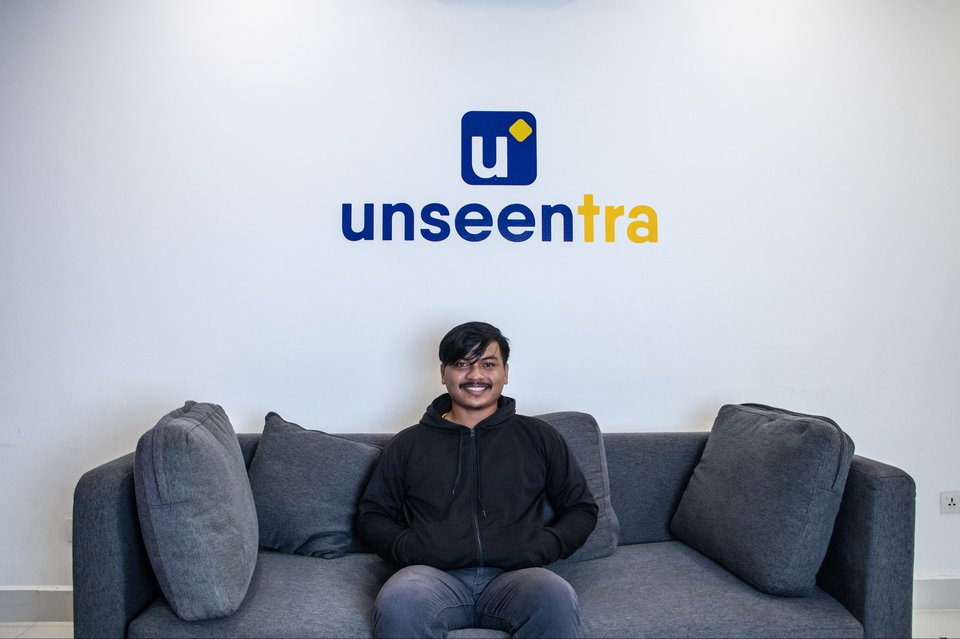 According to Virak, the Unseentra platform features motorcycle tours, scooter rentals, quad bike tours, floating village tours, sunset boat tours, Angkor Wildlife and Aquarium tickets, private transfers between Phnom Penh and Siem Reap, as well as E-scooter rentals in Siem Reap.
Although some communities were exposed to tour packages through foreign applications, their ability to directly book tours was limited. Unseentra sought to address this issue by explaining the advantages of online packages, like having a broader reach and higher sales opportunities.
"Some location tour leads refuse to link with us and it looks complicated. They are still on the same platform as Facebook and do not use other platforms to boost their presence. It is a bit difficult to convince them to use our platform," Virak said.
"Our goal is for these eco-communities to expose themselves, receive direct personal bookings from tourists, not just sit and wait for guests to enter."
Transitioning from a traditional travel agency to an online platform requires overcoming technological challenges, he said.
"Unseentra had to develop a user-friendly mobile application and ensure smooth integration with local operators. The challenges faced revolved around limited online presence and the need to educate communities about the benefits of online packages," he shared.
However, Virak told Kiripost that he was optimistic of Unseentra's expansion beyond Cambodia in the future. The company envisions offering its services and promoting unseen travel experiences in other countries as well.
The platform aims to be a catalyst for supporting the local economy by creating job opportunities and assisting local businesses. "Through the platform, the company encourages travellers to book activities, which directly benefit the communities they visit," he added.
Attracting investments
Melanie Mossard, CEO of Impact Hub Phnom Penh, highlighted the significance of eco-friendly startups in the current century and their potential impact on climate change.
She shared insights on the long-term viability of these startups and the challenges they face in growing their businesses.
Mossard emphasised their crucial role in tackling environmental challenges, particularly climate change in Cambodia.
With limited resources due to population growth and increased industrialisation, eco-friendly startups are introducing innovative solutions that prioritise sustainability, resource conservation, and reduced carbon emissions.
By promoting renewable energy, efficient waste management, sustainable agriculture, and environmentally conscious consumer habits, they actively contribute to combating climate change, she added.
"Their impact extends beyond their own practices, inspiring larger industries to adopt more sustainable methods, fostering a ripple effect across the business landscape," Mossard explained.
Through their focus on reducing, reusing and recycling, eco-friendly startups also help shift societal consumption patterns towards more responsible and planet-friendly choices.
She expressed confidence in their prospects, noting that the demand for environmentally-friendly goods and services would rise as environmental concerns continue to escalate and as governments, consumers and businesses increasingly prioritise sustainability.
Technological advancements and growing awareness about the importance of environmental conservation further create a favourable environment for these startups to thrive.
Additionally, Mossard mentioned that due to their alignment with international sustainability goals, eco-friendly firms are likely to attract investments and form alliances that would support their long-term viability.
Touching on the challenges faced by eco-friendly startups in growing their business, she said initial investments to develop and commercialise cutting-edge sustainable products or services were identified as a major obstacle.
"Startups in this sector may also struggle to compete with larger, more established businesses that have greater access to resources. Educating consumers and raising awareness about the benefits of eco-friendly products can be challenging, as many prioritise affordability and convenience over sustainability."
Other challenges include regulatory restrictions, limited access to sustainable materials, and the need to scale production while maintaining environmental integrity.
To get the latest news on Cambodia's business and tech, join Kiripost on Telegram.
Edited by Marissa Carruthers
---