Leading telecommunications company, Smart Axiata, marked its 14-year anniversary in February and is reflecting on its impact in Cambodia, growth and commitment to exceptional performance and sustainability, reflecting its values and progressive approach.
With a vision to become Cambodia's number one communication tech brand, Smart embarked on a breakthrough journey, creating sustainable and lasting impacts on people and communities across the country through innovative connectivity and digital solutions.
From modest beginnings
Debuting as Smart Mobile in February 2009, Smart was an underdog in the Cambodian telecommunications market. Gradually, the company rose to prominence through its fresh, modern style, competitive pricing, attractive services and customer-centric approach.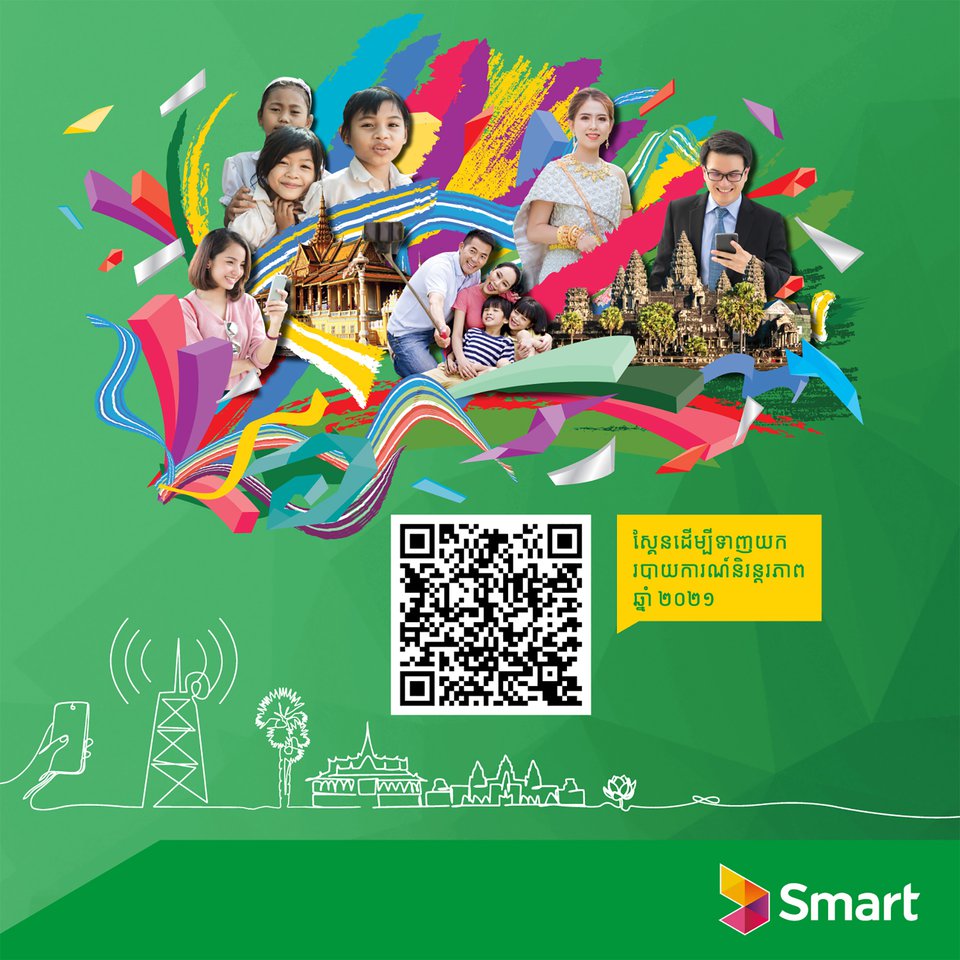 In early 2013, the company completed its merger with Hello Axiata, emerging as the second-biggest mobile operator in the Kingdom, and became a part of Axiata Group, currently one of Asia's largest communications groups with more than 150 million subscribers across 11 countries in Southeast and South Asia.
In 2021, Smart Axiata made investments totaling $81 million and contributed $103 million to public finances. The company remains the Kingdom's employer of choice, directly and indirectly supporting 51,700 jobs throughout the country, with 97.6 percent of the workforce being Cambodian.
Now, as the current telecommunications leader in Cambodia, Smart is at the forefront of mobile technology advancement and digital lifestyle innovation. Smart was the first mobile operator in Cambodia to provide 4G services, including 4G LTE, and it is now available across all 25 provinces. The company was also the first in the Kingdom to trial 5G in 2019.
Smart's products and services have been tremendously well received by the younger generation, who have rapidly embraced and adopted digital technologies.
"Smart has always worked tirelessly to improve, innovate and provide value to our customers, dealers, business partners and stakeholders. We maintain our values as a socially responsible business through our excellent performance, uncompromising integrity and transparency," said Ziad Shatara, Chief Executive Officer of Smart Axiata.
"Taking encouragement from our consistent success, we continue to work hard to ensure lasting and sustainable change together with the Royal Government of Cambodia and key stakeholders in the Kingdom."
A pioneer of Cambodia's digitalization and sustainability
Sustainability has been at the core of Smart since its founding. The company's approach to sustainability is aligned with that of Axiata Group and is based on four pillars: Beyond Short-Term Profits, Nurturing People, Process Excellence and Planet and Society.
Smart was the first telecommunications company to begin publishing annual sustainability reports, the first of which was released on its fifth anniversary of operations in 2014.
The latest edition, published last year, highlights that Smart contributed $416 million in gross value added (GVA) to the Cambodian economy in 2021. The company also annually contributes 2 percent of its revenue to the Universal Service Obligation Fund (USOF) to improve telecommunication infrastructure and digital inclusivity and 1 percent of its revenue to the Capacity Building, Research and Development Fund (CBRD) to implement capacity-building and digital literacy programs in the Kingdom.
"We are incredibly proud to have helped build important parts of the Kingdom's economic and social infrastructure, as well as to have made a difference to people's lives nationwide," said Ziad Shatara.
Over the years, Smart has grown to become a consistent presence that Cambodians can depend on during difficult times. At the peak of the pandemic, the company broadcast the government's Covid-19 awareness campaign to its seven million subscribers, while simultaneously setting up a $1 million Covid-19 relief fund to support 300 vulnerable families, among many others, facilitated the creation of multiple vaccination centers across Phnom Penh and ensured uninterrupted communication with extensive network coverage.
The company continues to promote sustainability in every aspect of its operations. Demonstrating its commitment to mitigating environmental impacts, solar energy was deployed at 615 base stations as of the end of 2021, a significant increase on the 223 sites the year before. The company plans to adapt its other base stations around the country to utilize solar power in the future too.
Through its internal green team, Smart additionally implements internal energy efficiency practices and actively engages with its employees to promote positive behavioral changes. Their efforts were recognized at the 2022 Cambodian Energy Efficiency Awards, with the team receiving the Best Green Team award.
Smart has also proudly shone a light on local talent in various industries. The company is notably the leading supporter of Cambodia's original music movement. Through Pleng by Smart, which was launched in 2019 following a complete rebranding of Smart Music, the telco provides a unique platform for local artists to reach their legions of fans, and its nationwide concerts have brought fans in every corner of the country closer to their favorite stars.
The network operator, a promoter of social cohesion and nurturer of young talent, is a leading supporter of sports in the Kingdom too, as demonstrated by its sponsorship of the last three National Games.
"In order to assist in the Kingdom's efforts to create sustainable change towards a digital economy and society, Smart remains committed to connecting people and making life better for everyone. Smart will continue to work with the Royal Government of Cambodia and our stakeholders to deliver sustainable development," the company's CEO added.
Smart Axiata Co., Ltd., Cambodia's leading mobile telecommunications operator, currently serves 7.5 million subscribers under the 'Smart' brand. Smart Axiata is part of Axiata Group Berhad, one of Asia's largest telecommunications groups.
Smart is at the forefront of mobile technology advancement in Cambodia. Smart was the first network to introduce 4G LTE in 2014, 4G+ in 2016, 4G+ with HD Voice (VoLTE) and LTE Advance Pro in 2017.
In mid-2019, Smart hosted the first 5G live showcase in the Kingdom, manifesting its mobile data leadership position. Smart also provides 2G, 2.5G, 3G and 3.75G mobile services as well as international roaming across more than 190 countries.
Its extensive nationwide network coverage stretches to 99% of the Cambodian population. The company is also rapidly transforming itself into a digital lifestyle brand, having introduced many innovative offerings and lifestyle entertainment value propositions.
This includes various international brand partnerships with Universal Music, Apple and Facebook, as well as digital services including Smart Insurance, SmartPay, Pleng by Smart, Pi Pay and SmartNas. Smart aspires to be the number one and most loved communication tech brand in Cambodia, while having a strong corporate social responsibility and sustainability agenda for national socio-economic growth.
The company's workforce consists of more than 1,000 local and foreign experts striving towards a common mission of connecting and making lives better. [Partnered Content]