Seven companies have become the latest sponsors to the upcoming 32nd SEA Games and ASEAN Para Games as the organizing committee said the Games 2023 does not aim to be the best-prepared event in Asia, but rather to transform Cambodia's image on the international stage.
Vath Chamroeun, secretary-general of the Cambodia SEA Games Organizing Committee (CAMSOC), made the remark during a signing ceremony on Friday for national sponsors, including Aeon Mall, shampoo Clear, sport store Decathlon, Vietnamese sport equipment provider Dongluc, cinema Legend, luxurious casino and hotel NagaWorld.
"We know that Cambodia's technological standards don't meet those of other countries," he said. "It cannot compete to be the number one nation in the region, but what our people want is to transform Cambodia's image outside of the country as an honor because sports will change 100 percent of the country's image."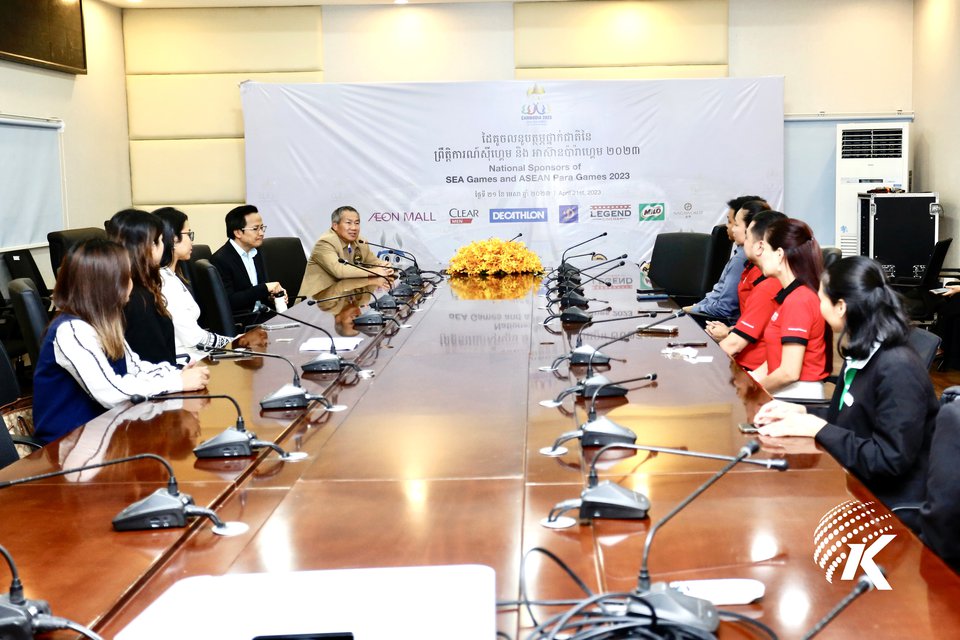 Chamroeun, who is also secretary-general of the National Olympic Committee of Cambodia, added that the SEA Games aims to change the attitudes of Cambodia's modern generation and attract the attention of others.
"After the SEA Games, we want our move to be noticed by others, which means Cambodia is interested. Wait until the opening ceremony, and we will see the greatness," he said. "These are an honor for all of the companies who participated."
He also urged stakeholders to work together and support each other in preparing for the major event, adding that all Cambodians must be unified and, especially, the government must support them in doing so.
"It cost more than $100 million to host the Games, so it is not a small amount of money. However, it will promote Cambodia's image to the world in a positive way, and we will get a good outcome while also boosting Cambodia's economy," he said. "We'll see after the SEA Games how Cambodia changes."
Aside from government backing, SEA Games 2023 has secured sponsorship from key partners.
Steven Path, CEO of Sportmazing, which is the master agency of the SEA Games, said that Cambodia is excited to welcome supporters and he hopes they will have an enjoyable experience during the opening ceremony and events that follow.
"I saw a video clip of it. It's going to be incredible. So, we hope that all the sponsors will join us in doing our part to take care of all of our fans," he said. "We're looking forward to working with all of you."
In addition to delivering memorable experiences, participants will receive free water, drinks, and chocolate milk during the opening ceremony at Techo National Stadium on May 5, he added. There will also be the chance to win free cinema tickets as part of a giveaway.