SIEM REAP - "If you want something to sustain in the future, just to promote local crafts, you need a sustainable business model," said Pierre Romano, head of Cambodia's first handicrafts incubator center, which aims to support the livelihoods of the nation's artisans whose livelihoods were devastated by Covid-19.
Romano, who is facing multiple competitions, said his business model for Beyond Retail Business Cambodia (B.R.B), the company that runs SATCHA in Siem Reap, is targeting local and special markets, hoping to sustain in the long run.
SATCHA is a lush one-hectare park in Siem Reap City's Svay Dangkum commune, home to six large workshops with a unique design that demonstrates Khmer talents, a showroom, and coffee shop.
SATCHA hosts independent craftspeople, providing them with workshops, equipment, tools, and a three-year onsite entrepreneur incubation program.
"We are competing with NGOs"
Since its opening about a year-and-a-half ago, SATCHA has been committed to buying products from crafts people, reselling them. However, sales have not been easy.
"Selling is not very easy," Romano, chairman of B.R.B, told Kiripost in an interview, adding one of the main competitions for his business is NGOs. He argues that they are a good model for social impact, but not for commercial activity.
"In this market, we are competing with NGOs. I think an NGO is a good model but not for commercial activity because they don't have any structural cost, it's paid by donors. They don't have any tax or very little tax because they are NGOs. But, for me, they cannot create a sustainable long-term business based on donations," Romano commented.
He said that to sustain a local craft business, a sustainable business model is key, and he has created a private company with a profit-sharing agreement to give back to crafters and provide them with more workshops and training.
"What I mean is, we compete on price with people that have no costs, that have donations, that have no tax, that sometimes give very low salaries to crafts people. We give high pay, reasonable decent pay to all of them.
"We pay all of our taxes, we are fully compliant, and we don't get any donations. We want our business to be sustainable," he said.
Romano added that NGOs should focus on a limited period of time and specific issues, such as health and education. Business and commercial activities should be left to the private sector, he said, adding that in some countries, there is a status of private and NGOs called social enterprises.
There is no such status in Cambodia, he said.
"You are either private or NGO. If we can create social enterprise status where companies, for example like us, commit to give a big part of profits or benefits to workers and have less taxes to pay, we can find a way to make NGOs to move this status, and that's the target that I would like to advocate for this status.
"So there are less NGOs in commercial activity and more social enterprises."
Romano said SATCHA also competes with imported products from China, Vietnam, and other countries. Tourists often do not know if these products are real, and the SATCHA workshop is open to the public to showcase products made in Cambodia.
"The second competition that we have is the import of products. Imports from China, imports from Vietnam, imports from anywhere we find in the markets. Tourists don't know whether they're real or not, so that's why we open our workshop to the public to see that products are made here. This is SATCHA, the trust."
"Handicraft lover forever"
Romano said he is "a handicraft lover forever" and has a lot of craft people in his family in France, including a carpenter, jewelry maker, ceramist and artist.
"I grew up in this environment and when I moved to Cambodia, I fell in love with the local skills because your handicraft is amazing," he said.
He added that Cambodian handicraft has been of high quality for thousands of years and he wanted to support and promote it.
He came to Cambodia for the first time in 1993 as a touris when he was living in Singapore. He fell in love with the country and came back and forth for many years until he finally decided to settle in 2014.
He managed a travel agency, Exo Travel and then had a dream of moving to Artisans d'Angkor, believing that handicraft is a cultural mission he loves to promote. In 2018, he joined Artisans d'Angkor as its CEO.
Unfortunately, Covid-19 hit in 2020 and the shareholders decided to close the company.
However, Romano did not give up, saying that the skill has to be supported. So he worked with handicraft people directly from home trying to put them together with special hotel decorations, expos, and whatever people needed, working as the middle-man. About a year-and-a-half ago a business model was created and SATCHA was established.
"Make people grow, empower them"
As one of the lessons learnt at Artisans d'Angkor, which employed around 800 artisans, SATCHA does not necessarily target foreign tourists. Most businesses relied on tourists and when the pandemic started there were no more customers and sales.
"We don't only target the tourists, we believe that there is a local market that makes business sustainable. We should not rely on tourism, so we have two other targets. One is like hotel and private house decorations, or the special project which is quite successful," he said.
The other target is the local market, he said, adding that the workshop has received "quite a lot" of Cambodian people and about 75 percent of the funds is from locals.
Romano added that if business wants to have a real impact on society, they should not base their model on salary and employees.
"Make people grow, empower them, make them wish to have their own business," he said.
He added that when people leave the workshop, they will be replaced. There were 400 applications and the place could only offer 42 places, he said, adding that he plans to open workshops in remote areas in the future.
Romano said that the aim is to make this craft survive by creating more workshops in rural areas. For example, pottery in Kampong Chhnang province, silver in Kandal province and marble in Pursat province.
After they leave the workshop to open businesses and fail, Romano said SATCHA will still be there to support them.
"Soft skills"
SATCHA hosts Cambodian crafts people. They are all independent but it trains them to be even more independent, teaching them the soft skills of marketing, language proficiency and finance management. The ultimate goal is to equip them with the skills to set up their own companies after a few years.
"We believe that this is the most sustainable model," he said, adding that in his previous experience at Artisans d'Angkor, even after 20 years the employees had the same salary with the same level of living.
"We believe that if we give them the soft skills to start their company, in the future they will create 10, 20, 30 handicraft companies that will spread around Cambodia," he said.
He noted that the training starts with the basics - that they have to be literate in their own language, reading and writing Khmer, then foreign languages, so that they can communicate.
The next element is about design so they understand what they are producing, as well as marketing and finance, Romano said.
"We take very highly qualified people, whether they are carvers or painters, that have ambition to grow and become independent and have their own company in the future."
Romano said that the craftspeople include those from communities in Puok district and areas near Phnom Krom, as well as some of his former staff from Artisans d'Angkor.
"In the future, they will be independent. Now we know that they don't have the skills, so we sell, and every month, whatever they produce, of course we work together on design on products.
"Everything they produce, we buy, as long as the quality is there so they have enough living every month. We buy them the raw materials, tools and the workshops, the design," he said.
"We have to make it lively"
Khmer culture is amazing, he said, but people need to make it more appealing to the young generation. Romano believes this can be achieved by mixing traditional elements with contemporary design. This will help to keep the culture alive and make it more relevant to the younger generation.
"We have to mix together, for example, keep the traditional know-how, apply more contemporary design, inspired by Khmer culture, inspired by Khmer symbols, but more contemporary design. This will help the young generation to promote and make culture survive.
"We have to make it lively."
Have the idea but not the money
Pin Sichin, 47, is one of the crafts people at SATCHA. He said that he hopes he will be able to reopen his business, which was shutdown by Covid.
"Once I have the knowledge from here, I will be able to open a workshop outside," Sichin said. "I think it will also be difficult. The difficult part is that we have the idea but not the money to do it."
However, he believes that with mentorship he will be able to achieve his dream. Sichin's wife Sophal, a wood carver of 20 years, is also at SATCHA.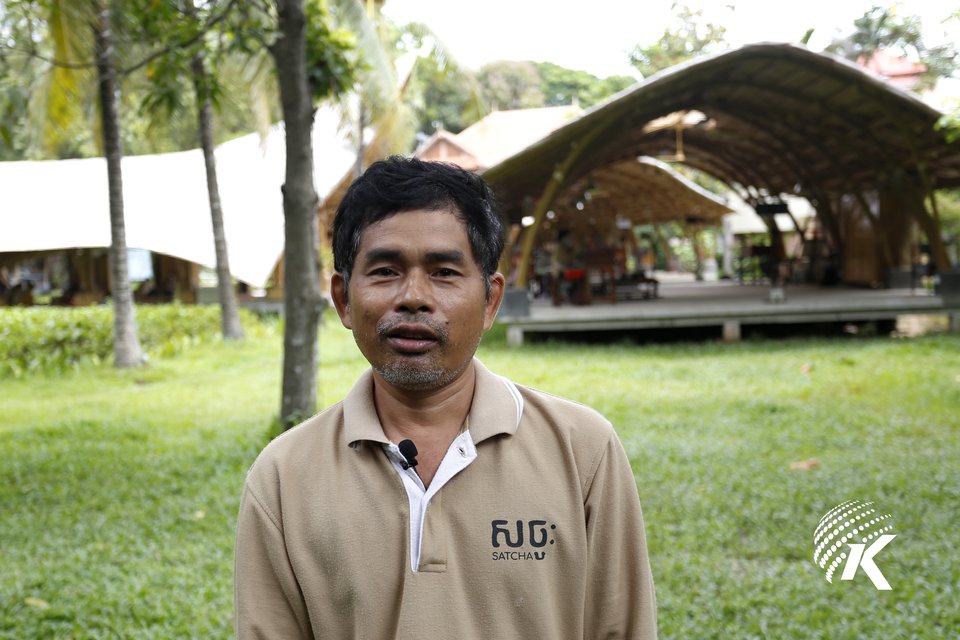 Sophal also attended Khmer and English classes at SATCHA. She had opened a workshop at her home in Siem Reap before Covid hit.
"I never learnt it before, I just studied here. When I know, I can also share with my children and be able to read my own name and when visitors ask me, I can reply to something," Sophal said.
Sophal said she doesn't want to leave SATCHA because at her last workshop, customers owed her money.
"I am not confident yet. I will wait and see when our economy is good," she said. "I want to create my own business but I can't try yet."
To get the latest news on Cambodia's business and tech, join Kiripost on Telegram.
---