Despite being a single mom with little education, Tom Kimeng has shown incredible strength, resilience, and determination to make ends meet. She has also worked tirelessly to provide for her family while also pursuing her dream, becoming the founder of Cambodia Rice Art.
Kimeng was born in Banteay Srei district, Siem Reap province, but relocated to Phnom Penh'a Sangkat Chrang Chamres 2, Khan Russey Keo, where she cares for her three children and four siblings.
Kimeng is the eldest child in the family and after her parents divorced was tasked with taking care of them all. She faced numerous challenges, including financial struggles and lack of support.
Despite these obstacles, the single mom refused to give up on her dreams. She worked tirelessly to provide for her family while also pursuing her career aspirations. She took on multiple jobs, often working long hours and sacrificing personal time to ensure her family's well-being.
Through her hard work and dedication, the single mom eventually landed a job at a small startup. She quickly made a name for herself, impressing with her creative ideas through her dedication and commitment to run her small startup, Cambodia Rice Art.
Kimeng only studied until Grade 5 and with limited education, her journey to become the founder of Cambodia Rice Art is a remarkable tale of determination, hard work, and perseverance. She said to create rice art initially, she knew without a teacher it would be difficult. However, her life experience taught her to be creative when finding solutions to financial problems.
"Previously, I was a seller of ordinary Khmer cakes. At that time, I thought that this type of cake was not expensive, especially as I cannot keep them long. Therefore, I had the idea to process the rice to be stored for a long time to sell at a high price. At the same time, I came up with the idea to process the rice into paintings so I can earn more money," Kimeng told Kiripost.
Kimeng spent five years researching and experimenting with recipes from locally available ingredients to mix with the rice to preserve it longer and transform it into beautiful paintings. She did not study or get training from anyone, but because of passion and to escape poverty, she was patient despite her struggles and practiced until she succeeded.
"I think if we do it over and over again, we will learn from it, and setting goals is an essential part of living a fulfilling life. Goals give us direction, purpose, and motivation to work towards something we value," she noted.
"Whether it's personal, professional, or academic, setting goals can help us achieve our dreams and reach our full potential. By practicing this, I have become aware of unexpected skills that can change my life to this day."
Kimeng became more determined to pursue her dream after noticing that the majority of products sold in the tourist hub of Siem Reap were made from ingredients sourced from abroad. This is despite Cambodia being rich in local resources. She then came up with the creative idea to take advantage of the value of Cambodia's raw materials.
Background of Cambodia Rice Art
Cambodia Rice Art was established in 2015 in Siem Reap. It specializes in rice art, which is a unique form of art that has been practiced in Cambodia for centuries. It involves creating intricate designs and patterns using rice grains and other natural materials.
In recent years, rice art has gained popularity as an art form, with artists creating intricate designs and patterns on canvas, wood, and other materials. "To create rice art, I have to start by selecting the rice grains to use, then carefully clean and dry them before sorting them by color and size. The grains are then arranged into intricate patterns and designs, often with the help of stencils or sketches," she said.
One of the unique aspects of Cambodia Rice Art is that it is a temporary art form. The designs created using rice grains are not permanent, and eventually fade away over time. This concept of impermanence is a central aspect of Buddhist teachings, and is a reminder of the transient nature of life.
Kimeng said that starting a Cambodia rice art business is a great opportunity for entrepreneurs who are passionate about art, culture, and sustainability.
She added there are several reasons she started. Firstly, it is a unique and beautiful art form that has been practiced in Cambodia for centuries. It is a reflection of Cambodian culture and traditions, and has a deep spiritual and cultural significance. This makes it a great product to sell to people who appreciate art, culture, and authenticity.
Secondly, it is sustainable and environmentally-friendly as it uses natural materials, such as rice grains, flower petals, and leaves. "By starting a rice art business, we can promote sustainability and eco-friendliness, which can be a great selling point for environmentally conscious customers," she said.
It can also provide support for local communities, especially farmers, because all of the rice and other ingredients she collects come from local producers.
"There is a growing demand for unique and authentic art products, as people are increasingly looking for products that reflect their individuality and values. Cambodia Rice Art is a unique and authentic product that can appeal to a wide range of customers, from art collectors and tourists to people looking for unique gifts," Kimeng said.
Why rice art?
Kimeng said because of her life experience and lack of financial resources, she came up with the idea to change from a small business selling Khmer cakes to painting to earn a decent income to support herself and her family.
"Small businesses cannot earn enough money to solve our livelihood issues in time, especially since it is difficult to live. That's why I came up with the idea of ​​turning rice into a Cambodia Rice Art business that can make me a living."
In addition, she wants to elevate Khmer rice onto the international stage. "I want foreign guests to know that Cambodia has a special luxury rice through the processing of all kinds of paintings, such as Angkor Wat and Bayon temple, especially to show and promote our Khmer culture," she added.
Her third reason is being an orphan. "I find that giving knowledge to the people around me is very important because we do not have to give money. Therefore, I think this rice is an arrow that can shoot 100 animals because we help farmers and support local products, especially helping widows by providing them with specific skills to reduce migration to work in orphanages," Kimeng noted.
"All of these factors have inspired me to turn rice into paintings. I think this business will have a lot of support when there are more creative ideas in the future. I think rice is life. Rice has given life to all of us. I want to help farmers."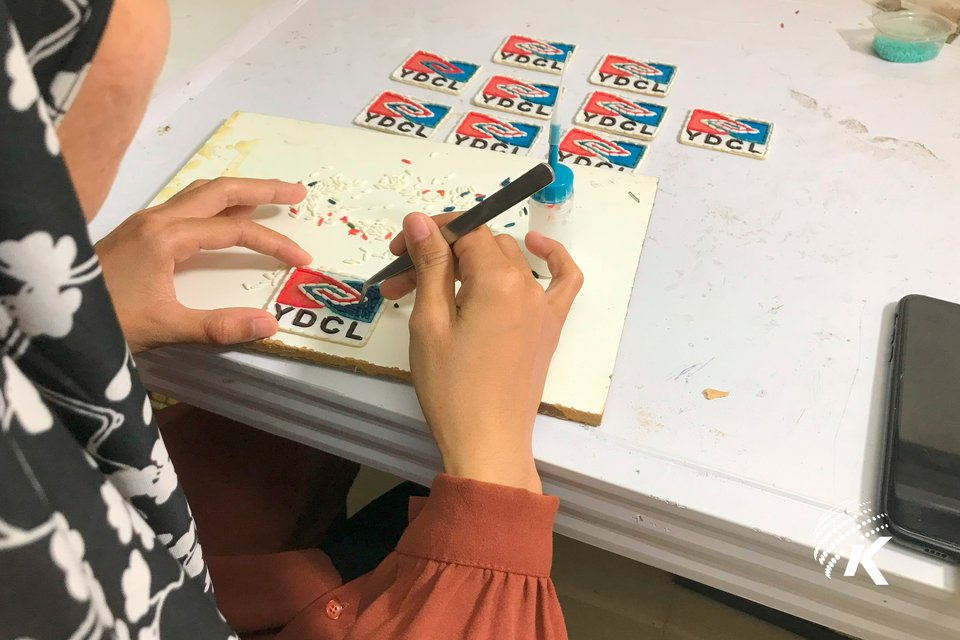 Painting types
Kimeng said Cambodia Rice Art caters to all styles and sizes of paintings that customers request. This includes portraits, temples, landscapes, company logos, Apsara, and necklaces.
Cambodia Rice Art also offers rice art painting as a package. "The reason I created this package is because I think if children or young people spend too much time with technology, it can cause them to have brain problems. Therefore, this package of rice painting can make them create their own, and especially help increase their critical thinking and to be creative."
Challenges
Kimeng said that the biggest challenge was during Covid-19 when she could not sell any products or run workshops. "We almost completely closed the shop, especially because we reduced the number of employees from more than 100 to only 15," she recalled.
In addition, she said it is a challenge selling due to a lack of specialized resources, such as digital marketing experts to help promote the products. She also lacks the funds to hire them.
"Also, sometimes we do not sell a lot of paintings, but we still produce them to make sure that employees have employment because they need money to support their livelihoods and study, and we do not want to lose them."
Another challenge is the business does not have many partners to promote products to customers.
Raw materials
The inner rice used to make the rice painting comes from Battambang and Siem Reap, and is bought from farmers directly and not through brokers. "We help local farmers through a network where we have direct contact with farmers with a clear source of rice," Kimeng said.
The dye used on the rice is natural and taken from local raw materials, such as leaves. Kimeng also collects expired rice from sellers. However, she said it is key that she knows where the rice has come from.
"The reason is that I think we can make local raw materials as much as possible without having to buy foreign dyes. On the one hand, when we do research, we can make our own natural pigments. We have to learn to live on our own first, without relying on external products."
Future plans
Kimeng wants to create a free school to make rice grains and produce new innovations according to the future needs of the market in all provinces of Cambodia to train people in the art form, especially women and orphans. "The main purpose is to create a rice museum to display images of designs made from pure Khmer rice, as well as other innovative products," she added.
"I want to expand my branch in Cambodia. In particular, I want the relevant ministries, such as the Ministry of Education, Youth and Sports, to work together to incorporate this hand-crafted skill into students' learning. They can understand the value of creating handicrafts and sometimes they may be interested in learning a skill when they graduate in the future," Kimeng told Kiripost.
Cambodia Rice Art also plays an important role helping farmers, increasing the villagers' jobs, and reducing the use of plastic. It also offers opportunities for youth and single moms and deters from migration.
"I would also like to see the relevant ministries create an art gallery to collect all hand-made products to display in one building to show the world, especially tourists visiting Cambodia, and help them understand the value of Khmer culture."
---