QUANG NAM PROVINCE - "It wasn't until that long ago that the Cotu people were cut off from the rest of civilization," says our guide, Duc, as we navigate roads that skirt deep valleys and roaring rivers. "They're pretty much cut off from modern life and follow the same practices as their ancestors."
Until recent decades, the Cotu way of life remained shrouded in mystery. Known as the "people of the forest" due to their close affinity with nature, they are one of Vietnam's smallest ethnic groups, with a total population of about 62,000. While today, the kids attend school and many of the young migrate to urban hubs to work, the Cotu people mostly shun modern life.
As hunter-gatherers, they live off the land and cultivate crops. They fish in rivers that rip through valleys, rear chickens, pigs, and buffalo, and hunt for birds and wild pigs using bamboo traps made by hand. "They have their own language and don't buy food," says Duc as our minivan jolts to a halt.
Today, they welcome guests from across the globe to experience an immersive cultural exchange after Japanese NGO, Foundation for International Development Relief started working with the community to develop indigenous eco-tourism opportunities.
As we disembark, we are greeted by a group of colourfully-dressed villagers who line the roadside. "Welcome to Tà Bhing village," says the community chief, who steers us towards a huddle of residents sitting in the shade of a hut weaving sturdy bamboo baskets used to transport crops grown in areas high in the mountains that are inaccessible to motorbikes.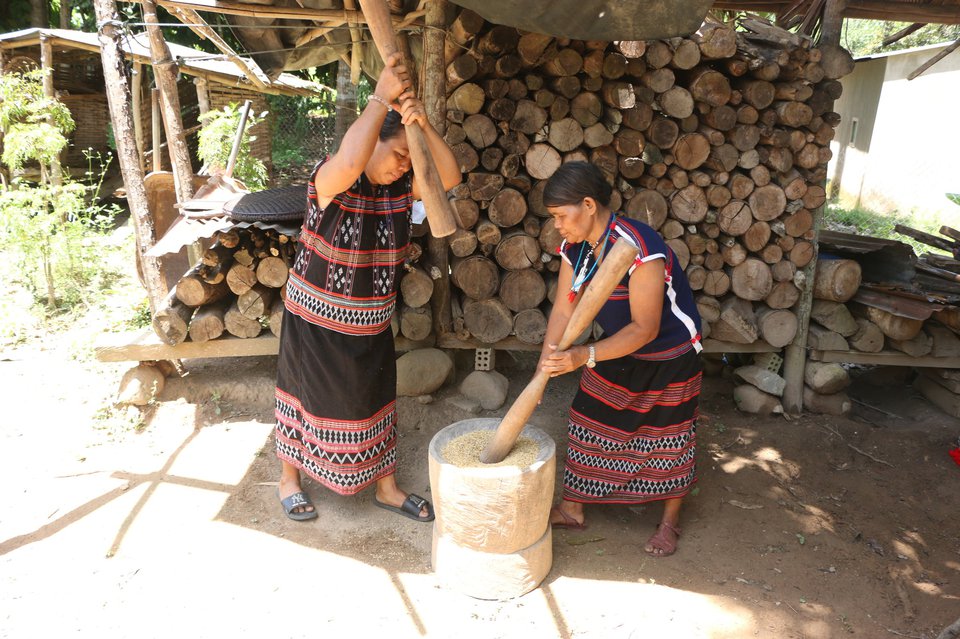 Leaving the lowlands
About two hours earlier, we set off from the ancient town of Hoi An. Within an hour, the scenery sharply transformed from a patchwork of paddies and farmland to the rise and fall of tree-hugged mountains, cliffs that plunge into racing rivers and thick forest, with very little sign of civilisation.
About 30 minutes before reaching Tà Bhing in Nam Giang district, we stopped at a small town, Thạch Mỹ, to sample the coffee Vietnam is famed for at Cà Phê Thủy Lâm Viên, a relatively upmarket café that seemed to be popular with official-looking types.
I'm a huge fan of Vietnamese coffee, and the thick, bitterly strong shot worked its magic, injecting me with energy after our early-morning drive. A word of warning, don't be greedy like me and order a second or you'll spend the next couple of hours jittery and shaking.
Meeting the "people of the forest"
Home to a population of about 500 residents, Tà Bhing is a sprawling village that comprises rambling tracks that cut through dense forest, past trickling streams, and gushing waterfalls. Basic wooden, tin-roofed houses with broods of clucking chickens outside punctuate the rural landscapes. Friendly dogs roam the paths, and bursts of color come from laundry hanging out to dry.
As we explore the village, we stop to meet residents at work and quickly learn everyone has their role. The majority spend from dawn until dusk working the fields, while the remainder have set tasks. Daily, from 4am to 6am, a group of women pound harvested rice with wooden clubs. Throughout the day, other women sit cross-legged on handwoven mats preparing freshly-picked corn and tapioca for the day's meals. While to the front of some homes, residents chop wood.
Weaving is another integral part of Cotu life – evidence lies in their traditional clothing that features intricate motifs. At the guol, or central assembly house, rows of women sit on the floor with wooden looms positioned between outstretched legs like a harp as they weave the colourful costumes they adorn.
"This is a skill that is passed down through the generations," says the chief weaver as she explains the ancient technique. "Weaving is important to us; it runs through our blood."
Next, we experience the Cotu's strong affinity with nature as they treat us to a 'Tung Tung Ya Ya' performance. To the beat of gongs and drums, men and women resembling ancient warriors dance in a circle wielding wooden shields and spears as they thank the spirits for this year's harvest.
After working up an appetite, we're escorted to another large wooden building for a feast of Cotu food. Some villagers join and, with the help of a translator, fire questions at us. Where am I from? England. Where do I live? Cambodia. It turns out the Cotu language is pretty similar to Khmer so we exchange a few words and the similarities – and stark differences – quickly become apparent.
We sit on the floor and tuck into a hearty spread of boiled chicken, hunks of juicy pork, fragrant soups, sticky rice cooked in bamboo, and freshly caught river fish before it's time for us to bid a fond farewell and return to lower grounds full of knowledge about the fascinating indigenous Cotu way of life.