As Cambodia prepares for a green energy transition, potential pathways for additional investment in the nation have been discussed by sustainability and green finance experts.
On November 22, the Global Green Growth Institute (GGGI) and European Chamber of Commerce hosted the "Green Energy Finance: Challenges and Opportunities" to bring together industry experts to discuss the future of green investments in Cambodia.
It aims to make green finance a reality in the Kingdom, which is crucial on multiple fronts, particularly to maintain Cambodia's competitiveness as a sourcing destination and to pave the way for the country's transition to a greener economy.
Rogier van Mansvelt, project lead for GGGI's Switch Garment project, said GGGI has conducted 50 energy efficiency audits at factories across Cambodia. In addition, the audits offered factories a blueprint to reevaluate their use of energy and found $231 million in investment potential across 650 factories.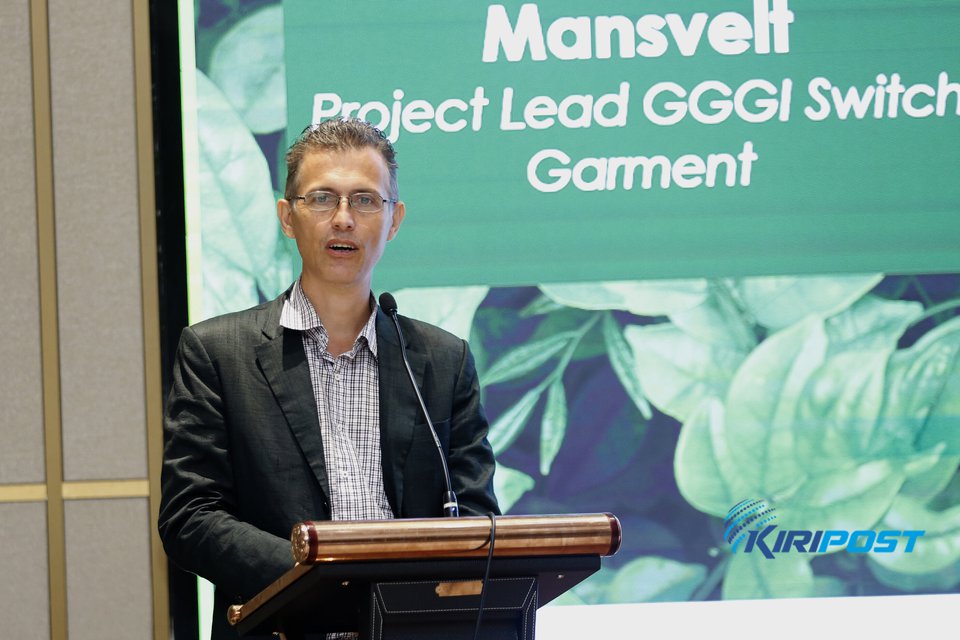 "Most building leases in the garment sector are typically for five years, and the average payback time for solar energy is currently eight years and most common lease-finance contracts for solar are 15 years, making long-term green investments currently untenable," he said.
David Marshal, EuroCham's treasurer, said a low share of renewable energy in the energy mix and high energy prices might make Cambodia less competitive than Bangladesh and Vietnam.
"Capitalizing on green energy financing and sustainable financing can help combat climate change and improve competitiveness," he said.
There are 86 companies in Cambodia that might upgrade to ESCO status with the right guidance, according to Butchaiah Gadde, a technical advisor on Energy for UNDP.
"Supporting the ESCO business model in Cambodia is currently a priority for EuroCham's Green Energy-Finance Sub-Committee, as an ESCO network could help generate more green financing opportunities in Cambodia," he said.
Tom Hesketh, Executive Director of Eurocham Cambodia, said that sustainability is expanding beyond being only a marketing decision. With 47 banks signing on to the Association of Banks in Cambodia's (ABC) Sustainable Finance Principles, sustainability is clearly a consideration of the country's leading financial institutes.
"We look forward to continuing to work with such partners and members to help unlock green investment opportunities across Cambodia," he said.
Challenges and Opportunities of Sustainable Finance Initiatives
One of the main barriers to long-term energy finance is the high-interest rates and requirements for collateral for commercial loans from banks. However, 47 ABC members voluntarily agreed to implement the 9 Cambodian Sustainable Finance principles into practice in 2019.
According to a presentation by Chan Sochinda, head of Regional Relationships at the Association of Banks in Cambodia, the growth of green financing faces major obstacles from the financial sector.
Additionally, green projects cannot be supported or enabled by the market's current structure since banks are still risk-averse and often require strong existing cash flow and at least 100 percent physical security.
The longest commercial loan term is five years, which is short for certain green projects. Besides that, banks lack institutional and technical ability, and have limited experience in project financing and the required structures, she explained.
Although there are several barriers to implementing green finance, the ABC SF committee may use the EU Taxonomy and ASEAN Taxonomy standards to design the CSFIs and create a standard framework for green finance for Cambodia's industry.
"Cambodia is now at a status of developing as per SBFN's report and we're working to move to the advancing and maturing stage," she said. "This requires improvement in ESG Risk management and enhancement in green financing in Cambodia."
There will be major green finance opportunities in many areas of the national economy based on global and local efforts to transform Cambodia into a green economy and to respond to climate risk, she presented.
Benefits of Green Bond
Green bonds are fixed-income security that involves a transfer of money from the borrowers to the issuer in order to finance or refinance projects that have positive effects on the environment and the climate.
Paolo Dalla Stella, an environmental policy specialist at UNDP, presented that through green bonds, the issuer might raise funds from both domestic and international markets for a project or business.
"Green bonds can raise a huge amount of capital as they rely on public debt markets, unlike green loans that rely on bank debt," he explained. "They can also be traded in a secondary market, unlike green loans."
By including a new group of environmentally aware investors who had limited opportunity to contribute earlier, the governments have a chance to diversify their investment portfolio by raising green capital through green bonds, he explained.
Additionally, green bonds are an excellent way to secure large amounts of capital for environmental investments that may not otherwise be available or that may be uneconomic with more expensive capital.
Green bonds provide investors transparency and accountability of the use of proceeds, he explained. Bonds, unlike other alternatives, give a fixed rate of return over a specified time, making it less risky and more predictable.
Despite the effects of Covid-19, green bond issuance increased by percent between 2019 and 2020.
In order to increase the market's transparency and unification and give investors access to sufficient information, the ASEAN Capital Markets Forum introduced the ASEAN Green Bond Standards in November 2017.
However, the government of Cambodia agreed in principle to allow corporations to list green bonds on the Cambodia Securities Exchange in October.