Seated on the floor, one prosthetic leg folded out, 37-year-old Borin is trying to unscrew the supporting wheels of a broken wheelchair, in an attempt to learn how to repair it.
Although the mother of two teenage daughters does not require the aid of a wheelchair to move about, she is keen to acquire the vocational skills so that she can repair her friends' wheelchairs which are faulty.
"I'm really happy to learn something new that will be helpful for my friends who use wheelchairs," said the souvenir maker and member of the Cambodian Handicraft Association (CHA), which supports disabled people through employment.
Borin lost part of her right leg from below the knee at the age of 10, when she accidentally kicked on a landmine that was partially buried near a mango tree in Siem Reap, she recalled.
As a CHA member, she has gained tailoring skills to sew silk cloth-based necklaces and handbags since her move to Phnom Penh seven years ago, but she is pleased to have another skill now, which is repairing wheelchairs.
Borin was among 16 participants from five non-governmental organisations, who occupied the back office of a Japanese recycle shop in Chak Angre for four days starting January 31 to learn how to fix broken wheelchairs and later share the knowledge with other members.
The NGOs selected for the program comprised Disability Development Services Program (DDSP), Phnom Penh Center for Independent Living, Association for Aid and Relief Wheelchair for Development, Disability Action Council and CHA.
Collecting dust
Organised by Sapporo-based Go! Fly! Wheelchairs, the 'Tondeke' (fly away in Japanese) wheelchair maintenance workshop has been planned twice this year (the next one is on Februray 28) under Japan International Cooperation Agency's grassroots project.
Yuusuke Uesugi, director of Go! Fly! Wheelchairs, said more than 200 new or used wheelchairs have been donated to disabled Cambodians, which is among 3,000 wheelchairs shipped to locations around the world since 1998.
While they donate wheelchairs everywhere, some are abandoned when they fall into disrepair, although some users continue using the broken ones despite the difficulty, out of desperation.
Hence, the critical need to develop wheelchair mechanics with strong technical knowledge in maintaining the mobility equipment, Yuusuke said, pointing out that three experienced Japanese mechanics are involved in the training.
"Training mechanics is necessary to ensure the sustainability of wheelchair usage, and we hope that the trained mechanics would share the technique with other people in the community and village," Yuusuke told Kiripost.
Through wheelchair maintenance, users are able to improve their lives, as they can move easily and become resourceful, thereby raising their living standards in the long run.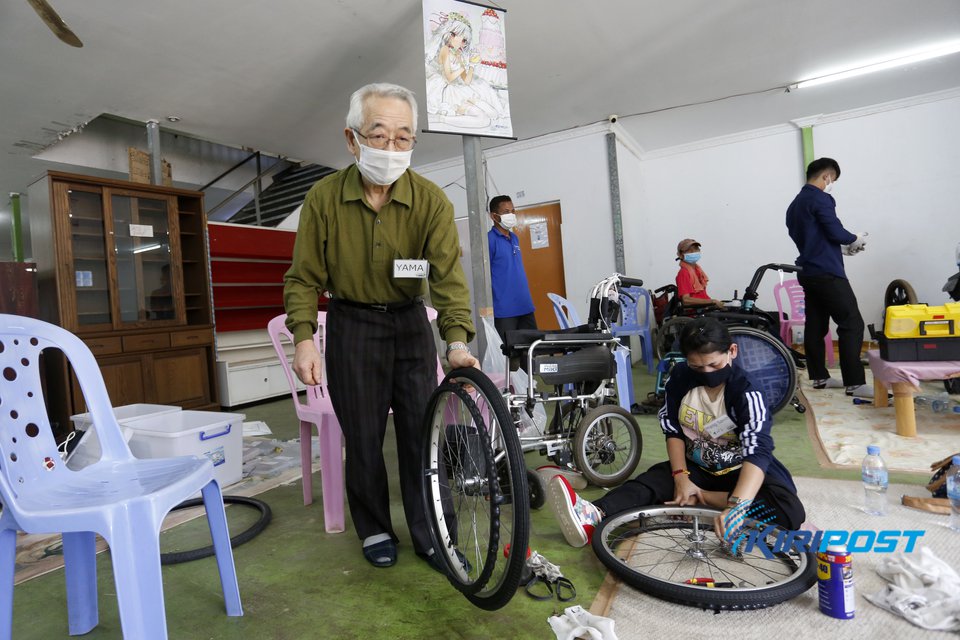 Pheng Samnang, director of DDSP, said 10 to 15 broken wheelchairs have been "collecting dust" in the NGO's office in Pursat province and in the homes of disabled people whom they serve.
The NGO serves more than 1,000 disabled people – with cerebral palsy or those who are handicapped since birth, those with spinal cord injuries, polio victims, landmine or accident victims – with around 100 people registered as wheelchair users.
They provide training on health, education, social empowerment, and teach disabled people how to earn a living.
"Landmine survivors, people with cerebral palsy, and accident victims – especially people who fall off palm trees, are among the highest number of disabled people we serve, apart from schoolchildren with disabilities," Samnang said.
While they have received wheelchairs from Go! Fly! Wheelchairs in the past, lack of technical know-how meant that many of the severely broken wheelchairs have been chucked aside.
"But some people in the village insist on using the broken ones. Although it is challenging, they still need to move around, for instance to maintain a livelihood. If they are not mobile, they would suffer," Samnang said.
Hence, his support for the technical workshop by the Japanese group. "There are three of us here to learn how to repair wheelchairs. When we return to the province, we will teach the others."
Easy to learn
Sitting in her wheelchair, Loeung Tola, who is paralyzed from the waist down, watches closely as her colleague Borin takes out the rim and tyre of a model wheelchair, with instructions given by 77-year-old Yamazaki Tsukasa.
"I can't repair the wheelchair myself but I understand the process and what should be done to make sure it works in the end," said 37-year-old Tola, a soft spoken souvenir maker, who became paralyzed after suffering from a high fever at age 13.
Also a CHA member, Tola shared that her wheelchair is from Japan, and that 10 others in her organisation use wheelchairs, eight of whom were at the workshop to learn the skills.
In the midst of it all, Tsukasa, his shirt tucked into his pants, steps in and out of one of the groups tasked to him, removing foot panels and rinsing nuts and bolts covered in thick grease in a clear solvent.
All the time joking and gesturing instructions to the trainees, the septuagenarian enjoys demonstrating his own methods of pulling apart the wheelchair.
His clothes, fit for office wear, are immaculate despite the mechanical work, signalling his ease at carrying out the technical work. "I am a trained electronics engineer, who worked with Japanese conglomerate, Hitachi," he said, smiling.
Thus, it was easy enough for the grandfather of four to learn the skill from a senior in Go! Fly! Wheelchair.
Adding that age is no barrier to him, he has been a volunteer with the organisation for 13 years, having started with the intention of making himself useful after retirement.
"In Japan, many people use wheelchairs, not just the disabled. Even old people use them and as you know Japan has an ageing population," he said.
With his team, he has been to Indonesia and Nepal about seven times to conduct these workshops and now, Cambodia.
Sharing that he is doing what he enjoys, Tsukasa said he is more than happy to pass on his skills to those who need it.