The shrill sound of whistles reverberates around the outdoor AstroTurf pitch on a warm Monday evening. To the energetic call of their teammates, men and women dart across the floodlit field in pursuit of the ball, using their hands and feet to pound it towards the net.
The field next to Boeung Trabek High School in the Cambodian capital is the regular training ground for Cairde Khmer – believed to be the Kingdom's first Gaelic football squad. Every Monday evening, members gather there to spend an hour training in the ancient Irish sport.
Recently, popularity has swelled among Cambodians – mainly driven by October's success at the AGG tournament in Malaysia in Malaysia. This saw both Cairde Khmer's men and women's team beat off stiff competition to make it into the finals of Asia's largest Gaelic football tournament.
Despite not winning the cup, the teams' efforts impressed organisers so much that they have now been invited to represent Asia in the prestigious 2023 GAA World Games in July in Derry, Ireland.
"We don't normally drag this number of players to training," says Cairde Khmer chairman Ronan Sheehan, his eyes sweeping across the pitch of about 30 players. "There's been a hell of a lot of excitement as there's the potential to go to Europe. They know if they apply themselves, train and show they are fit and able enough, they can go."
Humble Beginnings
When Cairde Khmer began life in 2017, it was mainly attended by expats – a stark contrast to the team that exists today. "When we started, foreigners formed the backbone of the club. Now, Cambodians make up the backbone, which has been great to see," says Ronan, who describes Gaelic football as a mix between rugby, football and basketball – or similar to Australian Football League (AFL).
In fact, it was Phnom Penh's AFL club that unwittingly helped attract Cambodians to Cairde Khmer. They initially started training at another location, using the pitch directly after AFL. "They [AFL] had quite a few Cambodians, who saw us playing and were interested to join, and it started from there," Ronan says.
Nan Nas, known as Nassy, is one of them. The 29-year-old started playing Gaelic football five years ago and was immediately hooked. "I started playing AFL and the Gaelic team was after, so they invited me to play. I really enjoyed it, it's so much fun and I've made many friends. Everyone is happy to join the team," the forward player said.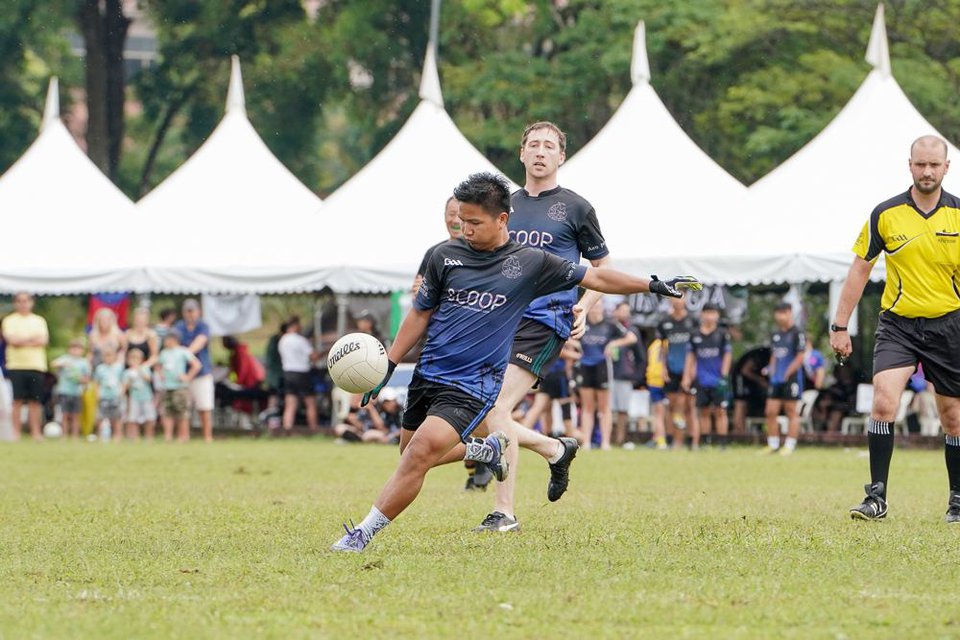 Scoring a win in Malaysia
In early October, Cairde Khmer sent a men and women's team to represent Cambodia in the junior category at the Asian Gaelic Games. The two-day event, which was this year held in Malaysia's Kuala Lumpur, saw 25 countries compete for the crown.
"All of the other countries' teams were basically Irish expats. We showed up with teams of all Cambodian men and women; some who've only been playing for a few months," says Ronan.
"On the Sunday morning, both teams lost the last group game but still managed to get through. Bodies were dead but both teams picked up for the semi-final and, against all the odds, managed to get into the finals. It was a crazy journey."
Unfortunately, at the last leg, both teams were defeated. Cairde Khmer's female team lost out to South Korea's team, Seoul Gaels 5-1. The men marginally lost out with a score of 10-12 to the Exiles – comprising men who did not have a team to play for.
"When we first came onto the field and saw players from other countries, we didn't think we could make the first match," says women's team captain, Vat Sreypov. "Amazingly, our players played their best. We said, "Play until you pass out on the field and after you can relax".
"At first, we said if we get to the semi-finals that's a great achievement. But that wasn't enough, we had to go for it. It was amazing, we made history. I still have goosebumps thinking about it."
The road to Europe
Cambodia's performance on the pitch in Kuala Lumpur impressed Asian County Board members (the board is responsible for Gaelic games across Asia and Oceania, except Australia and New Zealand) so much that the teams have been selected to represent Asia in the 2023 GAA World Games in July.
"This is once in a lifetime stuff," says Ronan with a grin. "We couldn't believe they selected us; now it's time to make the dream work. Excitement is rising by the day. A lot of players don't come from wealthy backgrounds and this is their first time outside Asia. They might never get the chance to go to Europe. This is the stuff you see in movies."
Sreypov, 26, is hoping to represent Cambodia in Derry. The yoga teacher started playing Gaelic football 1.5 years ago after a friend recommended it when she said she was looking for cardio exercise.
"I'm really excited," the female team captain, who plays midfield and forward, says. "I get to travel to another country, but I'm happier because our achievements have been noticed. It's also inspired a lot more Cambodians to come and play. To go to another country is one thing, but we want more people to join so we have an even better team."
Nassy is also hoping to be one of the 28 Cambodian players sent to Derry. "When we finished the game in Kuala Lumpur and our coach told us we had been invited to join in Ireland, we were so excited. We want to represent Cambodia there."
If Cambodia makes it through to the finals, they will play at Croke Park, an 84,000-seat stadium – one of Europe's largest.
"To make this dream come true, we need to fund the trip. Flights, accommodation, food. So, we'll be holding fundraising drives and are looking for sponsors," Ronan says.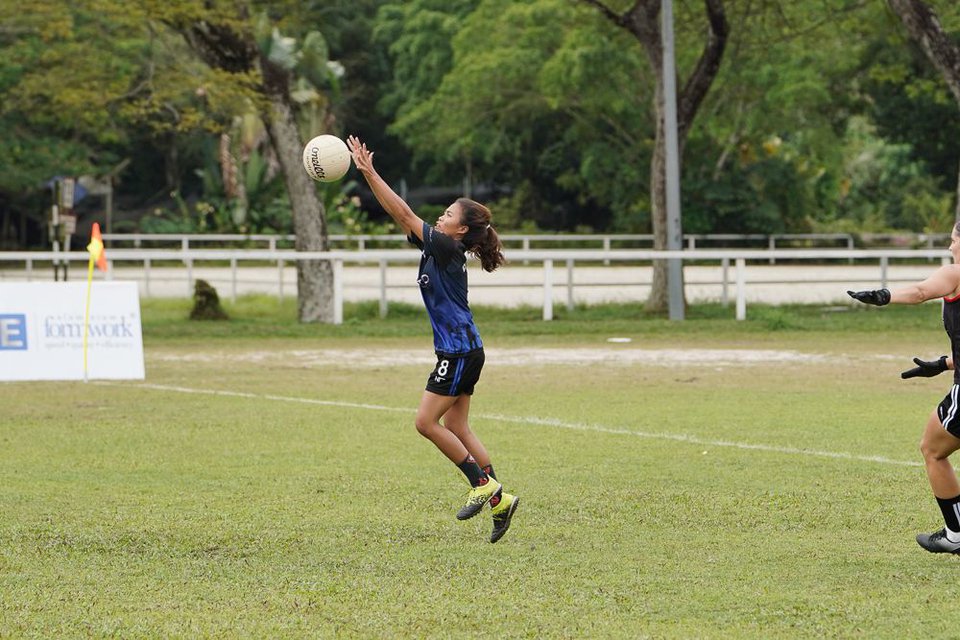 Recruitment drive
While news of the chance to play in Europe has served as a magnet, Cairde Khmer is always on the lookout for new players.
"If you've never tried it before, I'd recommend it, especially women who think it's a sport for boys. I'm a yoga teacher and playing this makes you feel the bond between males and females. We make friends, there's a good sense of community spirit and it's great after a hard day at work," says Sreypov.
"It's a nice way to start the week," adds Ronan. "You develop friendships, play and travel together. It's the friendships you make that trumps it all. The beauty of all sports is they bring people together; we're a community."
Cairde Khmer trains every Monday, from 8pm to 9pm at the field next to Boeung Trabek High School, Monivong Boulevard, Phnom Penh.