It was an average Friday morning as workers, teachers, students, laborers and market sellers were traveling along Phnom Penh's crowded roads. Suddenly the sound of firefighters' sirens echoed throughout the capital and traffic slowed to a standstill. Plumes of black smoke could be seen circling into the sky as a devastating fire tore through a community in Daun Penh.
It took firefighters about four hours to bring the flames under control. However, the fire devastated more than 100 homes in two underprivileged communities in central Phnom Penh on December 10. This has left many uncertain about what their future holds.
The loss of a rail track community
Sitting on a battered wooden board under an old tent, Hong Sokheng's eyes are red with tears. "I won't move, I will just lay a sleeping mat in front of it [her burnt house]," she says with a broken smile. "Where can we go next? The cost to rent houses nowadays is so expensive for us."
She said her rented wood and zinc house that is 7-8m by 5-6m was completely devastated by fire in just a blink of an eye. It took hold as she was cooking porridge for her granddaughter.
A total of 80 houses were razed after the fire broke out at an irregular construction site on Railway Road, Village 3, Group 34, 35, 39, Sangkat Srah Chak, Khan Daun Penh. It started at about 6.30am when an electricity transmission sparked the blaze in the house of Sun Det, 85, who was at home. It quickly ripped through surrounding buildings.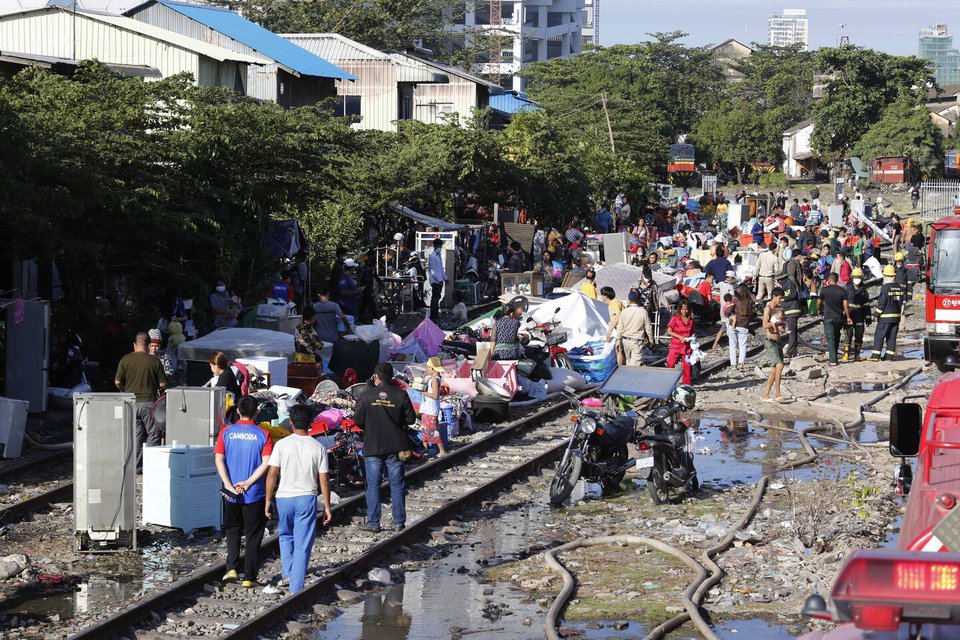 No people died or were injured, according to the post on the official Facebook page of the Fire Prevention and Rescue Police Department of the General Commission of National Police on December 10.
Hong Sokheng of Kampong Cham province, works as a massager and air scepter. The 64-year-old lives with her 11-year-old granddaughter in the Boeng Kak area, a place she has called home for more than 20 years. She says she has no clue where to live next after the house she rented was turned to ash. All she has left is the old clothes she wears, a broken mat, a pillow and blanket, and the school bag of a little girl who is solely dependent on her grandmother.
Hong Sokheng says she earns about 10,000 riels a day or less. With her monthly rent sitting at 100,000 riels, she is making a plea for help. "We only ask for plates, pots, rice, a sleeping mat, and we can't live far away from this place. Go to study, but all the school uniforms were on fire," she said as tears streamed down her face.
"It was completely burned, you can see the black spots on the tree stumps there," says Tob Sara, 38, with a red krama wrapped around her head, as she points to where her home once stood. All that remains are a few charred tree stumps. The cramped wooden building that overlooks the train tracks is home to her family of 10. The blaze destroyed the dried shells she sells to make a living.
"All the dried shells, about 60 to 70 cans, were spoiled," she said, adding she would have made a profit of between 30,000 and 40,000 riels and prices have increased due to the pandemic. "It's hard to sell more."
Her two-storey wooden house, built using hard-earned money, was the only shelter for her 10 family members to live and dry clams for daily income. She was unable to rescue any personal items as she attempted to get her family to safety.
Tob Sara is another victim of fire, which devastated her home in front of the Ministry of National Defense. She doesn't know how long it will take to rebuild the house. She has managed to find temporary accommodation in the form of a tent but for now is seeking refuge in family homes nearby.
According to residents living in the area, rumours circulated that the fire started in an empty home that had been taken over by a drug dealing gang. In contrast, the Fire Prevention and Rescue Police Department of the General Commission of National Police stated the cause was electricity transmission.
Another fire ravages a Muslim community
Just a few hours later, at 9am news broke that another fire was raging near Riverside. In its wake, all that remains at the site adjacent to K.M 9 MOSQUE are charred bits of wood and blackened bricks. Residents sift through the ash in an attempt to rescue what they can.
An old man wearing glasses stands in the crowd, staring at the piles of bricks and lone house pillars. He turns to a man and tells him to collect the broken bricks and start cleaning.
"Take the debris, take the space for sleeping [sleeping tent], then wait until we have money, so we can build it [house]again," says the owner of one of the destroyed homes in group 05, village 03, Chrang Chamreh Muoy District, Russei Keo​ Commune, Reang Ny , 71.
Reang Ny also watched his house burn. He was unable to save any personal belongings, including important documents and money. The father-of-12 said he spent his entire life working as a moto driver to save money to upgrade his home from coconut trees and wood to add bricks. He fainted as he watched the fire consume everything he had worked for.
His wife, Ms. Yaphat Tima, 68, a pumpkin cake seller, added the family has lived there for more than 30 years. She has no hope of getting her home back. "I spent a lot to build this house, I didn't expect this thing to happen [the fire]," she said, adding the house renovation cost between $6,000 to $7,000. "Also, my children's money burned in the fire."
The six impacted families of almost 30 people have no clue what to do next or where they will live. For now, they are cleaning the ashes and sleeping in tents while they earn enough money for the rebuild.
According to the Fire Prevention and Rescue Police Department of the General Commission of National Police, the fire started while Ly Phoeung, 70, was at home. It was caused by an electric current and spread to 17 houses.
The National Police General Commission recently announced the hotline number 117 after technical issues were corrected with the cooperation of the Cambodian Regulator of the Ministry of Posts and Telecommunications so people can report any problems. The hotline is open 24/7.