The pandemic has disrupted a Cambodian major salt supplier from exporting abroad as recovery slowly returns, its CEO said this week.
"To me being a woman entrepreneur with the journey I am taking part in, the pandemic hit us so badly in terms of financially, operationally, and emotionally," said Thaung Thyda, co-founder of Kampot-based Thaung Enterprise which runs the largest salt farm in Cambodia both for domestic consumption and export.
"Speaking of which, financially, we faced a shortfall of cash flow by not being able to sell our products much and 99 percent of exportation stopped due to the crisis of the global supply chain during the Covid-19 lockdowns when logistic prices increased 10 times," Thyda said.
[ Cambodian Women Entrepreneurs Share Their Success ]
[ Female Entrepreneur Crowned Advocate of the Year at International Awards ]
Businesses across the Cambodian capital and Preah Sihanouk province have been heavily impacted by Covid-19, with many forced to close their doors, especially those owned by women, research reveals.
In the study, 96 percent of respondents said the pandemic has affected business. The research was conducted by Coalition for Integrity and Social Accountability (CISA) with Australian funding.
Thaung Enterprise supplies nearly 40 percent of the entire consumption in Cambodia and Thyda was discussing the challenges facing female entrepreneurs with Kiripost.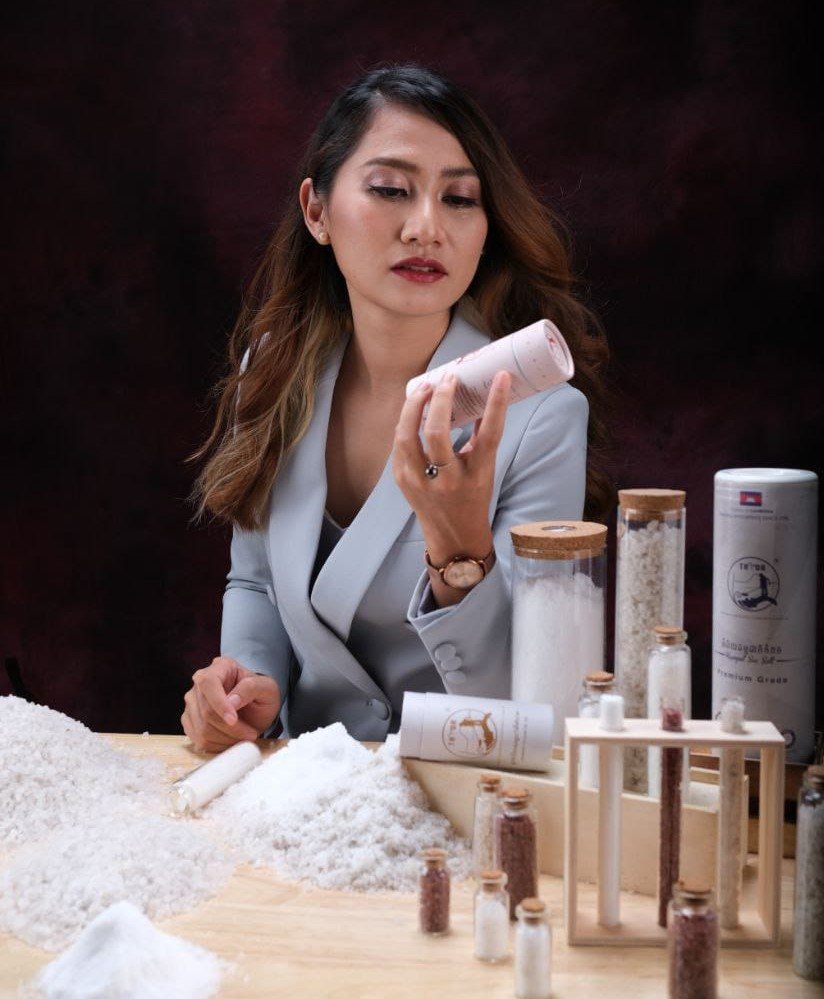 She said the biggest challenges that Thaung had was to deal with was cash flow, which affected her business, especially responding to bank loans.
"Particularly on the operation side, the shortage of raw materials like packages is hard to source and the price increases dramatically. The contributions back to the community are less due to the market being stuck," she said, adding that due to the lack of staff, some are not able to come to work due to fears.
"Emotionally, being an entrepreneur, we are responsible for the future of our business, team work and community impact. Once the situation came along, no matter what we also worry about that and trying to find solutions as much as we can."
Thyda said currently recovery is slightly improving and financially remains a challenge as export is still slow or canceled.
"Local markets are still in a hard position in the market place due to the competition of imported products, salt and unfair competition," she added.
Thyda said that being a woman, the uniqueness is to try her best, no matter what happens, and it is the same in growing a business.
"Accept the truth that it's not an easy job as an entrepreneur and there will be more challenges to go, yet solution too," she added.
"Look into your business plan again and analyze the data and experience you have. Revise it if you have to. Change it if it doesn't work. We have changed more strategies when we found some don't work for us. This is how to grow. Like I mentioned, heart brings you forward but head tells you whether it works or not," she added.
She said people need to know their own position. If they are ready to scale up, they should focus, and work hard on it.
"Some new entrepreneurs tend to fall into the illusion of being in the spotlight of popularity by not focusing on business much," she said. "Keep reflecting on yourself every day to understand how you want your business to grow and which position you want to become."
Ask for support if you need too, Thyda said, adding with regard to finances, access to a financial institute or support network if facing challenges with finance to grow the business.
She advised to ask for help in terms of education, mentoring, and emotional support with a network that is trusted. She added there are still people who are willing to offer help and support.
"We have been affected a lot by Covid and we see this crisis is affecting the economic ecosystems around the globe too, not just our Cambodia. That's why we were trying to plan during Covid our recovery plan," Thyda said.
For example, she added, changing the strategy to conduct business by focusing on the local market more.
Checking and managing well with the financial team to ensure there are no cashflow problems also plays a big role in business, Thyda said.
"Lastly, we learned that Covid offered us a new way of doing business. So, we have to adapt ourselves in that new way."