Heng Narin, General Manager of DPK Prasit Farm, told Kiripost about how safe vegetables are grown, and their benefits and challenges. He has a degree in Agronomy from the Royal University of Agriculture and has experience working in the fruit and vegetable supply chain.
The farm has 44 net houses, with each spanning an area of 23 square meters, located just 15 km from Phnom Penh city, this makes it good for supplying vegetables to supermarkets in the capital.
The farm grows safe vegetables, according to the Ministry of Agriculture, Forestry and Fisheries' (MAFF) Good Agriculture Practice (GAP) standards. Consumers can identify safe vegetables in supermarkets by spotting logos of the market indicating safe vegetables.
How Safe Vegetables are Grown and its Benefits
Narin said that the farm has applied for GAP recognition from MAFF and is still waiting for responses from the Ministry.
Despite not yet receiving GAP recognition, the farm uses a variety of GAP practices. These include using organic fertilizer, growing vegetables in net houses to protect them from insects, and halting the use of fertilizers and pesticides two weeks before harvesting.
Narin said that safe vegetables can also be grown outside net houses. However, there are benefits of growing vegetables in net houses, such as protection from insects and harmful light, and reducing the amount of pesticide, he added.
Fertilizers and pesticides are not used for at least two weeks before harvesting safe vegetables. Vegetables grown in nets protect insects from destroying the crops.
To prevent insects from getting inside the net houses, workers are also required to close the doors before and after entering the net house, he said.
"Growing vegetables inside net houses reduces production cost because we only have to use 30 percent of pesticides used for vegetables grown outside the nets," he explained. Additionally, there is a UV roof that protects harmful light from destroying vegetables.
DPK Prasit Farm grows three types of vegetables: leafy green, cruciferous and marrow. Narin said that per square meter, the farm can harvest leafy green vegetables up to four kilograms and annually leafy green vegetables grow up to seven times.
For leafy green vegetables, annually, it can harvest the vegetable in a period of 28 days. For cruciferous vegetables, it takes up to three months for harvest. For bell peppers, it takes up to eight months to reach harvest.
The longer it takes to harvest, the more expensive the vegetables.
Narin said that the farm sources a proportion of its agricultural materials from Angkor Green, but organic fertilizer and organic pesticide are produced in the farm. The amount of organic fertilizer and organic pesticide used is based on the standards set by MAFF, he added.
The farm creates jobs for local people and provides them with training. Narin said, "For workers here, besides receiving income from working they also have the opportunity to gain new skills."
Workers at the farm receive training on how to make organic fertilizers and pesticides, and grow safe vegetables, he added.
People are unaware of the benefits of consuming safe vegetables, and they may be less willing to pay a premium for them. While some people cannot afford them.
Narin said that people know very little about the benefits of safe vegetables and believe they are expensive. In general, the price of safe vegetables can be higher than normal vegetables between 500 to 1,500 riels, he said, but the price varies depending on the vegetable.
Consumers do not know that normal vegetables are not tested for levels of fertilizer and pesticide used, he added.
Challenges in Growing Safe Vegetables
The free market makes it difficult to control the supply of vegetables, which can lead to price fluctuations, said Narin.
He explained that some farmers grow vegetables without contracts with the market. Therefore, there are risks if they produce more than the market demands. This can lead to a decrease in vegetable prices, he emphasized.
For instance, if market demand for vegetables is 100 kilograms a day, but farmers produce 200 kilograms a day, this excess in supply leads to a drop in price from 5,000 riel per kilogram to 2,500 riel per kilogram.
That is why farmers are forced to get rid of excess vegetables by decomposing them to make organic fertilizer. However, they bear a huge consequence of a loss of production cost, he added.
If this happens, farmers are unable to get back the money they spent growing the crops because the price of vegetables drops, but their production cost remains unchanged, he said.
Farmers who produce more vegetables than the market demands may lose money if the price drops.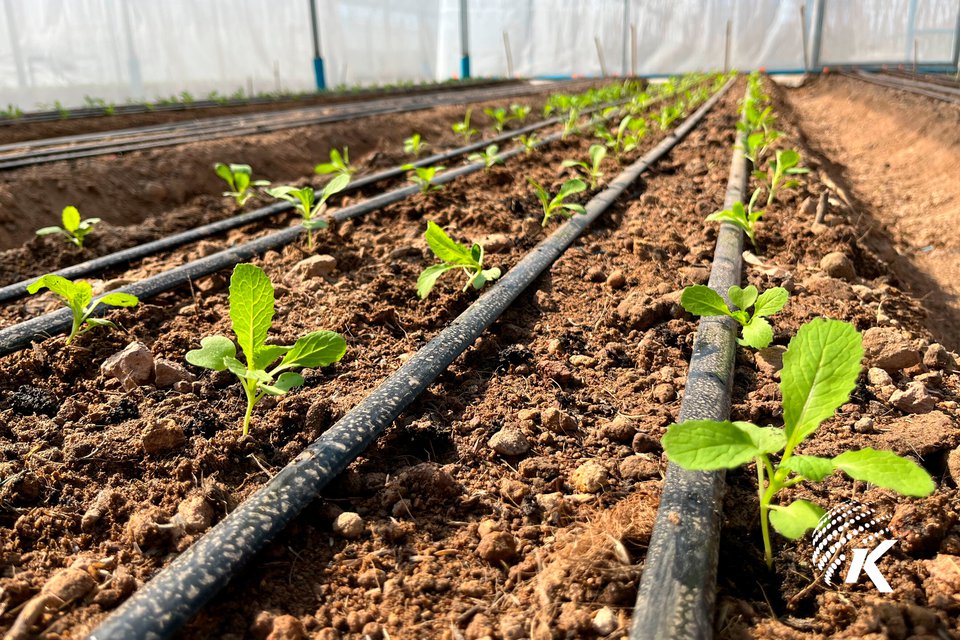 How Can the Government Help Farmers?
Narin emphasized the vital role the government plays in helping to stabilize vegetable prices by creating a body to buy excess supply. In Cambodia, there is no agency or factory that buys the vegetables that exceed market demand to make dry foods.
Narin said that the government in Thailand has policies to buy rice from farmers when supply exceeds demand. However, In Cambodia, the government rarely helps buy excess agricultural products from farmers.
"Therefore, I would like to request that the government has policies to create a body setting up factories for buying the excess supply of vegetables in the market. By doing this, we can address the issues of vegetable price fluctuation," he explained.
Additionally, non-governmental organizations (NGOs) and farmers' cooperatives are playing a role in educating farmers and consumers about safe vegetables.
According to MAFF data, NGOs help train local farmers how to grow safe vegetables. DPK Prasit Farm also provides tutoring videos on how to grow safe vegetables on its Facebook page.
Safe vegetables can be certified by GAP, which can help to build consumer confidence.
To get the latest news on Cambodia's business and tech, join Kiripost on Telegram.
---