Netherlands-based Oikocredit, Ecumenical Development Cooperative Society U.A, which finances Prasac Microfinance Institution Plc, LOLC (Cambodia) Plc and Amret Plc, is alleged to have failed to conduct proper due diligence on its Cambodian investments.
Non governmental organisations (NGOs) Cambodian League for the Promotion and Defense of Human Rights (LICADHO), Equitable Cambodia (EC) and FIAN Germany alleged that Oikocredit continued with its investment despite being aware of the "risks and negative social impacts" associated with the microfinance sector since 2017.
Because it "contributes or is at minimum directly linked to the abuses", thanks to its business relationship with the microfinance institutions (MFIs), Oikocredit has therefore "failed to comply" with the OECD Guidelines for Multinational Enterprises and international human rights standards.
The NGOs today submitted a complaint against Oikocedit and its findings to the Dutch government's National Contact Point (NCP) for Responsible Business Conduct.
The NCP is a government-supported grievance mechanism for complaints regarding the global activities of Dutch-based companies and their alleged infringements of responsible business conduct outlined in the OECD Guidelines.
Naly Pilorge, outreach director at Licadho, said although Oikocredit claims to be a social investor, their investments in Cambodia have caused "irreparable" harm to borrowers here.
"Our hope is that this complaint will compel Oikocredit, as well as other so-called 'social' or 'impact' investors who have fueled this human rights crisis, to fix the harms they've contributed to and provide real relief for Cambodian borrowers," she said.
Both Licadho and EC have published reports of alleged aggressive collection practices, coerced land sales, and other complaints that have led to food insecurity, land sales, child labour, migration, and other abuses since 2019.
Though unaware of the complaint against Oikocredit, Cambodia Microfinance Association (CMA) communications head Kaing Tongngy stated that an early 2022 report by the NGOs on similar allegations was "not reliable" and was "one-sided".
He acknowledged that the MFI sector was not perfect, noting that a "few isolated cases" of unethical practices by "unprofessional credit officers" were found and have since been "punished" by their respective institutions.
Tongngy said the MFI sector has zero-tolerance against unethical practices or abuse by staff members. "As the industry leader, the association and members have always regarded client protection as core in our business operations."
'Second largest exposure'
Apparently, Oikocredit is said to have made "large and increasing investments" in Cambodian MFIs from 2017 through to 2022, the NGOs said.
This was done at a time when "overwhelming evidence of widespread over-indebtedness and negative social impacts were being produced by local NGOs, journalists, international NGOS and even Oikocredit itself".
They said Prasac, LOLC Cambodia and Amret are allegedly linked to "threats and intimidation, predatory lending practices, coerced sale of land including land owned by indigenous people, child labour, loss of home and livelihood, forced migration, food insecurity, and termination of children's education".
They also claimed that Oikocredit themselves had "raised such concerns or acknowledged them multiple times since 2017", including an over-indebtedness report it commissioned to investigate allegations (but never published), in its annual reports and investment prospectus.
"Despite this evidence, Oikocredit increased its investments in Cambodian MFIs, rising from 50 million euros ($52,638,000) in 2017 to more than 67 million euros ($70,534,920) as of September 2022 – making Cambodia the country with the second-largest exposure in Oikocredit's portfolio," the NGOs said.
It also alleged that Oikocredit "misunderstands or misconstrues" its MFI partners' use of land as collateral.
In a response to FIAN Germany in February 2022, Oikocredit claimed that its Cambodian partners only used land as collateral for large-volume loans to corporate clients, such as small and medium enterprises.
However, Oikocredit's claim was "false and disprovable", the NGOs alleged, sharing that Prasac's 2021 audited financial statement acknowledged that 99.9 percent of its $3.7 billion loan portfolio is collateralised with land titles.
"The lack of knowledge about such a crucial aspect of their partner organisation's operations in Cambodia as late as February 2022 supports the conclusion that Oikocredit's due diligence procedures are severely deficient," they said.
Oikocredit did not respond to questions immediately.
'100% checks'
Based on Oikocredit's loan information as of February 10, 2022, loans to LOLC Cambodia amounted to $32 million, while Amret's was $30 million and Prasac's $10 million, said the NGOs.
LOLC Cambodia CEO Sok Voeun told Kiripost that they have a "good relationship" with Oikocredit, and as a responsible borrower, LOLC makes "timely payments" and complies with the terms and conditions in the agreement.
He recalled that LOLC Cambodia had to deal with a formal inquiry by Oikocredit following allegations made by Licadho in a previous report.
"LOLC had a dialogue with Oikocredit to explain how [we] investigated the allegations and what strategic measures were put in place to ensure that clients are protected and treated ethically," Voeun said.
He explained that loan approvals are "strictly assessed" on cash flow rather than collateral basis, while the income and expenses (family and business expenses) are rigorously checked by credit officers, then reviewed and approved by their superiors.
On collaterals, Voeun said 59 percent of LOLC customers are granted "unsecured loans", meaning no land or building as collateral, for "micro loan size and asset back financing such as motorbike, tuk tuk, car and sanitation loans".
To avoid any risk of over-indebtedness, LOLC Cambodia carries out a "100 percent" check with the Credit Bureau of Cambodia on borrowers and co-borrowers, in addition to "rigorous" in person loan evaluations, prior to loan approvals.
"We use the progress out of poverty index method to track our outreach to poor clients. We conduct the survey to see how our loans have impacted them," Voeun said, adding that its current non-performing loans among rural households is 2.23 percent.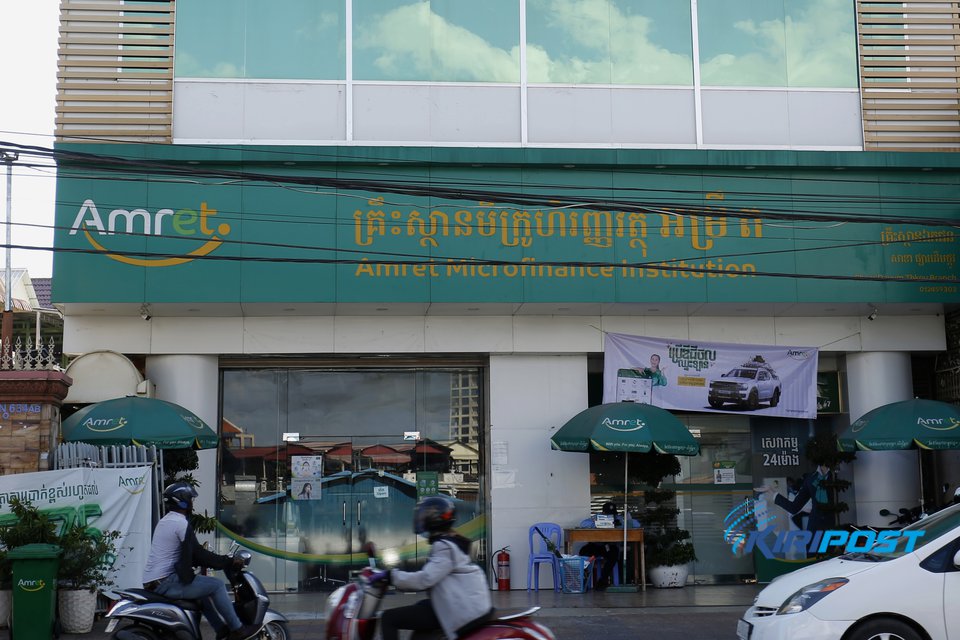 Suspend investments
Licadho, EC and FIAN Germany's 28-page complaint showed that the average Cambodian borrower owes about "twice as much" in microloan repayments than their monthly income.
Most of these loans are "collateralised with borrowers' land titles".
Cambodians held roughly $14.4 billion in microloans from banks and microfinance institutions in the country at the end of 2021.
"The country has the highest average microloan size in the world, far exceeding average annual incomes. Most of the 2.9 million microloans in the country require the pledging of land as collateral," they added.
Given the issues, they urged Oikocredit to conduct a "remediation of adverse human rights impacts" by compensating borrowers harmed by its investments and divert profits from their loans to the MFIs to a debt relief fund, and suspend investments pending the return of land titles held as collateral to owners.
They have also asked for increased transparency and due diligence, while calling for an independent audit of how existing due diligence procedures and ESG scoring at Oikocredit "failed to account for the severity and extent of harms" in the MFI sector.
Do not reflect facts
Tongngy of CMA said previous reports by NGOs have painted a "negative image" of the MFI sector, which was "far from the truth" and undermines the sector's efforts in economic development or poverty reduction.
"Such wrongful allegations only contribute to higher funding costs or chase away responsible investors concerned about the well-being of the clients [borrowers] while attracting pure-for-profit investors. Cambodian people and clients bear the consequences," he added.
According to LOLC Cambodia's Voeun, internal investigations have been conducted on allegations but due to limited information from the media or reports, they were not able to identify the complainants in some cases.
"However, for the identified cases, their statements did not truly reflect the facts," Voeun said, adding that they do not tolerate unethical lending practices and have strict and regular internal controls to monitor adherence to their internal regulations.
These include quality assurance officers conducting monthly visits to customers and disciplinary action on staff who breach the code of conduct, client protection and internal policies.
Although complaint handling and monitoring mechanisms have been implemented and are regularly updated to the management and board, there have been no complaints or feedback reflecting the allegations made by the NGOs.
Voeun said if such complaints are received, they will seriously investigate and find solutions.