Kong Mona Mithora and Touch Pikada, Cambodia's national jiu-jitsu athletes, on Thursday won the first gold medal for Cambodia at the 32nd Southeast Asian (SEA Games) in Phnom Penh.
Mithora, 24, and Pikada, 21, competed as a ju-jitsu men's duo at OCIC Hall in Chroy Changvar, Phnom Penh, Cambodia.
Mithora, who is from Takeo province, and Pikada, from Phnom Penh, competed against athletes from Thailand, the Philippines, and Vietnam. Their gold medal victory saw them clinch Cambodia's first gold medal at the SEA Games.
The crowd cheered as Mithona and Pikada took to the mat. They performed a series of impressive moves, including throws and joint locks.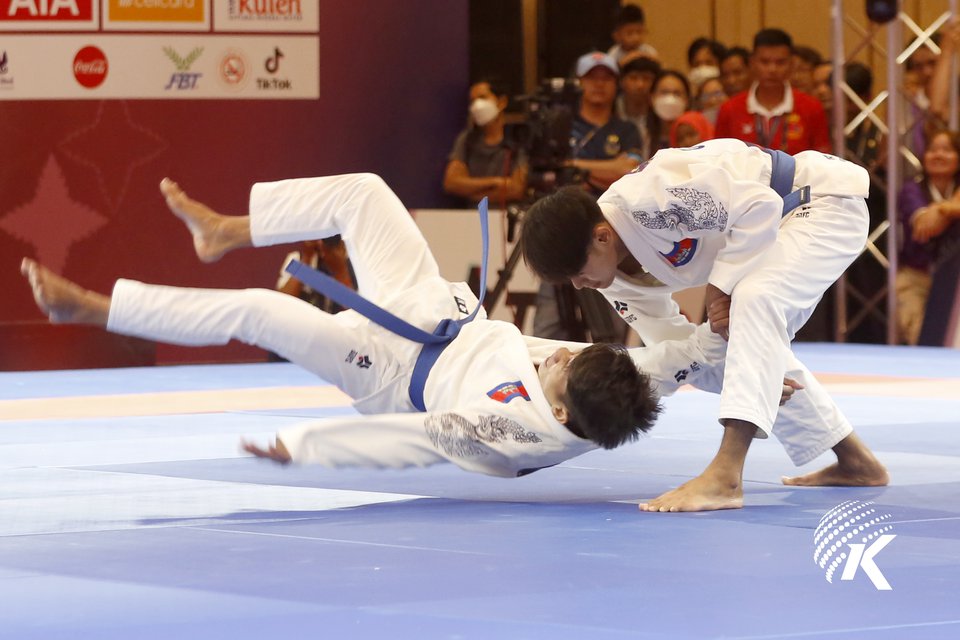 Holding the gold medal with a smile, Pikada said that it is the first medal they have won, and it is the result of two years of preparation.
"We have spent nearly two years of preparation, I feel happy and this is my first time winning the SEA Games' gold medal," Pikada told reporters after the awards ceremony.
Mithora, who won a silver medal at the last SEA Games, said he has another two events - a duo show and duo classic - to compete in at the games.
"I can't describe all of my feelings, I am very happy and excited, having known people coming out to show support, and both through live streams and around the world," Mithora said.
"This is because of the encouragement and hard training. We were prepared for it a lot, we were disciplined with trainers. When I saw people coming to support, I felt excited and set out a goal to win gold even though if I didn't win, I had already set out the goal for the people and nation."
Winning another gold for Cambodia on Thursday were Leakena Mao and Pichmorokath Ponleu for their Kun Bokator performance at OCIC Hall.
According to the official Facebook page of Cambodia 2023, Kun Bokator and Kun Khmer have been included in the charter of the South East Asian Games Federation and as a result, they can feature in the next SEA Games.