Cambodian Kun Khmer boxers earned another seven medals on the last day of the Kun Khmer competition, bringing Cambodia's total number of medals in the category to 14 in the Southeast Asian Games 2023.
On the last day of the Kun Khmer tournament at the Elephant Hall on May 11, nine Cambodian boxers competed against athletes from the Philippines, Vietnam, Laos, and Myanmar for a medal in the SEA Games 2023.
Seven Cambodian boxers won gold medals, including Khun Laingkousin in the men's 57kg category, Chhut Vannthong in the men's 60kg category, Touch Chanvatey in the women's 54kg category, Khun Bora in the men's 63.5kg category, and Rum Samnang in the men's 81kg category.
In addition, Toun Sreypin won a silver medal in the women's 57kg category, while Moeuy Soeng won a silver medal in the men's 51kg category.
Tea Banh, head of the Cambodia SEA Games Organising Committee (CAMSOC), said that as Cambodian athletes collected the most gold medals in the Kun Khmer competition to date, it is pride for Cambodia and demonstrates to the world that Cambodia can accomplish it. Furthermore, the Kun Khmer will become well-known.
"We won 14 gold medals out of 19 in the Kun Khmer tournament, accounting for more than half of the overall gold medals. This is achievement and pride," he said. "This is why I have always emphasized the efforts and principles that we strive to build and incorporate into the Asian Sports Council in accordance with the Asian Games Constitution."
He said that it is a pride for Cambodia that Kun Khmer is included in the SEA Games 2023 and receives recognition from the Southeast Asian Sports Council. Therefore, Kun Khmer is now officially a Southeast Asia sport.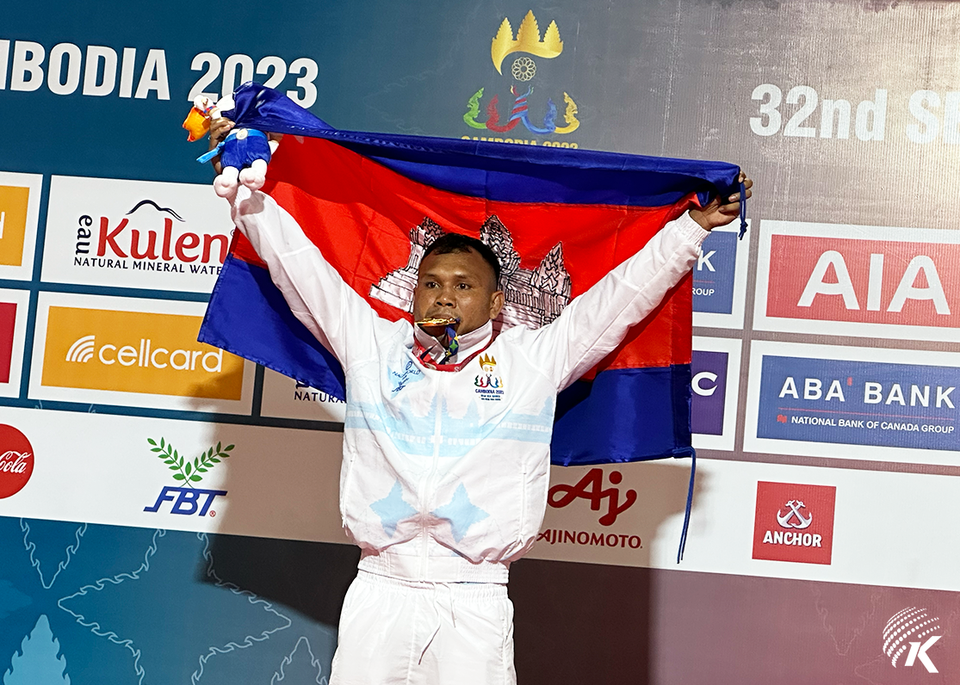 Rum Samnang, a gold medallist in the men's 81kg category, said that he is now able to win a gold medal for his nation after more than a year of training.
"People's inspirations and criticism drive me to grow in order to win a gold medal. I'm overjoyed to have won a gold medal for my country," he said. "I have great hopes for this because if I win, my people win as well, but if I lose, my people lose as well, therefore I am hoping to win."
He expressed his pride in Cambodia hosting the SEA Games in 2023, as well as his pride in participating in it since he is nearly retired. He said that he makes it because he works hard, so he hopes that the other Cambodian athletes would work hard to get a medal for the country.
Chhut Vannthong, a gold medalist, said that he's happy in receiving a gold medal for his home nation, which is hosting the SEA Games in 2023. He noted that competing in Cambodia seems warmer than competing overseas since he has so many Cambodian supporters.
"Today, as a Kun Khmer boxer, I am very proud that I can win a gold medal for my country. "Thank you for your support, both here and on television," he said. " I'll strive harder to practice in order to win for my country again."
In order to win a gold medal, he worked really hard and exercised three times each day, even when it was quite hot, he said. He added that this is his first gold medal at the SEA Games.
Touch Chanvatey, a gold medallist for women, said that she is excited to win a gold medal for her country. She said that it has been tough for her to enter the competition in the past since her mother did not allow her to compete in Kun Khmer. Therefore, she had to sneak out to compete and eventually made it.
"I'm very happy, and there are no words to describe how I feel when I get a medal," she said. "I would like to thank my parents for always advising me to get the medal, and now I make it."