Cambodian Angel Investors Network (CAIN) has opened a call for interested founders to streamline and scale their startups or small and growing businesses through its angel investment capital.
Startup founders in search of raising capital are invited to pitch to a group of angel investors.
Investments of between $15,000 and $250,000 are up for grabs for at least two promising startups.
"The concept of angel investors may be new in the entrepreneurial ecosystem in Cambodia," Chan Sophalgnean, program coordinator at Cambodia Investors Club Association (CiC), which manages CAIN, told Kiripost. She noted that an angel investor is a high-net-worth individual who offers funds to startups in exchange for company ownership equity. They also offer mentorship to help startups reach their full potential.
Sophalgnean said, "Joining CAIN Pitch allows startups to raise funds between $15,000 and $250,000 from our angel investors and find suitable angels who can act as their mentors rather than sleeping angels. Yet, if they would like to find sleeping angels, it is also possible."
Launched in 2020 with a $5 million fund to stimulate Cambodia's startup scene, CAIN aims to fill the gap of venture capital firms. Currently, CAIN has 40 angel members, most are serial entrepreneurs, from diverse sectors such as finance, education, real estate, and retail trading, among others.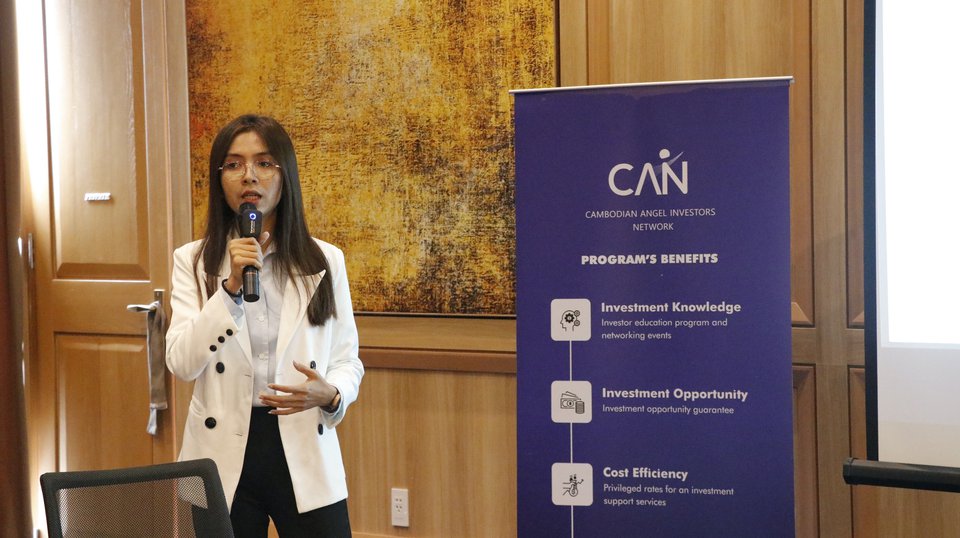 Initiated by CiC, CAIN tries "to bring in potential startups mainly aligned with our members' preferable sectors such as food and beverage, fin-tech, education, e-commerce, consumer goods, agriculture, software, advertising, and health care," the CiC program coordinator told Kiripost in today's interview when asked about priority sectors to invest in.
CAIN made its first direct angel investment in digital agency Zooms Group in early 2021. This call is the second cohort for potential startups in Cambodia.
Two of the three pitch sessions are slated to happen between late October and early November. Team, business model, market, and early tractions are among the criteria CAIN is looking to invest in.
With CAIN's two types of investment, startup founders can choose either direct angels or syndicates. The former allows founders to deal with an angel investor, active or quiet, one-on-one, while the latter is a deal with a group of angel investors.
"Our ecosystem can produce more quality startups with innovative ideas and creative business models, which can commercialize their products and services in our local market as well as expand to regional markets," CiC program manager Heang Rasmey told Kiripost in an interview in March. He oversees its BIO Accelerator Program and CAIN.
His team will assist founders to prepare a compelling and well-researched pitch to CAIN investors and help in linking them to experts or mentors when needed. Startup teams can get advice to develop business, polish business models, and reach their business milestones from the CAIN Pitch sessions.
During the investment process, the CAIN team will also help prepare a pitch deck, prepare to pitch, connect with angels after pitching, organize non-disclosure agreements (NDA), and more.
Zooms Group's managing director, whose company received investment through CAIN's direct angel investment, said, "When choosing an investor, don't choose an investor in the same sector. It's better to choose an investor in a different sector for help."
His angel investor, who has become his business mentor, works in the finance and banking sector.
In Cambodia, the sources of seed capital for startup founders mainly come from their own capital, friends, and family members. Yet, as startups need to either scale or increase their funding toward product development, and marketing, or bolster their team to keep up the momentum, angel investors are a solution.
Angel investor funding is the second of the five stages in startup funding.
Informal angel investors prefer to invest in new startups based on their personal contacts.