Conscious of the impact fast fashion has on the environment, Alyssa Kardos decided she wanted to bring about positive change – and it was during the American's time in Cambodia that she decided to breathe new life into old clothes and create youth empowerment project, Re-Made in Cambodia
The 23-year-old, who received a Bachelor's in Global Health in the US, hails from California and grew up with the habit of buying second hand clothes at thrift stores in her hometown due to the impact of fast fashion on the environment and the higher cost of new clothes.
"Because going shopping can be really expensive at stores, I always go to second-hand stores in the US to thrift my clothes when I get older, so I could show my personal style more," she said.
In December 2021 as part of a US grant program for 10 months, Alyssa got her first opportunity to explore life and fashion in Cambodia. She brought with her an interest in second-hand clothes as she used to work in a second-hand clothes store in Spain and always bought pre-owned or recycled clothes in her hometown.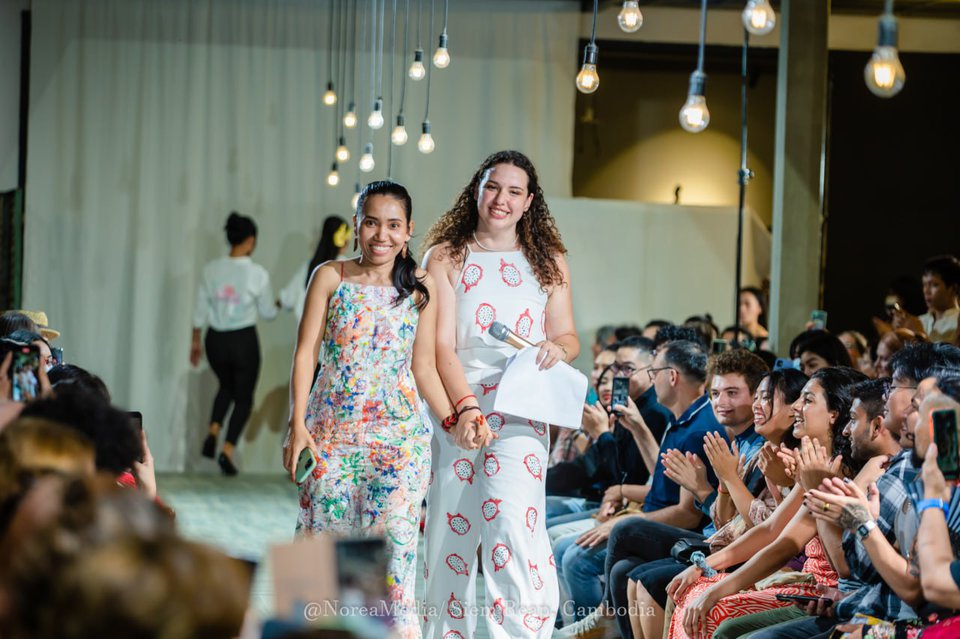 Curiosity in used clothes in Cambodia, she started to do a lot of research about the fashion and found that garment factories are harmful to the environment and her inner self called her to make a change in fast fashion in Cambodia.
"I found out how a lot of western companies, including companies in the US, contribute to harming the environment with their production. Because of that harm, I was pretty frustrated by the environmental impact that the clothing industry has. I wanted to do something more positive."
She was not expecting to settle down in Cambodia until she found herself falling in love with the country and wanting to learn more about local fashion. She has now been in Cambodia for 1.5 years, working on a sustainable fashion project since early 2022.
Re-Made in Cambodia (RMIC) is a youth empowerment project to promote sustainability in fashion in Cambodia. It initially started with two friends who shared a passion for upcycling and recycling old clothes and transforming them into something new to cut down the amount of clothing waste, which is one of the main causes of polluting the environment.
Re-Made in Cambodia today has 33 fashion designers, and 33 models and other organizations working on sustainability clothes.
According to the report "WASTE STREAMS MAPPING-Pathways from Key Suppliers to Landfill" published by GIZ organization, Cambodia is the ninth largest garment producer in the world.
In 2018, there were a total of 625 garment export factories in the country, employing 86 percent of the industrial labour force. Compared to other countries in Southeast Asia, the labour pool available to the garment sector in Cambodia is generally younger and cheaper than other countries.
Data obtained from the Ministry of Environment indicates that 60 percent of all industrial landfill waste comes from the garment industry, equating to around 90,000 tonnes in 2019.
In the USA, Alyssa noticed on clothes' labels they were made in Cambodia, but the fashion designs of Cambodian artists or designers do not feature in those exported clothes. Therefore, she hopes to uplift Cambodian art in fashion by establishing the fashion shows.
"My goal and vision is instead of people seeing that it [clothes] are made in Cambodia on the [clothes] tag, they know the clothes are designed in Cambodia. But, when looking at the fashion industry here, it's not led by Cambodian designers. So, our project is to focus more on Cambodian designers," Alyssa mentioned.
In 2022, Re-Made in Cambodia ran a fashion show event with no funding. However, the program was supported by many related stakeholders and people that care for environmental matters caused by clothes waste. France's biggest factory also contributed to marketing the event.
"Our project is really focusing on Cambodian designers, with 33 designers, and 32 of them are young and Khmer. So, really our goal is to talk about the environment and environmental issues that come from clothing waste and then to highlight Cambodian designs," she added.
Seeing that fashion design students in the country do not know much about the impact of the fashion industry on the environment, the project is also working with young Cambodian students to educate them more about sustainable clothes and methods to avoid wasting clothes to save the environment.
In January 2023, 33 designers and eight different groups helped to collect clothes from the Zero Waste Center, where clothing from the riverside is collected. Zero Waste Center was created by River Ocean Cleanup non-profit organization and We Are Everwave Germany organization to collect a variety of waste, such as food packaging, children's toys, household waste and plastic film, that is washed before being taken to a local recycling company.
Around 150 to 200 kilograms of clothes from the riverside has been collected by 28 fashion design students from Limkokwing and Raffle universities and MaPa Fashion Design Academy. They are then recycled into new fashion styles to raise awareness about the impact of fast fashion on the environment and how to dress more sustainably.
"We want to show people that anyone can do it, from professional designers to students. Anyone can upcycle and can be part of this creative process. We want to show that no matter your styles you can be sustainable with your clothing choices," Alyssa said.
"While there are so many issues in fashion and with the clothing industry, we know that we cannot change it all, but, as Re-Made in Cambodia, we can present alternative systems and access as a point of inspiration for young Khmer people, no matter the fields they are in," she added.
As she perceives that fashion design schools might be pricey in Cambodia, she also wants to provide educational opportunities to designer students who cannot access more expensive private schools.
"In this project, we talked about sustainable clothing. We talk about issues in the fashion industry. We try to include youths in the conversations of how we can prevent clothing waste," she added.
The second fashion show will be celebrated on April 22, and Alyssa expects it to be bigger than the previous one.
"Over 80 percent of the clothing that we are using in our designers are upcycling comes from the river," she said, adding that about 20 percent of the clothes are textiles, leathers and shoes.
"There is not really a great recycling system for clothes here, and Cambodia is not alone. Like most places around the world, a lot of clothes end up in the river," she mentioned.
"So, we take those clothes from the river. We wash them first and our designers remake them into new clothing," she added.
There will be a whole day of fashion shows with workshops to teach people about how to upcycle their clothes. Artists will also be painting on clothes, with concerts and movie screening at Factory Phnom Penh on Earth's Day this year.
Free Open Photoshoot Day
On March, 25, there was an "Open Photoshoot" event organized by Re-Made In Cambodia, with the purpose to spread awareness about the sustainability clothing by inspiring the public who love fashion design to have a chance to express their own unique fashion stylist from innovating clothes that they already own or second-hand clothes bought from boutiques to show up themselves creativity in casting on the stage.
"In our casting, we are open to people of all types, all body types, all races, ethnicity and genders. Because of that we got really excited and diverse community that came to the casting," Alyssa said.
She wants everyone to be their own model, with their own creative expression, wearing pre-loved clothes that they own.
"We want to make sustainable fashion accessible to everyone, not just a person of a certain height, gender and body type. So, instead of rejecting people that will be able to be part of the show, we will take 1,080 people," she added.
Participants strutted their walk on the catwalk, had their walk recorded for their TikTok account and generated their own content.
There was a Wildlife Makeup Fashion Show and mini fashion show, showcasing outfits directly sourced from the riverside, featuring Tonle Sap birds and fish outfits and featuring special effect make-up by Vart Van, inspired by and celebrating animals affected by pollution, native to the Tonle Sap.
Robert Tizard, Project Lead of "Our Tonle Sap" project, funded by the EU, said that the environmental and conservation issues are not only the responsibility of one organization or individual. Therefore, collaborating with many people who are working on a daily basis to tackle these matters, such as Re-Made and River Ocean Clean-Up, will create an even bigger impact.
Fast fashion, cheap clothing produced rapidly by mass-market retailers in response to the latest trends, is not only a concern when it comes to overspending, following trends and mental health. It also threatens the life of animals that depend on the ecosystem.
"Fast fashion is about replicating trends as quickly as possible, and that is becoming a concern. Not only is it unhealthy for anyone to try and follow these rapid cycles in terms of finance and mental health, it is also hurting the environment. When clothes are discarded at an alarmingly quick rate, they end up in our rivers – killing our wildlife and environment," he said.
Studies have shown that fast fashion affects mental health negatively, triggering mental health conditions such as psychological stress related to impulse buying and panic buying; feelings of insecurity, inadequacy, shame, guilt, and anxiety in consumers; sleep disorders, impulse disorders, and shopping addiction; as well as antisocial tendencies like theft, and extreme debt to afford fast fashion products, according to the National Library of Medicine.
There were 14 types of birds and two species of fishes that were shown in the mini fashion show to raise public awareness, especially among youths, through artistic and sustainable fashion shows.
"As a wildlife conservation NGO, it is imminent that we put these wild water birds and fish into every day conservation. If no one talks about them, no one will understand how beautiful they are, what their roles are in our ecosystem, and what kind of threats they are facing. Young people love arts and fashion, so what better way to introduce our majestic wildlife to them then through sustainable fashion?" he added.