Since landing in Cambodia in 2004, Tuy Sobil has used the breakdancing skills he learned on the streets of America to transform the lives of underprivileged youth in the capital. As the founder of Tiny Toones, he is now appealing for donations to keep the organization alive.
The 46-year-old was born in a Thai refugee camp to Cambodian parents who had fled the Khmer Rouge regime. They were relocated to the US, where Sobil - commonly known as KK - grew up in Long Beach, California.
KK first started to breakdance when he was eight-years-old at the time, but living in a poor neighborhood riddled with crime, he got caught up in gang life at a young age and was arrested.
In 2004, KK was deported to Cambodia - a country that, despite both his parents being Cambodian, he had never before stepped foot in. Regardless of his background and the stigma that came with his heavily-tattooed body, KK was determined to rebuild his life and follow his dreams.
"The first time coming here was scary. I didn't know what to do. I was lost; confused. I didn't know what to do in that period," he recalled.
KK didn't arrive with plans to start Tiny Toones, it happened unexpectedly. But through expressing and sharing the art of breakdancing with kids marked the beginning of a new chapter that would change KK's life forever.
Life in Phnom Penh
When KK first arrived in Phnom Penh, he started volunteering at Korsang, working with drug users and in communities to reduce drug-related harm. One day at the railway tracks, three kids asked him to teach them how to breakdance. He refused but they persisted, eager to learn.
"I was still confused and lost, and I didn't know what to do. I ended up saying Ok. We would dance one hour a week," he said recalling the moment the kids melted his heart.
KK decided to teach them breakdancing at his home. Quickly, word spread throughout the community, and more youngsters started to turn up over time.
"Eventually, nine kids ended up being 20 to 30 kids. I eventually asked, "Don't you go to school?" Some said they didn't, others said they don't have a mom and dad," he said.
To read more stories like this, join our Telegram Channel and subscribe to our email newsletter.
Using breakdancing as education
Breakdancing allowed KK to get to know the kids deeper. Through conversations with them, he discovered many were in dire poverty or on drugs. He realized that without guidance and education they were in danger of repeating the same mistakes of his youth.
He decided to take on the challenge and started teaching English from his home after breakdancing. This is how Tiny Toones first started; in KK's small remote home in Phnom Penh.
Since then, it has continued to expand until today, with the organization now based in Sangkat Chbar Ampov, Phnom Penh.
Tiny Toones' vision is for all youth in Cambodia and beyond to live healthy lives free of HIV and drugs, realize their full potential through educational and creative opportunities; to pursue their dreams and become positive leaders of tomorrow.
In addition, its mission is to provide a safe, positive environment for at‐risk youth to channel their energy and creativity into the arts and education, empowering them to build self-confidence in their daily lives, aim for better employment possibilities, and feel supported pursuing their dreams.
Tiny Toones provide free education for vulnerable kids that can not afford to go to school at the young age five- to 17-years-old. It runs classes in Khmer, English, math, computers, breakdance, music, and sport from Monday to Friday.
It also offers free transport for students who live far away but still want to study. Tiny Toones also encourages students to pursue their studies at public schools and universities by providing funds and scholarships.
Today, about 120 kids study at Tiny Toones daily.
Financial Struggles
Unfortunately, the pandemic hit Tiny Toone's funding, with it continuing to struggle with donations until today.
It spends about $5,000 a month to support the school system. This includes rent, teachers' fees, study facilities, and fixing or buying new computers and materials, as well as electricity and water fees.
"Now, we are out of funding and we cannot afford to pay for all the teachers. So, we are struggling because we cannot find any other funding right now. This is my biggest struggle right now," he said, adding six teachers remain with the organization.
"Since Covid hit until now, we still haven't found funding yet. We have survived because people around the world keep donating to us," he added.
Due to the funding gap, KK is calling for support from the public while also applying for grants and recruiting volunteers to help teach the children.
Hip-hop & arts save kids
When KK grew up in the US, he discovered hip-hop culture, which he believes consists of four elements: dancing, rapping, singing and DJing.
He said artistic activities are tools that attract kids to Tiny Toones, not only for singing and dancing, but to study and gain basic knowledge that is crucial for their future.
KK believes that music is life and brings colors to our daily world. He said dancing for him is like a healing process that eliminates stress and anger. While art is a tool to help people both physically and mentally.
"If I see a bunch of kids sniffing glue, I know they like dancing or music. But when they come here, they have to get off the glue through music," he said.
KK added that the power of unconditional love from his mom, even though he used to be a bad kid, and the motivation from the kids in the community has inspired him.
Tiny Toones, he said, gave energy back to his life during tough times finding jobs in Phnom Penh and facing discrimination for his tattoos and background.
Saving children living in poverty or with HIV, and those addicted to drugs and in vulnerable situations is now KK's mission, and he hopes to continue for the rest of his life.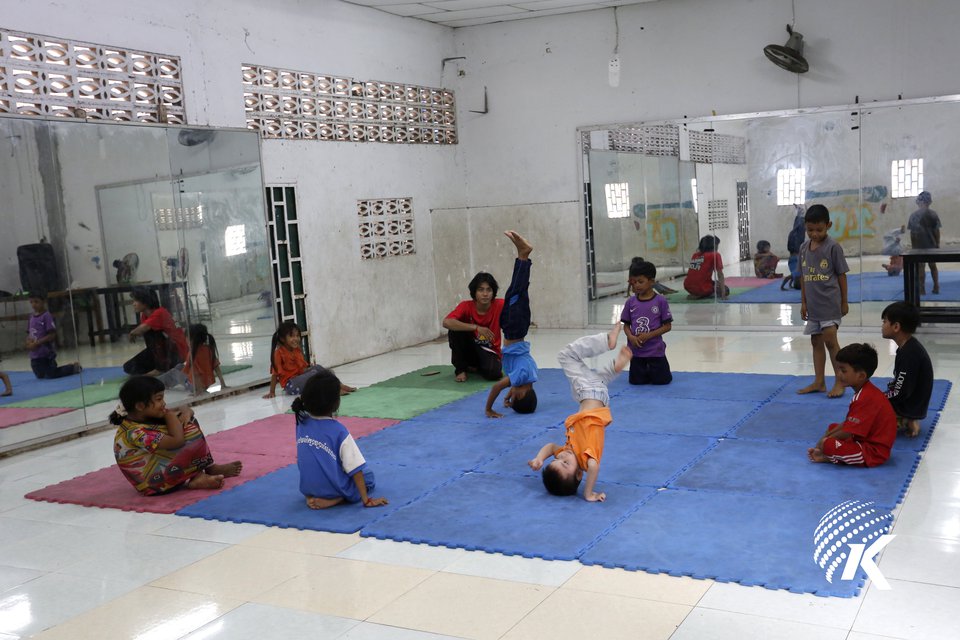 KK said he will continue fighting for the organization so that the next generation can use the medium of art, dance and music as their bridge to cross to a brighter future.
"Since we started working with poor kids, you see they are struggling. You end up loving them the same as your kids. If you want to help someone but not from your heart, it is not going to last long," he said.
He added, "If you want to help someone, do it from your heart not just to follow others or for your reputation. If you help someone purely from your heart, you will get to know how good the feeling is and how amazing an experience it is."
---