Stephen Paterson relocated from Toronto in Canada to Cambodia about 30 years ago to teach small business as part of a Georgetown University program at a Phnom Penh university.
This three-year teaching job turned into a career educating Cambodia's entrepreneurs that has gone on to span three decades. He worked on a Small Business Training Program, funded by USAID, and has since held various positions, including advisor, dean, and, until recently, chief innovation and entrepreneurship officer (CIEO).
Paterson has noticed that his former students are particularly focused on giving back to the country and inspiring the next generation. During an interview with Kiripost at his Social Innovation Lab, inside the National University of Management (NUM), he also discussed the importance of exposing oneself to new experiences abroad, the value of failure, and teaching the lean start-up model.
He also highlighted some of Cambodia's top talents, many of who are his former students and alumni of the Business Model Competition (BMC), which he co-founded.
How BMC nurtures entrepreneurial mindset
BMC Start-up Accelerator & Competition has infused young Cambodian students with entrepreneurial spirit since 2009. It all began when Paterson approached McKinsey and Company. However, in its first iteration it was not called BMC and the annual event helped students learn how to write a business plan.
"I reached out to McKinsey and Company, the American consulting firm, and said I want to do a business plan competition."
In Paterson's words, BMC's pride itself with its first intake of having the likes of Chang Bunleang and Sok Piseth.
"Bunleang, I still have his PowerPoint slides from that it was not coffee [Brown Coffee] business. So, he came in with Alternative Energy."
The young entrepreneur went on to secure a scholarship to study at Macquarie University in Australia. "The story was he saw Coffee Culture and then brought back the idea. He realized that coffee could be for university students, not just foreign tourists," Paterson recalled. Brown Coffee is among some home-grown success stories in the Kingdom.
"Piseth was one of the unusual ones. He actually pitched Toys & Me and they did Toys & Me. And Toys & Me is still around today. It's a big business, but not as big as [his] LG [GGear Retail]."
"We teach you how to do it. Back then, it was business planning. Then later, it was a business model and so forth. But often, it's not your first idea. The competition for us is more about learning the methodology."
BMC now follows the modern time Lean Start-up, a scientific approach to found new business or launch new products to customers' hands fast, and encouraging the fail-fast mindset. Testing ideas and assumptions, learning fast from failures, and getting out of the building are what those who participate in BMC learn these days.
The program also partners with the BMC competition in the U.S that has included people such as Steve Blank and Alexander Osterwalder who created the business model canvas and founded the lean canvas.
"I actually met Richard Yim. He won BMC Canada. I met him in Silicon Valley and we got to know each other. He actually knows Demine Robotics had their space here [Cambodia] at one point when they first came in with their start-up," Paterson proudly said about the Cambodian connections he has made over the decades.
Business Model Competition Opens to Uni Students
Why students should expose themselves to life or trip abroad
"I'm also a big believer in learning by going out of your country for a little bit of time, whether it's a short-term trip to the US or Japan." He added,
"If you stay in Cambodia, you're limited." The entrepreneurship professor often urges his students to travel to see ideas to bring back to Cambodia.
To aid this, BMC sends the students to Japan. "We emphasize getting the winning teams out so they can see other ecosystems and markets, and get better, hopefully in terms of their idea formation."
While students today are more independent and skilful with their presentation, those from the 2000s and 2010s were more disciplined, Paterson observed. "My former students knew better what they wanted." Today's students are not so clear what their path is, which is fine as they're young, he added.
"My advice would be to sample a lot of different things, try a lot of different things to figure out what clicks and what doesn't click," the CIEO said.
At NUM, Paterson is the magnet to get top talents teaching short courses or sessions in his undergraduate program. "We have a lot of start-up people teaching in our undergraduate program. Thaung Thyda [the founder of Thaung Enterprise], she's taught several times." He added, "Richard [Yim] teaches the Master's and undergraduate programs. Richard loves to teach."
From Phnom Penh to Silicon Valley
On the importance of reading and book clubs
While teaching the Lean Start-up methodology as part of the BMC program as one of the most effective ways for students, he also sees travel and reading as the windows of the world.
"The short-term trips abroad and visits to companies in other ecosystems and book clubs because book clubs have always existed. I've had people like Dek Darry [founder and director of 360 Event] and Keo Kalyan, who's now in New York, she was a big fan, one of the early ones in our book club."
A Fulbright scholar working with the United Nations Development Programme, and previously Dell Computer in Singapore, Keo Kalyan is "one of my big big success stories. And she was in my initial book club when we did globalization and we did it with IFL [Institute of Foreign Languages] students, not just NUM. She was also an alumnus of IFL back in the day."
"Kalyan, through our contact with McKinsey and Company, we got her a job at Dell in Singapore after her Fulbright. She was one of the top people performers at Dell. They wanted to keep her there."
However, he raised a concern with students' obsession with social media today. "What I find though now is it's harder with this generation, their lesson to read. It's more cognitively connected to whether it's TikTok or whatever. So, the concentration for reading is less," he said.
"I talk to a lot of my former alumni. They found the books very interesting on leadership on business, and because I was asking for feedback like what were the things that impacted you. For Darry, it was the books."
On failure
Paterson said, "I once had one of the BMC alumni come to one of my classes to talk about the failure experience and they talked about three or four types of failure."
He told his alumni that,
"You know people would pay for your talk on failure. What I see is that's the least we talk about, more about the success. But they should talk about their failure."
Paterson actively urges his students and BMC alumni not to idolize geniuses, such as Bill Gates, Steve Jobs, Elon Musk, and Jack Ma.
Speaking of his student, he said, "People told them to follow their dreams. They did, but they failed. They had a huge financial mess on their hands and they didn't graduate at that time. Everyone tells you to follow your passion, but I disagree because you're not Bill Gates or Steve Jobs."
Paterson himself has tried executing a lot of different ideas. He said it was quite an adventurous journey coming to Cambodia.
"I was very much a late bloomer; success came much later than in my early years. A lot of people fit that category. You don't have to be a success overnight."
The entrepreneurship professor said he does not teach people to drop out or pursue their passions and dreams. It's all persistence. It's all endurance. You're going to have a lot of failure talk to any successful start-up.
He expressed, "Most of them don't tell you that or the media people don't focus on it."
Through his years of observation, he sees that some of his BMC alumni who followed that advice, went big with their grandiose ideas, then failed miserably. "They owed a lot of money and were really depressed. They talked about how they were so ashamed with their family and friends. They owed money they had borrowed."
He added that they believed the situation was caused because they had no university degree.
"I realized that we're doing the wrong thing and we shouldn't be encouraging the university students to leave school," Paterson added.
Instead, he said the university should be teaching entrepreneurship, how to solve problems, and how to test ideas. He loves encouraging them to continue to graduate and study abroad.
"You can always become an entrepreneur in your late 20s or early 30s," he added.
Introducing Cambodia's Universities
Incubation and accelerator programs are usually under pressure from commercial sponsors to have the quantity of launched start-ups, despite overlooking the quality.
He pointed out that society, the media, and commercial sponsors of events who provide the money for the competition expect fast results. To Paterson, it doesn't work that way.
"I tell our sponsors, look I don't care if you want results right away, wait because these kids have futures. They need to grow, they need to learn, they need to get more experience. Everyone comes and talks about the successes. We never have anyone come and talk about the failures; the pain of failing on a start-up. Our students really appreciate that," he said.
"You could give this talk and I would pay for that talk. You would make more money selling this as your business, the failure is the business model. We're putting too much pressure [on them] and this is not a good thing. Most of them are still at the early stage," he noted.
On Lean Start-up and entrepreneurship
When talking about entrepreneurship, he said his philosophy is "go slow".
He believes that if students learn the Lean Start-up methodology, most first ideas are probably not going to be successful. Students and BMC participants will be able to use that approach again and again, coming up with different ideas until they reach success.
"The skills that we teach are very important for companies also because companies need to innovate. We have the early examples like Bunleang and Brown Coffee. That's an example of someone who came in and learned about entrepreneurship, learned about how to do entrepreneurship, and then later in life, a couple of years later after coming back, this story is amazing. It's successful."
Late bloomers
While the geniuses mostly feature in the media, Paterson prefers the others; the experimental innovators. "They experiment over and over, try this, try that, go this way, this idea. Success usually comes much later. They're like late bloomers. They become well known in their 30s and in 40s, but not in their teenage years or 20s."
He gave an example of late bloomers in various fields, whether they're writers who write most of their books at the end or painters whose most famous paintings are created later in life.
"McDonald's was started by a guy who's 53," he said. "People like Elon Musk and Steve Jobs have big ideas at a very young age. They are the genius, the young genius. With big conceptual ideas, they revolutionize an industry and success comes very early.
"Many entrepreneurs had success very late in life, but we don't value that. These are the people that just keep on working, keep on looking, keep on observing, keep on trying something."
He added it is important not to forget about all the years of failure, and all the years of trying, and all the years of experimenting. "This is the one that I like. This is the one that fits most of the population."
He continued, "It's not the young genius and by focusing on the young genius that follows that dropout of school. It's nowhere representative of society."
On Global Entrepreneurship and Innovation undergraduate program at NUM International College
Also the dean of NUM International College, he said of its Global Entrepreneurship and Innovation undergraduate program, which aims to nurture entrepreneurial minds, instead of producing more start-ups. "Some of them might go to the family business, some of them might do a start-up later, some of them might work for a corporation."
He summed up the overall idea as, "We bring people from different backgrounds and we have that diversity and we have a very professional program where we have companies teaching some of the courses."
The lecturers also include Fulbright Cambodians who are overseas. "They love to teach one course. They're super motivated to give back to Cambodia."
The program also sends students outside through exchange programs to France, Japan and Singapore.
On his top talent students and the urge to give back to Cambodia
As his top talent students spread around the globe, it gives new perceptions and expectations about Cambodia as a nation. "The top students in Cambodia are world class. Our world class meaning that they can compete anywhere. They can do anything. Most people don't understand that," Paterson told Kiripost during the hour-long conversation.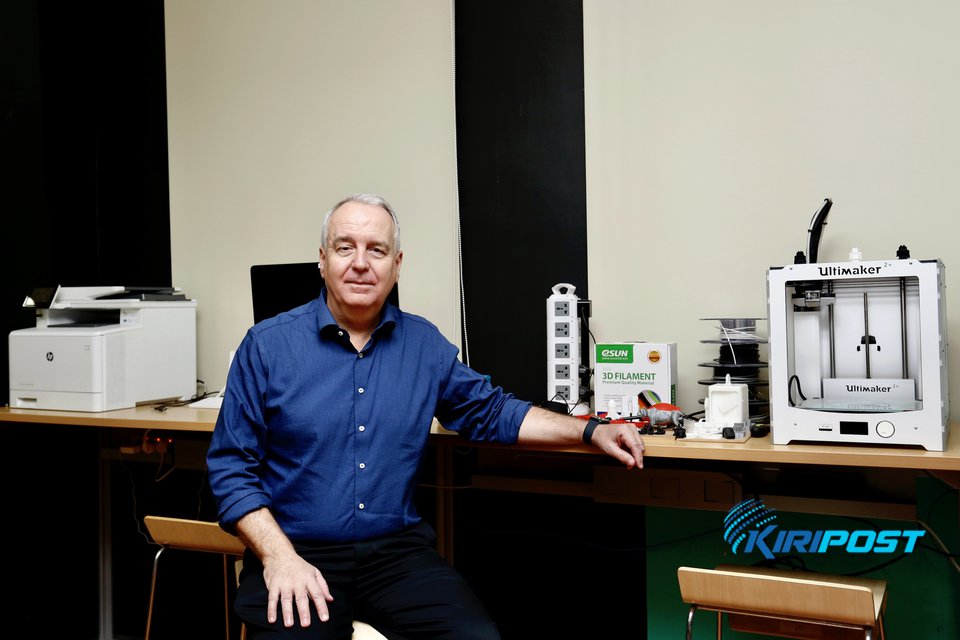 In his open space innovation lab, aside from books on the walled shelves, there are 3D printers for experimental sessions.
Paterson told a story about a Cambodian Fulbright scholar doing her master degree in engineering at Northeastern University. "She told me a very interesting story when she arrived there her professor sort of looked at her, no expectations."
He added that her classmates didn't really want her to be in their study group. However, that all changed after the first assignment. She was number one. "The professor looked at her in a different way now. Suddenly everyone wants her to be in her study group."
The students they send abroad are fiercely competitive, he said. Often top of the class in different programs in different universities. "People are surprised at that because they don't have much expectation. They don't know much about Cambodia and they don't assume that we are competitive.
"I would tell people that Cambodians are first class. Things like design and many different fields, the best here can compete at any university globally. They want to give back. They might not want to be a teacher or a lecturer, but they want to teach a course. Whenever I ask these students, can you teach a course the answer is always yes. Whether it's Richard, whether it's Thyda."
Paterson said of resourceful Cambodians abroad, such as Mungkol [Supheakmungkol Sarin], "I first met him in Singapore when he was there [with Google], then when he was at Mountain View. He was my introduction to Google.
"He's with the World Economic Forum in San Francisco. He went to Japan Waseda for his PhD. He's a local success story. Whenever I reach out to him to always be helpful."
He added that all of the talents give back to the next group of talents and stay in touch with the community, help the younger generation, give advice and share their experience.
"For some reason Cambodia is special and I very rarely hear people say no I'm too busy, I can't help out, I can't give back. To me that is the future because it's all about talent. If we can get the right talent developed here, we can get investment on fintech start-ups."
Investors and business will come if the human resources are here, according to Paterson, who added that it is all about human resources and talent.
"People look at your education system before they invest," he said, stressing that as the government is doing now with new generation schools and all of this openness, the education is really paying off. Several reforming ministries are doing interesting things now and a lot of them are focusing on investing in start-ups and developing talent.
Khmer Enterprise to Double Startup and SME Investment to $10M
"I am optimistic that talent is getting much better here and I'm also seeing it with the new generation, like the high school students that we now bring in, are much better than the previous ones. They're sharper. They're better prepared for the future coming in."