Teang Borin, known as DinArt, 42, is from Kompot province but moved to Phnom Penh in 1999. From 2001-2005, the artist studied for his bachelor's degree in Architecture at Norton University, before spending three years exploring his interest in architecture in Cambodia. In 2008, he started to work in a private company.
Borin is passionate about arts. He has loved painting since the age of 13. He used to draw pictures, turning them into postcards and selling them to his friends in school. Some of them are exhibited in his school, as they are not only beautiful but also full of meaning.
Borin said many people know him in Cambodia and internationally, which has made him very happy to know that his work is being supported, although he is now facing some challenges, internally and externally.
He shared that he often gets stressed when he lacks ideas to draw because the pictures are his creation and he needs to manage it all by himself. Everything is more complicated when one is working alone, rather than in a group. So, he deals with the issues step by step.
"Sometimes, when I am drawing difficult pictures, and I don't have ideas that come to mind, I feel stressed because all my images need to be abstract and imaginary, so this requires me to [calm] my mind, and put my heart to it," he said.
In addition to dealing with his stress, Borin takes some time off to read books on Apsara and visit places which inspire and lift his spirit to draw pictures. These include places in the province, as well as the National Museum of Cambodia. He believes that taking time to relax can be effective when he is stressed.
To read more stories like this, join our Telegram Channel and subscribe to our email newsletter.
His stress also comes from external challenges which he has faced from around 2018 or 2019 till now as people try to copy his work and take credit for it. He said it was unfair that such a thing was happening to him, having worked in this field for about 20 years now.
At the same time, Cambodian people are confused when he posts or shows his work to the public. "They say that, 'these pictures are painted by Thais because they look so nice and modern, while Cambodia cannot make them'," Borin said. Having heard a lot of negative comments, he realised that Cambodia remains on another level of historical knowledge.
"Many Thai people complain about my work. I feel normal, but when Cambodian citizens protest, I'm not happy," he said. This is a big concern to him, particularly when he wants to promote Khmer arts. "It is hard, but it can get better as social media plays a vital role in boosting (art) and reaching out to people immediately."
A place for his art
Borin studied architecture for four years at Norton, and worked seven to eight years with a company. But he found architecture not very interesting because he did the same thing every time the company required drawings.
"While I was working in the architect firm, I also drew pictures at homes and those images were exhibited in Meta House in Phnom Penh, which many foreigners who worked in Cambodia loved.
"From that time, I drew pictures to sell while working at the company. That was around 2009 and the field of drawing was not yet popular, so only foreigners supported my work," Borin said.
In 2015, he decided to open his private business, calling it DinArt Gallery in Phnom Penh, so that he could draw and exhibit his pictures. At the time, only foreigners were interested in them and who would purchase his artwork and products.
In 2018, his fan base grew to include Cambodians, some of whom even ordered images. In fact, there are more Cambodian customers now since the pandemic, he said, adding that they have started to love and understand the value of original Khmer art drawn by Khmer artists.
Why do paintings in Apsara have no face?
Looking at Teang Borin's art, one can notice his unique form of painting - the pictures have no face. His work, which has acquired worldwide fame, has been described as "full of heavenly and planetary wonder". Apsara displays a rich Cambodian culture that has been seen on temple walls for centuries. Borin's pictures though have a colourful, captivating and modern twist.
His unique style has made him a special artist in Cambodia. Borin explained that he tried to inspire people with Apsara and Buddha images so that when people see them, they will know Cambodia.
Apsara is inspired by ancient Khmer culture, so all its background pictures are reflected in the history, which include abstract style and imagination that are evoked from different environments and situations. At the same time, he believed that even if an image has no face, it is very beautiful and thought-provoking.
His work helps him manage a good life. Pictures of different sizes have different prices. For instance, there are 140x140dm of Khmer royal ballet in different styles, royal ballet in silver or turquoise 90x130cm, a masterpiece of the golden Khmer royal ballet and golden Apsara 160x250cm.
Some paintings focus on Apsara dances which look lively, like "Apsara Cambodia hot dancers", Sovenmachha-Hanuman (Monkey and Mermaid) and other famous Cambodian Apsara actors in traditional culture in different eras.
Borin said he is open to painting any picture as per people's requests and he always stipulates the timeline with his customers as each work takes some time to develop including the abstract style and colour.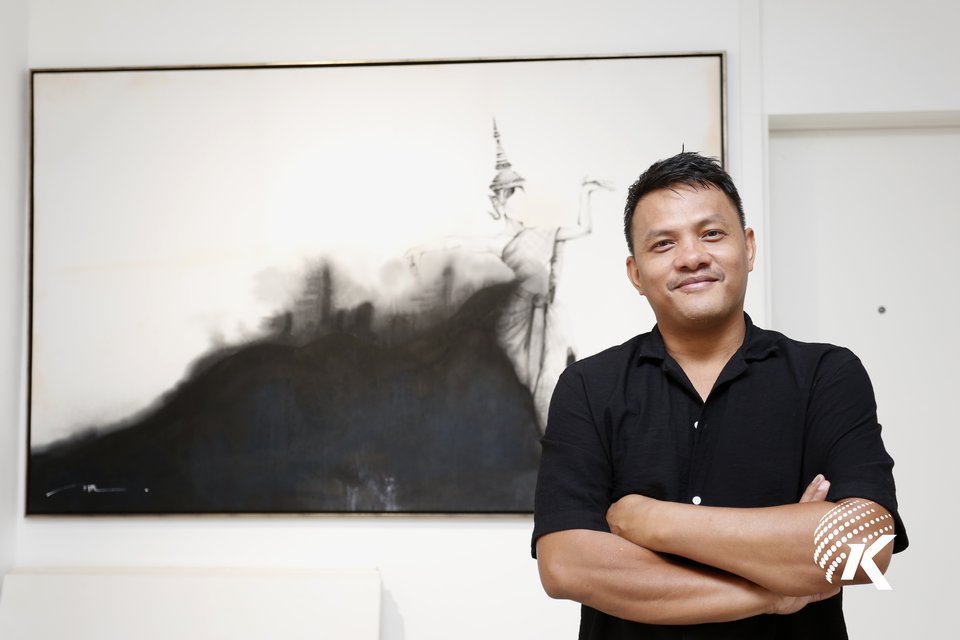 Plans next year
It is important for the young generation to understand Cambodian culture and art, which is why Borin plans to promote his and other Cambodian artists' work at a regular place in Phnom Penh. "This is so they can visit, especially those who have the talent. They can come and explore and be inspired by the artists to create their own art."
However, he does not want budding artists to copy other people's works because it is unfair as the existing artists have their own unique style and have spent a lot of time creating them. They should create their own legacy, he said.
They can follow the work of other artists, but they must give them credit, given that Cambodia is on the international platform now. It is interesting to learn that as not too long ago, around 2018, when Borin was in the US to exhibit his work, people had not even heard the name of Cambodia.
To read more stories like this, join our Telegram Channel and subscribe to our email newsletter.
---