Heavy rain failed to dampen spirits at the official Closing Ceremony of the 32nd Southeast Asian Games (SEA Games), with spectators packing out the 60,000-seat Morodok Techo National Stadium.
Thunder started to clap and lightning flashed in the sky as crowds began to flock to the purpose-built stadium on the outskirts of the capital to attend the Closing Ceremony.
As rain started to hammer down at about 5pm, people rushed for shelter and questions spread across social media about whether the ceremony would be able to take place.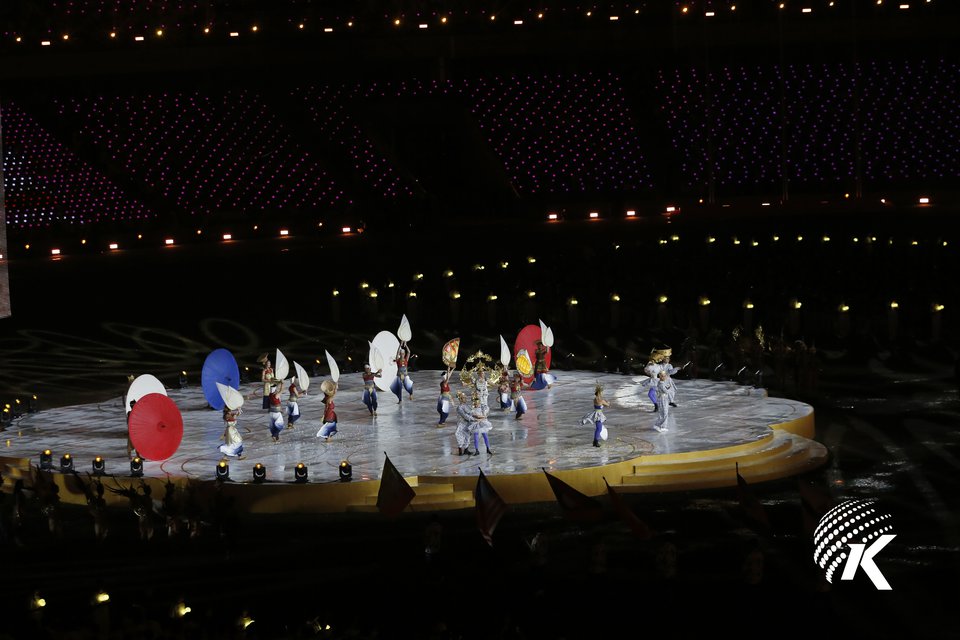 However, in the spirit of sport, the entertainment scheduled to take place ahead of the start of the ceremony pushed ahead, albeit in a refined form.
Sighs of relief all round were given when the rain ceased ahead of the official 7pm kick-off of the event, which marks the end of Cambodia hosting the Games for the first time in its history.
The event started with another spectacular fireworks display lighting up the sky above the stadium, followed by a rousing performance of song and dance from local artists. Next, the crowd was treated to a stunning show of the ancient Khmer martial art, bokator, featuring scores of performers who stirred delight from the crowd.
A parade from each of the 11 participating countries' athletes and volunteers followed, with cries from the crowd heard as every nation entered the stadium's pitch. Prime Minister Hun Sen and his wife Bun Rany could be seen standing and waving on with pride.
Renowned singer Sok Seyalin then wowed the audience with a performance to the backdrop of a string of highlights from the Games, which took place from May 5 to 17. She was joined on stage by Bou Samnang, the 20-year-old Cambodian runner who rose to international fame after persisting in the 5,000 meter event despite being the last competitor on the track when torrential rain hit.
The Prime Minister and his wife donated $10,000 to the athlete for her determination.
A series of speeches were delivered by Thong Khon, Chairman of the South East Asian Games Federation Council, and Tea Banh, head of the Cambodia SEA Games Organizing Committee..
Awards were then dished out to the best athletes of the Games, who were named Cambodian vovinam champion, Pal Choraksmey, and Singaporean swimmer Quah Ting Wen. Prime Minister Hun Sen then took to the stage to declare the Games officially closed.
With the 32nd SEA Games declared close, the flag was handed over to Thailand, who will host the Games in 2025. The neighboring country gave a cultural performance of song and dance to evoke excitement for the next Games.
The Closing Ceremony was rounded out with a blazing performance of Cambodia's official SEA Games' song and an explosion of fireworks that lit up Phnom Penh's skyline.