A traditional Khmer celebration welcomed home a raft of stolen ancient artefacts that were returned from the United States and United Kingdom, some of which were pillaged more than four decades ago.
Traditional dancers performed during Friday's ceremony to welcome the return of Hindu and Buddhist statues, ancient jewels from the pre-Angkor and Angkor periods, stone statues of Shiva and Skanda, Skanda on a Peacock and Ganesh.
Phoeurng Sackona, Minister of Culture and Fine Art, said the returned artefacts are priceless cultural heritage and the souls of generations of Khmer ancestors. She added that many were illegally moved abroad during the long civil war and unrest that occurred in Cambodia.
"The Ministry of Culture and Fine Arts has been working with the US government and other countries, as well as through negotiations with institutions and private collectors, in order to bring more Khmer artefacts back to Cambodia," Sackona said.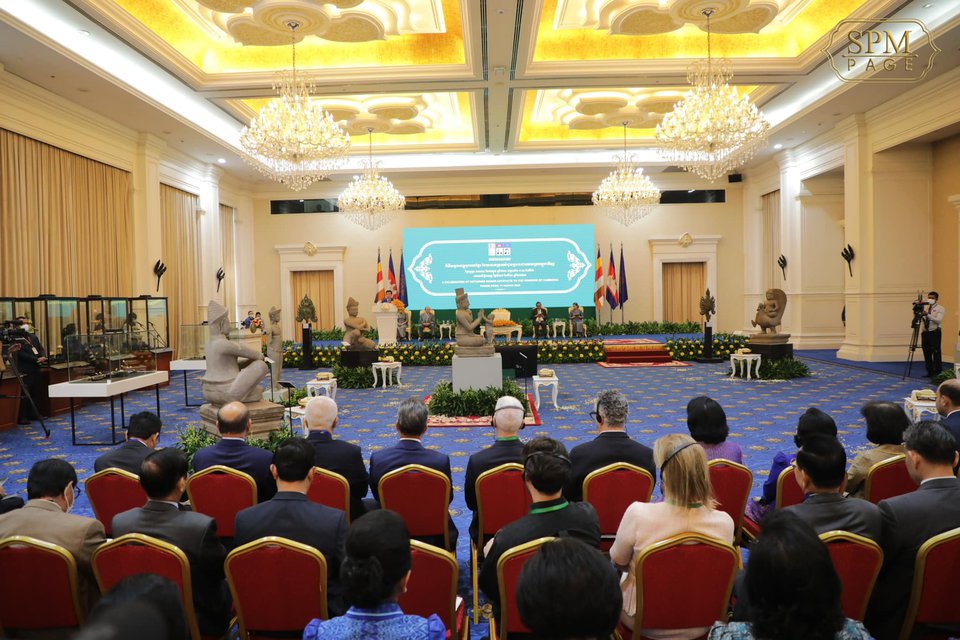 She added that these treasures have been in the possession of museums and private collectors and confiscated by US authorities, while others have been returned by individuals in the US and UK.
Prime Minister Hun Sen said this is the return of the soul of Khmer ancestral culture and Cambodia is continuing to research and gather evidence of cultural property that has been stolen from the country by cooperating with international associations and relevant parties.
"I would like to appeal to museums, institutions and curators of Khmer artefacts to voluntarily return those items back to Cambodia," Hun Sen said. "The handover of Khmer artefacts back to Cambodia by owners is a noble and respectful gesture that shows ethics."
For 20 years, the US has worked to protect, preserve, and honor Cambodia's rich cultural heritage with local partners, American academic institutions, and nonprofit organizations, the US Embassy said in a press release.
The embassy added that through a long-standing US-Cambodia cultural property agreement, the US has facilitated the return of more than 100 priceless antiquities; helped build the capacity of Cambodians working on cultural preservation; disrupted organizations seeking to profit from the theft of cultural heritage items and supported the preservation of Cambodian heritage sites and collections.
"The United States is proud of its longstanding support for the restoration and protection of historic sites of cultural significance for Cambodia and to repatriate invaluable artifacts back to Cambodia," the release said.
Dominic Williams, UK ambassador to Cambodia, said on Twitter that he is moved to see the reactions of Cambodians to the return of unique artefacts that carry such deep cultural meaning, including jewelry recently returned from the UK.
"An extraordinary privilege to see these previously stolen artifacts displayed in their ancestral home," Williams said in the tweet.
Published in
topics:  
Arts