Kennis Chanvasna Mor was born in the United States to Cambodian parents and has made it his mission to nurture a strong Cambodian community, running a Khmer dance class.
The 24-year-old was born in Lowell, Massachusetts and studied at the University of Massachusetts of Lowell, majoring in Business Administration. Kennis is currently a teacher of Khmer dance in the Cambodian-American community in Lowell.
Kennis opened a Khmer dance club aiming to inspire an initiative that embodies the rich cultural heritage and artistic traditions of the Khmer people, the race of his parents who migrated to the US in the mid-80s. Kennis' parents relocated to America because their grandparents fled the Khmer Rouge. They were sent to Khao I Dang camp on the Thai border before relocating to the US. Today, they run a seafood business in Lowell.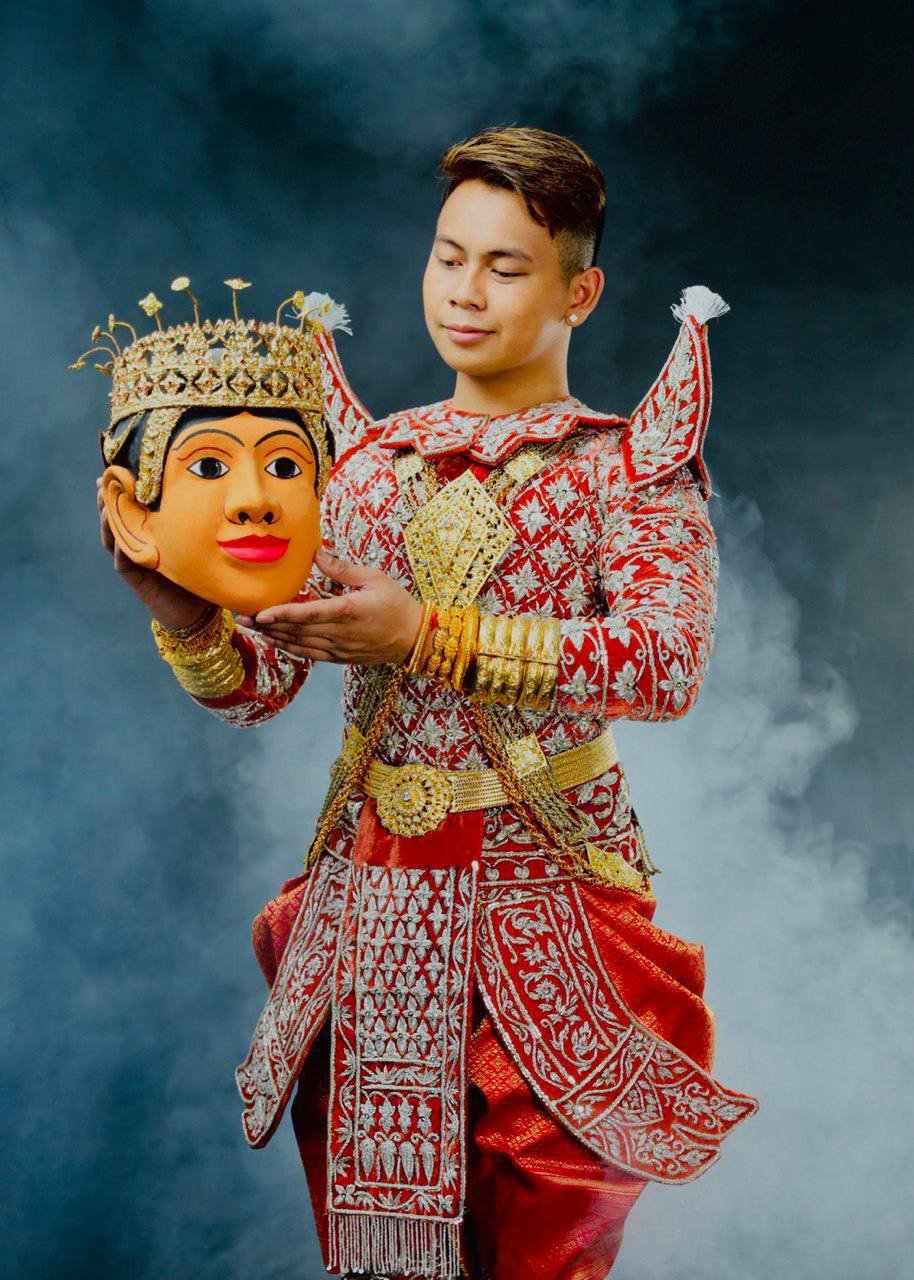 Kennis wants to foster a sense of community among Cambodian-Americans in the US. This remarkable endeavor brings together passionate individuals who are dedicated to preserving and promoting the captivating art form of Khmer dance.
Kennis first learned Khmer dance from a dance teacher, Tondra Hing but focused more on Lakhon Khol. He traveled to Cambodia to record dances at the Department of Fine Arts, the National Museum and at Bopha Devi School in Koh Pich. With the videos he recorded, he was able to learn from watching the gestures.
"What motivated me to dance was that I love the art form and how it was presented when I watched it. In the beginning I loved the lyrics and melody, but after reading and learning the lyrics, the dance just kicked in while singing. For every kbach there's a meaning and singing and doing the kbach made me remember," Kennis told Kiripost in an interview.
Kennis became a teacher of Khmer dance because he was driven by a deep love for the art form, a desire to preserve a cultural heritage, and a passion for inspiring and empowering others by imparting his knowledge, nurturing talent, and fostering cultural pride.
To read more stories like this, join our Telegram Channel and subscribe to our email newsletter.
Kennis opened dance group "Indras Artistic Creations" to give all children the opportunity to learn dance without boundaries. He has many students from the ages of seven to 40, from all walks of life, and he wants them to have the opportunity to do what they love: dancing and learning about their culture.
Kennis stated, "My dance group supports LGBT and makes sure students are included and not left in the back. Many dance troupes focus on prettiness, weight, color etc, but for me, I focus on the dance. If you can dance, you can perform. It's sad that even Cambodian teachers in the US discriminate against students because of how they look or what gender they are.
"My group helps that purpose in allowing them to express themselves. I have branched out my group and teach not just at the temple but at the school level of secondary school and colleges in the area as well. Mostly Cambodian students, Cambodian Americans and Cambodian students who study in the US joined our club to learn about Khmer dances."
Another reason why Kennis created his group was because of the influence from his grandfather. Yarm Yin was one of the Achas "priests" at the local temple of Wat Trairatananaram.
He wanted to see more youth coming to the temple to ensure a vibrant mix of all ages and to have a program that supports the arts, which was key to draw children in the temple.
Yin, who loves his grandchildren, was able to build off his legacy even though the group was created after his term at the temple. He supported the launch of the group in 2016 and was a founder of the name of the group, "Kroum Preah En Vejarak Selapak'', which means Indras Strongest Weapon in Pali.
Kennis now lives on his grandfather's legacy even after his passing in late December of last year. Even though Kennis continues to strive to get the group to higher stakes, he emphasized, "I'm missing a piece of support, someone who I look up to for advice."
Bringing Khmer culture to the US
Kennis said, "In the US, we have challenges in exposing the culture, even though the city is full of Cambodians. People don't know where Cambodia is, the necessary equipment and costumes are difficult to bring (shipping) and grants/scholarships for students are limited.
"Moreover, in the Cambodian-American community, we practice everything that Cambodia celebrates. Khmer New Year, Pchum Ben, Bon Oum Touk, traditional weddings, and all buddhist holidays. We don't celebrate Cambodian Independence day or any royal holidays.
"Many families who live in the United States, honestly don't practice a lot of traditional customs. Some have adapted to American life and totally forget where they come from. The main causes are that when they moved here, they were too busy recreating their lives after the war.
"Now, Cambodian families still don't practice some customs because it's the saying, "It's not worth your time, focus on school"."
Many families think this way and tend to have identity crises later in their adult life. As a community leader and mentor to Cambodian students, Kennis said he sees that youth that have elders in their early lives, such as a grandma or grandpa, tend to be more engaged in Cambodian cultural activities.
Kennis added, "Cambodian temples play a great role in preserving Khmer culture. There are temples in the US where they don't allow Cambodian dances or arts because of the Buddhist rules, but there are many temples that try to protect and preserve these arts forms to keep the culture alive through programs there.
"My group is a separate dance group but we support and perform for temples across the northeastern coast of the US for various events. Religious sectors try to get dances for their ceremonies big or small, just for the entertainment for the buddhist community".
Maintaining cultural identity in the US
Kennis stated, "In my experience, there isn't enough support. When I say this, I don't mean there aren't enough programs; it's more like not enough parent support. The parents should expose their kids to their own culture when they are young and when the kids do show interest, they should support them."
Kennis added, "Cambodian-Americans contributed a lot to the cultural landscape in the US. In Lowell, Massachusetts, we have the Cambodian Monuments in the center of Cambodia Town. We have a Cambodian Refugee monument right in front of the city, to remember why our community is here. There's plenty of support. For example, the first Cambodian-American mayor, Sokhary Chau. Every event he has, he tries to show cultural dances to his guests and community members. It's the little things that help advertise our culture to other communities".
Most popular Khmer dances in the US
Kennis said in the mindsets of Cambodians, modern dance is more popular than Kbach Boran. "You can see everyone trying to do the Madizon, Saravan, or Jok Kro Pus, but you will never see people trying the same effort to classical dance," Kennis told Kiripost.
There are many dancers who left Cambodia to have a better life. Master teachers, Ny Sin (Lok Yeay Peou Khatna), Chamroeun Yin, Sam Oeun-Tes, Tondra Hing and many more, gave up their lives to preserve the art forms that they once were taught.
For example, Neak Kru Ny Sin and her mother created the first Cambodian dance group in the US, and built the group with a neighboring temple in Washington DC.
Lok Kru Chamroeun Yin created his group and has taught hundreds of students, not just Cambodians but other ethnic groups. He taught them dance, costume-making and crown-making in Philadelphia.
Lok Kru Tondra Hing also branched into the art form of Lakhorn Khol in Minnesota. All these teachers were once taught by master teachers and because of the programs they created in the US, they have helped many Cambodian students, Kennis told Kiripost.
Traditional Khmer dances
Kennis said, "Some Cambodian dances that are mostly used by every dance group are Robam Choun Por or Boung Soung. It just depends what the dance group teaches, some groups are strictly classical, or strictly folk and a few do both. Honestly, whatever you see in Cambodia you will find it here on a smaller scale."
Many Cambodian-Americans try out these dance or cultural programs. Some kids feel that just by going to the temple they are getting a holistic cultural experience. Social media is now popular, and this is the best way to keep Cambodian-Americans connected, Kennis told Kiripost.
Preserving Khmer culture
Kennis would like to urge all the younger generations either in Cambodia or in the US to stay true to their roots. "I want them to know they are Khmer. Whether you marry a different nationality or move away you want to express your roots. It is something that a friend told me."
Kennis emphasized, "I am doing a lot now to support the arts because I lost my chance, nor did I have the support. I want the next generation to have what I didn't have when I was younger. Cambodian dance may not be as interesting as K-pop or rap but you have to remember that these trends were created less than 100 years ago, while our own culture has been thriving for thousands of years. You don't even have to dance, sing or do art, but just supporting the arts in general is what helps the culture stay alive for the next generation."
To read more stories like this, join our Telegram Channel and subscribe to our email newsletter.
---