Veteran athlete Pal Chhor Raksmy on Tuesday won the most medals as an individual, earning four gold, one silver and one bronze in the Vietnamese martial art of Vovinam at the 32nd SEA Games, breaking her personal record.
So far, Raksmy has probably won the most medals at the games as an individual.
"With this victory, I feel very proud for Cambodia," she told Kiripost, adding that she spent about one year preparing after competing in the last SEA Games in Hanoi, Vietnam. "We were determined as the host of the games to try all the best and train. The results are beyond my expectations," she added.
Raksmy, 37, has competed in six events of Vovinam, which took a total of 27 medals for Cambodia. The medals include 10 gold, eight silver and nine bronze, ranking first above Vietnam and Thailand.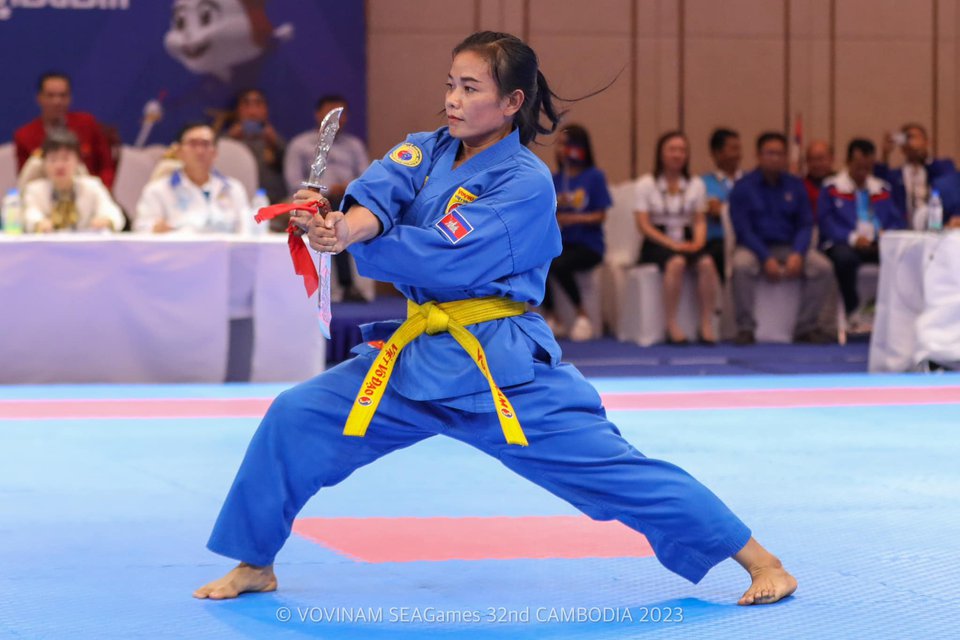 "This victory is huge for me; it is not just the victory for me, I represent Cambodia so I represent the whole population of the country," she said. "This victory is huge for me and it is a victory for all Cambodian people."
Raksmy is from Phnom Penh's Prampi Makara district and she graduated from banking and finance at Build Bright University.
She is one of a family of six, whose other brother is also into the sport of Taekwondo.
Raksmy's sport journey began with the Japanese martial art of judo in 1996 at Olympic Stadium but due to injuries, she switched to taekwondo training with her older brother until 2008 when she decided to stop training due to poor health.
However, she got a job with tycoon Rat Sokhorn, who heads the Cambodia Vovinam Federation, who repeatedly introduced her to try training Vovinam in 2011.
Sok Nidanut, another Cambodian athlete who also won gold at SEA Games, achieved her first major victory.
"Winning this time is an important achievement for me as this has always been my passion and it is my goal to win the medal for Cambodia in the32nd Seagame," Nidanut told Kiripost.
"Through the Vovinam competition, I hope that people will understand more about our sport and show more support for our athletes," Nidanut said.
She said she was under "a bit of pressure before entering the arena because of the crowd cheering", but with support from her teammates, she was able to perform without any worry after entering the arena.