To get the latest news on Cambodia's business and tech, join Kiripost on Telegram.

In his quest to equip the public - in particular the young - with better knowledge, Ngorn Him has created a community library as a place where children can cultivate their learning while improving their literacy.
The 29-year-old was born in Prey Svay village in Battambang province. He went on to complete a Bachelor's degree, majoring in Natural Resource Management and Development at the Royal University of Phnom Penh (RUPP). 
In June, Him founded Kuy Indigenous Community Library Prameru Commune in Prameru village, Preah Vihear province. He said he was motivated to build the library to cultivate children's love of learning, develop their reading ability, provide opportunities for children to learn English for free, and to create a club for children to teach each other.
Him told Kiripost, "The factor that prompted me to create this library was to provide people with access to a wide range of information and knowledge resources, and ensure that individuals have a place where they can freely explore books and documents. Libraries strive to bridge the information gap and promote equal opportunities for learning and personal growth, especially for children in the community." 
He added, "Libraries are instrumental in supporting education systems and promoting lifelong learning and fostering social interaction. Community libraries establish a space where people can come together, share ideas, and connect with one another that contributes to the social, educational, and cultural development of the community." 
Him emphasized, "This library is organized by the youth and people in the community. There is no support from the authorities; they only come to ask to take photos when young people visit and donate books".  
Him added that building the library presented several challenges and areas where improvements are needed. The lack of a dedicated building has proved to be a significant challenge, so he has to rely on temporary locations, such as the community hall. This limits the library's operations and accessibility. Constructing a purpose-built library building will provide a permanent space to accommodate books, resources, and various activities.
Importantly, to enhance the learning experience for children and young people, the library would greatly benefit from incorporating teaching aids, such as projector LCD slides. These visual tools can be used for presentations, educational programs, and interactive learning sessions, making the library a more engaging and effective educational environment.
Particularly, in today's digital age, access to computers and the internet is essential for research, learning, and finding information. Including computer stations in the library would enable visitors to access online resources and develop their digital literacy skills, while connecting with the broader world of knowledge.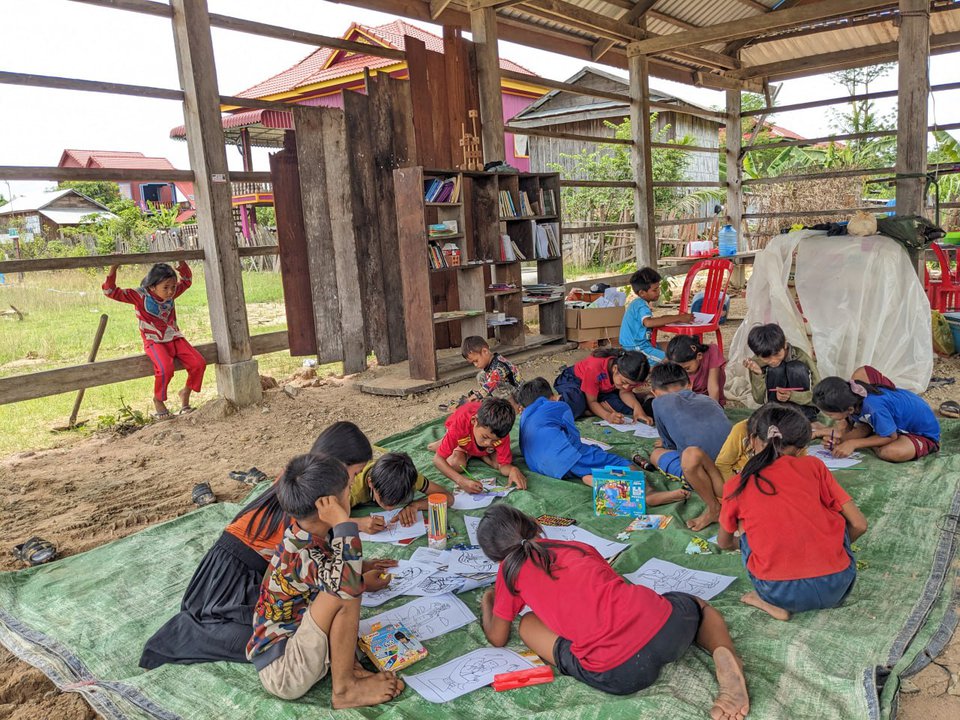 Sustainable library management
Him told Kiripost, "Efficiently managing library resources, including cataloging, tracking and the circulation of books, is crucial for smooth operations. Implementing a robust library management system will streamline processes, improve the cataloging and indexing of materials, and enhance the overall efficiency of the library's operations." 
Additionally, establishing a fully-functional library requires adequate funding and resource allocation. Seeking financial support from local government bodies and community organizations, or conducting fundraising initiatives can help acquire the necessary funds to address the library's current infrastructure and resource requirements.
Him added, " Engaging the local community is essential for the success and sustainability of the library. Building partnerships with schools, community groups, and local stakeholders can foster collaboration, encourage participation."
Furthermore, the establishment of the library can help many indigenous youth. Firstly, this library is a collection of general knowledge documents, books that align with the national curriculum, research reports, and law books. "We set up a knowledge sharing program and write short essays to encourage them to express their abilities and give them rewards," Him said.
"In my opinion, this library is diverse and open to students from elementary school to high school. Our children attend to read story books, draw and learn English, while our youth have set up a club to teach each other, with me as a facilitator."
The construction of the library has contributed hugely to the community as a place to deliver education to children so they can read, write and have the courage to cultivate human resources. 
In addition, Him said it provides children with a place to read and play, while deterring them from negative behaviors, such as taking drugs, playing too many games and spending too much time on their mobile phones. It is also a place for children to attend when their parents go to work.
Him said he also has to ensure operations are sustainable, there is clear management in place, and that the vision focuses on developing knowledge capacity. "We need to know the needs of the children, especially what the school does not provide them with regard to new ideas that help the library process," Him noted. 
Him said he plans to set up libraries in two other communities in Chep district, as well as another in his hometown, because he wants to cultivate reading ability in communities and help them to manage their resources.
Currently, the library is stocked with three large bookcases containing books covering general knowledge, children's story books and other subjects. Him is looking to expand the offerings with books from the Year 1 to 12 curriculum. 
Ngorn Him's suggestion 
Him suggests, "The younger generation must strengthen their capacity through reading and volunteering for social work to gain more knowledge and experience. Also, ask other young people who want to create a library to do it and build it little-by-little, especially to create a team to facilitate the work." 
"For the public, please support young people who want to create a library or a reading park. The aim is to cultivate the next generation to have the ability to help the nation to grow in the future," he advised.​
Leng Kimlai, a teacher at Bavel High School and also a founder of Village Library-Bavel, told Kiripost, "Establishing community libraries is very important because I observe that in Cambodian society, young people are not interested in reading books. If parents are accustomed to doing something, or at home there is a display of books, their children are also interested in reading."
Kimlai added, "If there is a community library, it is to instill in young people a reading habit that will keep them interested in books. Currently, I observe that young people are less interested in reading because they use their mobile phones more, and we are not sure what they are using them for. Nonetheless, they spend their time on other things and are more interested in playing games."
He noted that having a library in their community or village, may pique children's interest in books, rather than spending their time on their phones or hanging out and wasting time. 
Kimlai stated, "Apparently, after they get up in the morning, the children in my community go to school, but when they are at home, they just hold the phone and chit chat with their friends; they rarely pick up books to read. But if in the community there is a library that has a bookcase for children or visitors, I'm sure young people will go there and be interested in reading," Kimlai told Kiripost. 
On the other hand, if students who are studying want to improve their education, a community library can help them do more research. It is especially useful for students who drop out of school as they can use it to read and gain more knowledge.
Differences between school and community libraries 
Kimlai said there are differences between school and the community libraries. In the community, libraries tend to have books that cover a range of topics. However, school libraries target students and teachers. Also, if community members want to borrow books to read, they are not allowed as the school library is only for those attending the educational institution.
In contrast, a community library is used by everyone, whether young or old and regardless of where they are from. Community libraries are open to everyone, so it is easier to loan books.
Kimlai added, "Books in the school library are more focused on subjects for students to study. In the village or community library, there can be more comprehensive books. Sometimes it is limited, but if community members help support each other, community libraries can have a variety of books for readers."
Kimlai 's suggestion
Kimlai emphasized, "Knowledge plays a crucial role in the family, as well as in society as a whole, to grow. If there are books to read, it's like having knowledge. So, if there are books available in the community, the next generation of children will cultivate the habit to read."
Kimlai said that today young people tend to focus more on their mobile phones rather than spending time reading. He encouraged parents to instill reading habits in children at home and, if possible, have a bookcase to stimulate interest. 
Kimlai noted that elderly people in the countryside are more likely to drink alcohol, so if they change their habit to do something knowledge-based, it would be beneficial for themselves, the community and young people. 
Kimlai stated, "In our society today, I observe reading is declining and the use of the Khmer alphabet is also declining. This is because people are not cultivated in reading. So, we need to cultivate the habit of reading and the establishment of libraries in the community is very significant for this." 

To get the latest news on Cambodia's business and tech, join Kiripost on Telegram.