Cambodia and China's bilateral trade hit more than $11 billion last year, Prime Minister Hun Sen said on Wednesday as he asked visiting Chinese Foreign Minister Wang Yi to increase economic exchange to reach $15 billion.
Bilateral trade between the two nations in the first seven months of 2022 reached $9 billion, Hun Sen said on his Facebook page, after two hours of meeting Yi. The Chinese foreign minister is in Phnom Penh for the 55th ASEAN Foreign Ministers Meeting (AMM).
Free trade agreements between Cambodia and China, between ASEAN and South Korea, and the Regional Comprehensive Economic Partnership (RCEP) will help China and Cambodia accomplish this new pledge, Hun Sen said.
"At the same time, the Prime Minister also proposed through His Excellency to continue to help Cambodia through the import of products and agricultural products to China, including rice, longan, and other agricultural products as demand on the Chinese market is high," Hun Sen said.
Hun Sen also asked Yi to continue increasing China's investment in the country and proposed increasing the number of flights between the two countries to help boost tourism in Cambodia.
China was also asked to consider helping the energy sector in Cambodia, saying the economy is being affected by the war in Ukraine.
In response, according to Hun Sen's Facebook page, Yi stated that China will continue to invest in Cambodia by urging investors to come.
"Regarding the import of agricultural products, China is actually happy to continue to import crops and products from Cambodia, uniquely emphasizing that China is a big market so there is a lot of demand," Yi said, according to Hun Sen's Facebook page.
Yi said flights have returned between China and Cambodia, and Beijing will consider increasing the volume.
US Secretary of State Antony J. Blinken arrived in Phnom Penh on Wednesday to participate in the US- ASEAN Ministers Meeting and other ASEAN regional meetings. He is expected to reaffirm US commitments to an ASEAN-centered regional architecture and a free and open Indo-Pacific.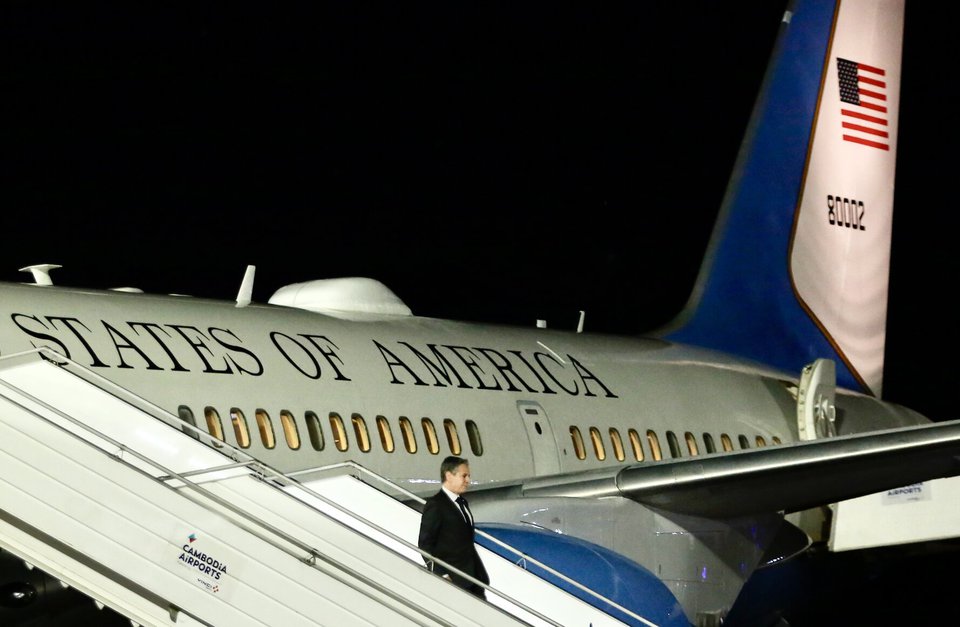 The US is Cambodia's largest export market, accounting for more than 40 percent of Cambodia's total exports. The country has benefited greatly from the US Generalized System of Preferences (GSP), according to the State Department.
The State Department said in 2021, Cambodia exported $8.7 billion of goods to the United States, an increase of 33 percent from 2020.The garment, footwear, and travel goods sectors make up the majority of Cambodia's exports and together employ more than one million Cambodians, the majority of whom are women.
"With US support, the Kingdom has experienced decades of robust economic growth and made significant progress toward achieving its Sustainable Development Goals, including reducing poverty and addressing the remnants of past conflicts," the State Department said in a statement.
It added that during the last 30 years, the US has provided $3 billion in foreign assistance for health, including health security, education, food security, economic growth, national reconciliation, the environment, and clearance of unexploded ordnance and landmines.