BATTAMBANG - After returning to Cambodia, the founders came together to mix modern and traditional arts and form a school in Battamabang, with the aim of promoting Khmer culture while elevating the livelihoods of the community through spreading the spirit of art.
Phare Ponleu Selpak celebrates its 30-year anniversary in 2024.
Osman Khawaja, executive director at Phare Ponleu Selpak Phare's Battambang campus, said art can be used to not only change people's lives but to impact communities as a whole. And this is the biggest reason to enlighten the next generation about art.
Phare Ponleu Selpak's main purpose is to promote arts, while earning income from its regular performances to help support its students, most of whom hail from underprivileged backgrounds. Without school, young people often immigrate to neighboring countries to find work.
"They attempt to leave school and go to work in the agriculture and construction sectors, or even cross the border to Thailand​; that is still a big issue," said Khawaja.
"So what we can provide them here is not only education but an opportunity to learn a skill that keeps them here. Sometimes, they get an income so they can support their family."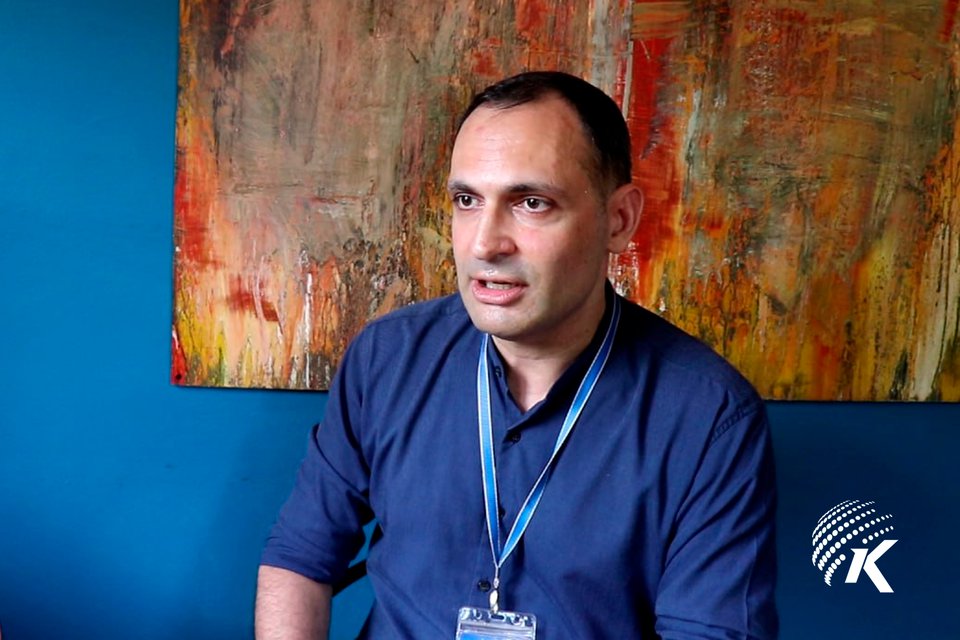 Opportunity to perform overseas
Khawaja feels proud of the students innate ability that has led to Phare becoming an ambassador for Cambodia on the international stage. From its humble beginnings as a social enterprise 10 years ago to the award-winning circus that has toured abroad in Asia and Europe.
Before the Covid-19 pandemic, Cambodia received many international tourists, who flocked to Battambang to watch performances, as well as stop off at Phare's Big Top tent in Siem Reap.
"I can say that Phare was actually a big reason for many tourists to come and visit Battambang because of its reputation and how long we have been here. It's very popular among tourists, especially in Europe," he said.
Phare is also under the radar of many international tour guides and operators. This resulted in many tourists viewing the attraction.
Prior to the pandemic, Phare received about 14,000 tourists a year. However, this has drastically declined due to a lack of international visitors.
Less local tourists
During the pandemic, it was also a difficult time to attract tourists. While many locals traveled to Battambang, they rarely spent money buying tickets for art performances at Phare, Battambang.
As a Phare Ponleu Selpak executive of seven years, Khawaja noticed that local people took little interest in Khmer traditional arts.
In response, Phare Ponleu Selpak renovated its arts show. In addition to traditional dancing, it included modern art forms, such as hip hop, break dancing, modern and traditional musical instruments and circus under one roof to attract more tourists.
The next plans at Phare are to see more arts added into primary and secondary school curriculums, and set up occasional training programs at high school level.
"We would like to work closely with the Department of Education and get support from them, while integrating arts into their program. We'd like to do more things on that as well," he said.
Nem Tharo, 18, born in Battambang province, is currently a Grade 12 student. She saw her elder brothers and sisters learn at highschool and arts courses at the same time studying in Phare Ponleu Selpak. This motivated her to study at Phare Ponleu Selpak.
"Seeing my siblings practice arts here and I love the arts as well, I realized that Cambodia doesn't have many arts classes, so I thought I could be part of it. This can make other countries see how influential Cambodian arts can be," she said.
Circus and break dancing are the arts that the 18-year-old loves to practice everyday at Phare. "In my heart, I love circus and hip hop dancing," she said with a grin on her face.
Childhood memories attached to love of arts
Tharo entered the cultural and arts field when she was five-years-old after falling in love with arts and the reward of receiving snacks during her studies.
"I have liked it since I was little. I saw others having a lot of fun practicing and getting cookies. When I was young, I saw others get snacks and it attracted me to join art training," she said.
Tharo is the youngest child of 12 siblings.
"They [her parents] don't restrict me to practice arts. Because of my 12 siblings, there are five to six elders studying here. My brother has become a teacher here also. So, my mom doesn't worry about me since there is one brother who will take care of me," she said.
In the past, she practiced arts from 5pm to 8pm. Nowadays, as she is in Grade 12 - a busy year to finish high school - the circus and breakdancing classes are cut down to two hours per day, from 5pm to 7pm.
The school offers scholarships, offering formal educational programmes in Kindergarten and the Phare public school, as well as informal educational and creative activities in its Child Development Center and library to help children to expand their hard and soft skills.
Free lunch is also provided by the school to children at the campus as well, according to Tharo.
"In the future, after I graduate from Grade 12, I hope to become a doctor and a professional artist," Tharo said.
Circus performance can be dangerous, and sometimes she encounters accidents while learning and performing.
"When I was young, I encountered some accidents while practicing circus. It is unavoidable, but it is not a big deal. I sprained my ​wrist and ankle. It is a little injury, but it is treatable," she recapped.
Sometimes, she also wanted to abandon the circus due to a lack of time and energy when she had to study in the morning and take extra classes to prepare for her national exams this year.
"My mom used to complain about my performance since she found it difficult. She said it is not easy to do so. However, this doesn't stop me since I love to do it," she added.
"I feel proud of myself that I am able to show my ability to foreigners and Khmer visitors. Even though I am young, I am still capable of performing," she said.
She added, "I am also honored for being the only female among the whole male team."
Circus Promotes Well-being
She believes that, despite the challenges, the circus helps in both physical and mental well-being.
"Circus has many benefits for me. First, it helps strengthen my physical health to be better than other females. Second, it allows us to showcase our performing ability. Third, the profits from the show also helps us pay for extra class tuition and support our daily life," she mentioned.
Living with four brothers and eight sisters under the same roof, Phare Ponleu Selpak has helped the livelihood of this large family. Tharo has access to education and arts for free and her four brothers and two sisters also absorb knowledge and cultural skills from Phare.
Some of her siblings have graduated and secured jobs as teachers and art trainers at Phare.
Her father is a moto driver and her mother sells some food and fruits in front of the campus to support the family. While Tharo also gains some income to support her studies and daily expenditure.
"If there is no Phare, I would not have this today. I would not be able to dance and wouldn't know what art is. And I wouldn't know how capable I am regarding arts," she said.
Bringing Cambodia to the International Stage
Sot Sopheak is a trainer at Phare. He has spent nearly 20 years there due to his passion for the school and desire to share it with the young generation. He especially wants to strengthen his capacity. He teaches for eight hours a day.
"After I had learnt from here [Phare], the skills provide more benefits for our society. In our society, the art of circus is not global. That is why I want to teach the new generation and push the skills I am teaching to provide the new generation with understanding about Khmer arts," Sopheak said.
He added, "First, we think about our new generation, second we think about ourselves. We chose this skill to make other countries recognize that Cambodia has these skills."
He underlines that some children come from difficult situations while some are more fortunate. However, most derive from vulnerable areas. This reason pushes him to pursue teaching them.
He hopes all new generations can bring Cambodian culture to the international stage. That young Cambodians have circus skills, dancing, music, in Cambodia.
Arts School Promotes Livelihood
Buth Simeon, is a Graphics Design Lead teacher at Phare Ponleu Selpak. He shared with Kiripost that he came to live in Battambang and spent time studying both art and publishing at the school.
Nowaday, he teaches students graphic design.
"The challenges we face nowadays focus on instruments. We are good at technique but we don't have the instruments. One more thing we face is the research of documents. As we already know in our country, research documents are not available yet but we still try to find information from the internet," Simeon said.
He added that since the establishment of Phare, most of the students who study there have gone on to work at big companies, such as at Ream Production, Baramey Production Company Limited and animation companies.
"We have taught them and they have done a good job. We see value in the school and our teachers. All of these things have made a transformation in their livelihoods," he said.
"I think art is a big part of making a change in society because people nowadays have to study and eat and cannot live without art. Life connects with art, even color and location. Sometimes, when we do an event if we do not include art it will not be a success."
Simeon added, "Art seems like magic. When we study art we can make a change in society to become beautiful.
"I decided to become a teacher because we were poor and school provided us with knowledge when we were young. It makes me think, what do I need to do to return to society?"
He noted, "I helped society by helping to provide knowledge to young children who had difficulties living. Most students come from poor families, when they are poor they need help. When we help them, after they have a good job. That's what we want to achieve. So, it pushed me to become a teacher there."
Kann Seraktepy, 25, from the animation department's eighth generation, was born in Battambang province. She has known Phare since she was young and was recommended by seniors. But because she continued to study at University in Phnom Penh. After finishing university, she applied to study at Phare.
"My family allowed me to study but they were worried that when I finished I would have to work here [Battambang] and animation is not as extensive as in Phnom Penh."
She added that learning demands more research than spending time studying in class.
"I love drawing and enjoy watching animation, they have been my passion since I was young," she added.
---
Published in
topics:  
Arts