Battambang province: Tech and business leaders gathered at BarCamp DigiTech 2022 to share ideas and knowledge with small and medium enterprise (SME) owners and university students in Battambang province.
Held on December 12 and 13 at Techo Sen Regional polytechnic Institute in Battambang, the BarCamp this year attracted about 1,500 students and business owners to participate in the two-day event. Digital marketing was one of the most popular topics among attendees.
There were breakout sessions to share knowledge and know-how, with 47 topics under the themes of technology, marketing strategies, and solutions for better running business from more than 30 speakers. In addition, BarCamp DigiTech included 20 technology exhibitions from private tech companies that stand by and help find technical solutions for business owners and students in this part of Cambodia.
Most SME owners attending the event hoped to further develop their business and take it to the next level with the help of digital systems. Moreover, university students were also among active participants during this event, which aimed to help them learn more about personal development and professionalism in the digital age.
Tith Kamrang, founder of Kotluy, said the youth in Battambang are actively engaged and like to teach technology. He said despite the limited time, the program featured business owners and young people.
"In Battambang province, young people are interested in technology. Although there is only one hour to share, we would not be special, but also to tell the participants a key word for the business owner to have a strategy, context, and more with fintech, digital marketing," Kamrang told Kiripost's Seng Mengheng, who is reporting from the venue.
Kiripost is a media partner of BarCamp DigiTech 2022.
Participants gained knowledge and new ideas, and met tech professionals, marketers, and entrepreneurs. For locals in Battambang, BarCamp also gave an opportunity for networking and creating new connections.
Participants are not only from Battambang province, but also from other provinces, such as Banteay Meanchey, Pursat, and Siem Reap.
Pich Noeun, owner of Health Coffee retail and wholesale from Banteay Meanchey, said during the two days, he learned a lot about social media and digital marketing techniques, pre-product preparation, image design, caption writing, and photography techniques.
"The BarCamp event allowed me to learn what I do not know. It's a great opportunity to learn more. I can learn from what they teach. Upon my return, I will apply what I've learned to my business."
Noeun believes the program would be even more beneficial if it was conducted several times a year because it provides new knowledge and allows businesses to adjust to a new strategy.
Phok Sovannborey, a vendor in Battambang, said that now is the digital technology era. As a business owner, he needs to use modern technology, business management, and digital marketing to keep pace with digital transformation.
"Mostly our citizens use digital systems, so if any business misses it, it loses opportunities and customers," Sovannborey told Kiripost.
Sovannborey added that programs help him a lot with the experience of using some digital techniques. He said in general, attending some sessions at BarCamp DigiTech enabled him to get to know and find people to work with, such as hiring people with skills.
Chen Chuy, an agriculture university student, said through the program he has learned new experiences from speakers and technical skills because Battambang has never held this kind of event before.
"I haven't seen any technology event like this since I've been studying here. So it's a chance for us to learn more. I learned to take modern agriculture-related sessions to develop my thinking skills, which inspires and urges me to take some action such as how to use technology actively so that our university has an agricultural laboratory to research more," Chuy said.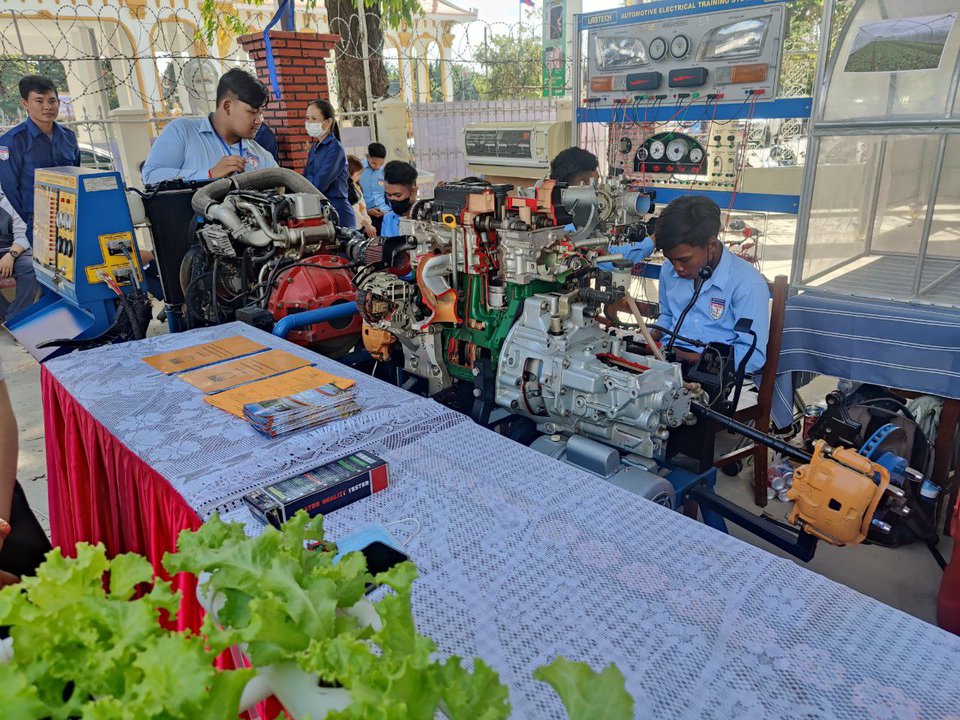 Kamrang told Kiripost that SME owners who attended the event that they can no longer operate their business in the traditional way. They have to upgrade themselves with technology. If their businesses do not keep up with the pace of technology, they will go out of business or go bankrupt.
As for young people, he said they have learned and are ready for what the next generation has to demand, occupations, and preparations.
Published in
topics:  
SME